Miami Heat vs Indiana Pacers Pick August 18, 2020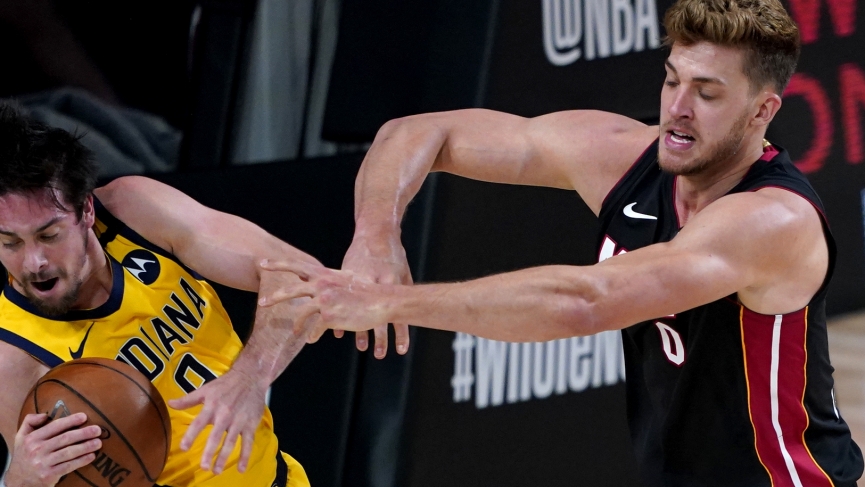 Game 1: Miami Heat vs Indiana Pacers
Time: 4 pm ET on TNT
Odds: -184/+154 Total +/-215
I am breaking down today's Miami Heat vs Indiana Pacers pick. We have Jimmy Butler and the Miami Heat facing T.J Warren and the Indiana Pacers in a huge playoff matchup. We have the (44-29) Miami Heat who clinched the 5th seed in the East and we have the (45-28) Indiana Pacers who clinched the 4th seed in the East in a heated first-round battle.
These two teams are quite familiar with each other as they have played twice since joining the bubble in Orlando. They did split those games as Miami won the first game 114-92 and the Pacers won the 2nd game 109-92. Neither Butler nor Warren played in their final matchup on Friday as both teams had their playoff spot clinched. Today they will both start and boy is it going to be a good one, so let's get right into it!
Health matters for the Heat and Pacers
The Miami Heat are playing with some injuries just like every team in the bubble, but the scariest one was on Friday when Derrick Jones Jr. was taken off the court on a stretcher. His MRI did come back negative though, so he is day to day and he is questionable for this game. The big key for this Miami team is to control the defensive side of the ball and to dominate the boards and I see them doing those things the whole game.
On the other side of the ball, we have the Indiana Pacers who finished the season 45-28 but just like everyone else they have had some injuries as well. They are without Jeremy Lamb and Sabonis and that is big for the Pacers scoring. Sabonis was averaging 18.5 points per game and he was also averaging 12.4 rebounds per game. Sabonis was a big part of the Pacers offense and without him, it will show. With Sabonis not playing, that means their role players/bench are going to have to step up and put up points, but I don't see that happening.
Heat vs Pacers defense and offense
The Heat rank 3rd in defensive rebounds at 42.5 while the Pacers are ranked 25th in offensive rebounds, which means the Heat are going to dominate the defensive boards and that will keep the Pacers from any second chances. Without second time chances, the Pacers will have a hard time scoring. The Heat will also have a hard time scoring as well since the Pacers are ranked 3rd in points against per game at 107.5. The Pacers defense matches up well against the Heats offense which will make the Heat slow down the pace of the game. When you slow down the pace, you waste more time off of the clock and that is what is going to help us cash this total.
The Holidays are only averaging 9.5 and 8.3 points per game which means all the scoring will be put on T.J. Warren and Victor Oladipo. Warren did average 31.0 points in the bubble but he hasn't had the best success against the Miami Heat. The Miami Heat have held Warren to only 10.3 points per game this season. Shooting 11-31 overall and 3-11 from 3 point range. The Heat has the defense to stop Warren and company and that's exactly what they do today. They hold Warren and company to less than 100 points and that's why I'm hammering this total. Below are a couple of TRENDS I like for this game.
Heat vs Pacers Betting Trends
Key TRENDS for this game:
Under is 4-1 in Heat last 5 playoff games as a favorite.
Under is 8-2 in Heat last 10 Conference Quarterfinals games.
Under is 5-2-1 in Heat last 8 games following an ATS loss.
Under is 4-1 in Pacers last 5 overall.
Under is 4-1 in Pacers last 5 games following an ATS win.
Under is 4-1 in Pacers last 5 when their opponent allows 100 points or more in their previous game.
Under is 4-1 in Pacers last 5 after scoring 100 points or more in their previous game.
Under is 4-1 in Pacers last 5 games following a straight-up win.
Under is 7-2 in Pacers last 9 playoff games as an underdog.
Under is 20-8 in Pacers last 28 Conference Quarterfinals games.
Under is 5-2 in Pacers last 7 games vs. a team with a winning % above .600.
So for this game, RSP is taking the Miami Heat/Indiana Pacers UNDER 215.