Jazz vs Pelicans Pick Without Mount Zion For Opening 8th Seed Game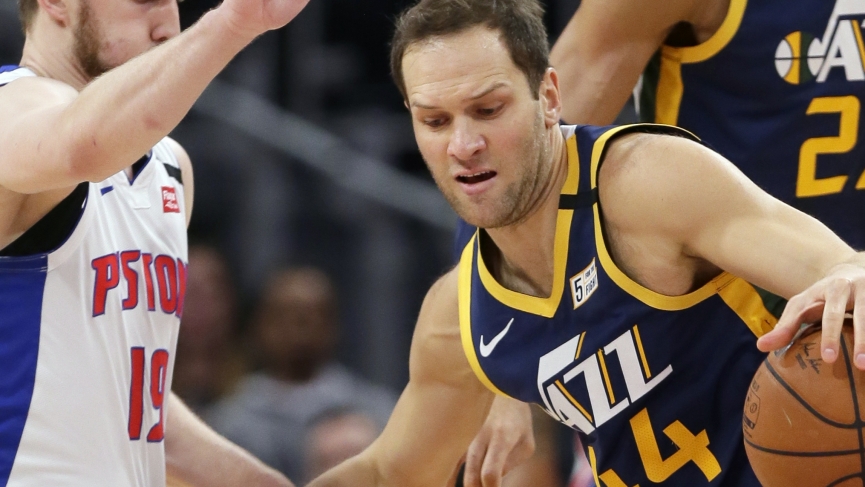 The NBA 8 game regular season is set to begin on Thursday, July 30th and it will tip off with my Utah Jazz vs New Orleans Pelicans pick.
Will Mount Zion relocate to Orlando in time?
The biggest question mark surrounding the New Orleans Pelicans right now is the status of their star power forward Zion Williamson who left the team for personal reasons with his return date unclear at the moment. He is listed as questionable for Thursday.
Williamson was hitting his stride in his rookie season right before the NBA season was paused as he averaged 23.6 points per game and the Pelicans went 12-7 in 19 games with him on the court. However, New Orleans did show the capability they had of competing without him. The Pelicans notched a solid 11-5 record in the last 16 games they played prior to Zion's debut with the team on January 22nd so if they are forced to be without Williamson for this opening game against Utah, this team isn't completely lost and without hope.
From @malika_andrews – Pelicans expect Zion Williamson to join practice Wednesday https://t.co/XSRgHwb9jp

— Andrew Lopez (@_Andrew_Lopez) July 27, 2020
Lonzo Ball improved at the point guard position while Brandon Ingram was enjoying a career season averaging north of 24 points per game. Add in Jrue Holiday who could get you nearly 20 points on any given night and JJ Redick as a veteran with playoff experience and the ability to make big shots from the perimeter and you'll see a Pelicans squad that is more than just Zion Williamson.
Back To School At The Defensive End
The Utah Jazz has been a sound defensive squad in recent seasons. New Orleans has been focusing on playing better at the defensive end of the basketball court so far throughout their training camp which was a sore spot for them. However, I don't think this team was as bad defensively prior to the stoppage of the season as they were earlier on.
They are ranked 27th in the NBA in points per game allowed averaging 117 points per game surrendered but their defensive efficiency is 18th in the NBA at 1.081 points per possession allowed and that is a more accurate indicator of their defensive prowess because it factors in the much faster pace and a greater number of possessions that occur in Pelicans games.
New Orleans is #1 in the NBA in pace averaging the most possessions per game of any team in the league. This is around a league-average defensive team but the Pelicans realize they will need to be better than that if they hope to not only make the playoffs in the rough and tumble Western Conference but also make noise in them.
The Jazz Didn't Always Hit The High Notes
It was a tumultuous ride of a regular-season prior to COVID-19 for head coach Quin Snyder and his Utah Jazz. When the Jazz brought their 'A' game, they could beat anybody in the NBA. Utah had a 19-2 stretch in 21 games and followed that with a five-game losing streak, then a four-game win streak, then a four-game losing streak and then a five-game win streak.
The expectations entering the season were high after acquiring point guard Mike Conley and Bojan Bogdanovic and that Utah could compete with Houston, Denver, and the LA teams but the Jazz will have to resume their season without Bogdanovic who is a very key piece to them and averaged a career-best 20.2 points per game as he recuperates from season-ending wrist surgery while Conley has had a tough first season in Utah with his performance not being nearly as good as when he was in Memphis and injuries hampering his inaugural season with the Jazz.
Utah has seen an improvement in their shooting and offensive numbers this season with their FG shooting percentage and points per possession numbers increasing from last season. In fact, they are 6th in the NBA in offensive efficiency and that explains the shift in the Jazz from a totals perspective where they were 42-39-1 to the Under last season but have a 33-31 Overmark this season.
Jazz vs Pelicans Pick
I have not bet this game yet and may not have any wager on it prior to tip-off. The line was taken off the board once Zion Williamson departed the bubble in Orlando and left the team to tend to personal matters and his status is currently up in the air for Thursday's opening game and beyond. New Orleans was -2.5 favorites prior to the Zion Williamson news. The season series was tight with Utah winning two of three games but New Orleans covering in two of the three games in the regular-season meetings between these teams.
If Zion doesn't play, bettors will get a better number with New Orleans and I will be more inclined to back the Pelicans who I believe saw their supporting cast get more cohesion and play better as the season progressed and I'm still worried about the erratic nature of the Jazz. All three meetings went Over the total between the Jazz and Pelicans but this being the first actual NBA game in Orlando tempers my enthusiasm for betting the Over when it could take a game or two for the shooting legs and rhythm to return on both sides.