Clippers vs Mavericks Pick – NBA Playoffs Game 6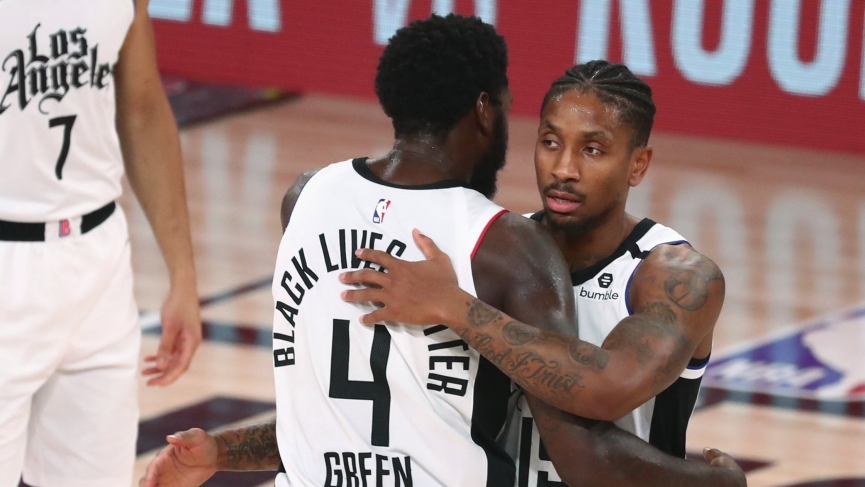 NBA Playoff Series: Clippers vs Mavericks pick (Game 6)
Date/Time: Sunday, August 30, 2020, 3:30 pm ET
Odds: Clippers -10.5/-106 Mavs +10.5/-114 | Moneyline -500/+385 | Total 238
The last of the Mavericks?
The Dallas Mavericks can be excused if perhaps they've finally had their confidence and belief shaken after what took place in Game 5 of this series. The beast that is the Los Angeles Clippers woke up as did one of their struggling stars and the result was ugly for Dallas. The LA Clippers inflicted a massive beatdown 154-111 over the Dallas Mavericks in Game 5.
The Clippers set a franchise record for points scored in a playoff game. Paul George had been in a major funk for the LA Clippers throughout this series but he broke out of his playoff funk by scoring 35 points in Game 5. After shooting 29% percent in the previous four games, George shot 60% in Game 5 including 50% from the perimeter. He cited depression and anxiety issues as his reasoning for such struggles with his shooting and his overall play in the first four games of the series.
Kawhi Leonard was consistent and terrific as usual with 32 points in the Game 5 victory and it was also the best game played by Montrezl Harrell since his return to the team and when his energy is at a high level, it makes the LA Clippers a better team. He contributed 19 points and 11 rebounds in the most recent game. It was a powerful response from the LA Clippers after losing a Game 4 thriller courtesy of an all-time great performance from an ailing Luka Doncic who scored 43 points including the buzzer-beater game-winning shot in OT. The question now becomes whether or not the Dallas Mavericks have one more display of "fight" in Game 6 to bounce back and try to extend this series to a decisive Game 7.
Clippers vs Mavericks injury updates
There are all kinds of moving parts on both sides from an injury perspective before Game 6 tips off on Sunday afternoon especially for Dallas. The Mavericks have already announced that Kristaps Porzingis will be out for the rest of the series with a lateral meniscus tear in his right knee. He reportedly sustained the injury in Game 1. He played in Game 2 and Game 3 but hasn't played since and will not play again at least in this series.
Luka Doncic has played through his sore and tender ankle sprain in the last two games although was nowhere near as effective in Game 5 as he won in his Game 4 performance for the ages. He is listed as questionable for Game 6 along with Trey Burke, Tim Hardaway Jr., and Dorian Finney-Smith who also appeared on the most recent injury report for Dallas.
This is definitely a team battling some bumps and bruises right now along with trying to battle an excellent LA Clippers team. The LA Clippers have been without Patrick Beverley since Game 1 of this series and his absence certainly makes the Clippers a worse defensive team and it has often shown up against this explosive and potent Mavericks offense which has managed to eclipse the 110 point mark in each of the last four games. Beverley may finally return for Game 6 as he has been upgraded from doubtful to questionable although it is not a certainty he plays on Sunday.
Clippers vs Mavericks pick
The combo of the LA Clippers coming off the blowout win in Game 5 and the Mavericks being without injured Kristaps Porzingis has caused the oddsmakers to make the Clippers favored by double digits for the first time in this series. Luka Doncic should play and I'd expect him to feel as good and be as strong as he's been since prior to the injury thanks to the four days off between Game 5 on Tuesday night and this Game 6 on Sunday afternoon. Dallas head coach Rick Carlisle agrees: "Ankle's doing well, all things considered. The extra two or three days is a plus, certainly. In practice today, he looked pretty good, so going into Sunday, I don't think he's going to be limited."
I find it hard to believe Dallas folds the tent and goes home with a fantastic player and inspirational force in Luka Doncic leading them into battle here in Game 6. It's worth mentioning the incredible Dallas Mavericks trends off a loss one more time. Dallas is 25-9 SU, 22-11-1 ATS in games following a loss this season including a perfect 2-0 SU and ATS in this series alone. That is a track record worth riding especially with this pointspread becoming inflated toward the LA Clippers. I'll endorse Dallas +10.5 to make this a game with their season on the line.