Clippers vs Mavericks Pick – NBA Playoffs Game 4 August 23 2020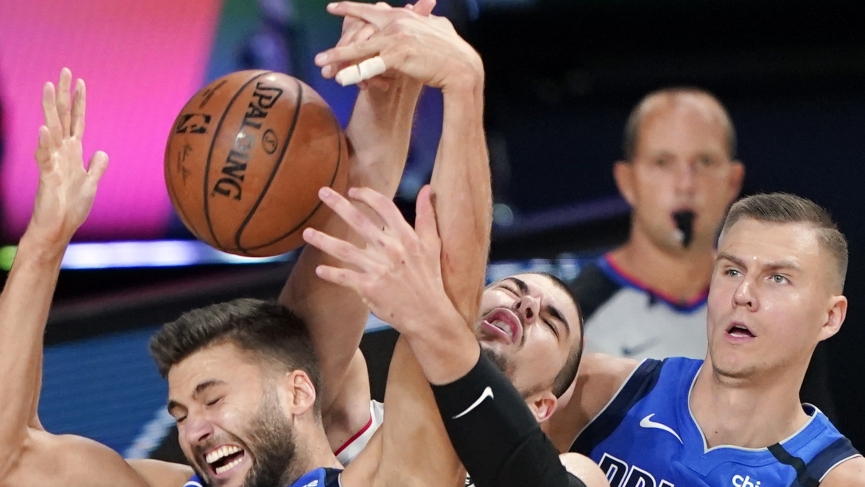 NBA Playoff Series: Los Angeles Clippers vs. Dallas Mavericks (Game 4)
Date/Time: Sun, August 23, 2020 – 3
Odds: -8/+8 | Moneyline -333/+225 |Totals 231.5
It's time to take a look at my LA Clippers vs Dallas Mavericks pick for game 4 in this playoff series. Mavericks are a man down and the Clippers are relatively healthy. Can the Mavericks pull off a win without Doncic?
Losing Luka
The potential loss of Luka Doncic heading into Game 4 of this series after he suffered a left ankle sprain injury in the 3rd Quarter of Game 3 and could not continue playing (although he sure tried hard to get back into the game) is obviously a huge concern for the Dallas Mavericks as they attempt to avoid a 3-1 series deficit which may be insurmountable against a team that is the caliber of the Los Angeles Clippers.
Doncic had a triple-double going with 13 points, 10 assists, and 10 rebounds in Game 3 prior to his injury and him leaving the game. Here was a description of the early injury prognosis for Doncic courtesy of Dallas Mavericks head coach Rick Carlisle: "On Sunday, the game is early, which doesn't help things but we'll see," Carlisle said. "We've got every advanced treatment modality that you can have, as every team here does. We'll see how this responds in the next 36 hours."
Doncic is expected to be a game-time decision for Game 4 on Saturday afternoon. Dallas tried to power through the rest of Game 3 without him but unlike in Game 2 when the Mavs bench stepped up in a big way with Doncic sitting on the bench due to foul trouble in the 4th Qtr, the Dallas bench and the other starters couldn't duplicate that same strong 4th Qtr performance against a Clippers squad that did a really good job of tightening the defensive screws but also making big shots to maintain a lead of a sizable margin all the way down the stretch of the 4th Qtr in what was an LA Clippers 130-122 win and cover as 5 point chalk in Game 3.
PG = "Poor Games" in regards to Paul George
Kawhi Leonard had 36 points, nine rebounds and eight assists for the Clippers in the Game 3 win to help them take a 2-1 series lead. Landry Shamet had 18 points. Ivica Zubac had 15 points. Marcus Morris Sr. had 14 points and Montrezl Harrell scored 13 points. It was a collective effort from everyone involved with the LA Clippers to help them earn the win. However, there was one concerning fly in the ointment in an otherwise good game for the Clippers. It was the ongoing struggles shooting the basketball for Paul George which continued in Game 3.
George struggled again offensively as he ended up with only 11 points and was a woeful 3-for-16 shooting from the field as well as 1-for-8 from the perimeter. He is now 7-for-33 in terms of shooting in the past two games combined for the LA Clippers. Eventually, you would think George will find his shooting stroke again as he is too talented to have this bad a stretch indefinitely but until that happens, it certainly means from a player props perspective that Paul George Over point total props should come with a "buyer beware" sign.
Clippers vs Mavericks Pick
The Luka Doncic potential absence for Game 4 has clearly impacted the pointspread for this game. The Los Angeles Clippers have been a 5 to 6 point favorite in each of the first three games of this series but now they find themselves as -7.5 to -8 favorites currently in Game 4 with the number being shaded a bit toward the Clippers because they know a vast amount of public bettors will likely be interested in backing them with the ankle injury concerns for Luka Doncic.
However, I won't be one of those people. I've been "zig-zagging" my way through this series so far from a betting perspective. I cashed with the LA Clippers -6 in Game 1. I cashed with Dallas +6 in Game 2. I came back with the LA Clippers -5 in Game 3 on Friday night which was one of my Odds.com NBA Betting Preview Best Bets this week and I am going to keep the zig-zag pattern going here in Game 4 and back Dallas at a very attractive price catching +7.5 to +8 right now at most books.
Dallas is an outstanding 11-3 ATS this season when priced as an underdog of +5 or more. The Mavericks have also shown themselves to be a fantastic team after a SU loss this entire season. Dallas is 24-9 SU, 21-11-1 ATS off a loss this season. That's a track record worth riding here in Game 4 even if Luka Doncic doesn't play because we may see that "everyone steps up to get the job done in the first game without a star player" injury angle for Dallas in this game which is often a strong and profitable one to roll with.