Celtics Title Odds at Fair Price After One Month of Season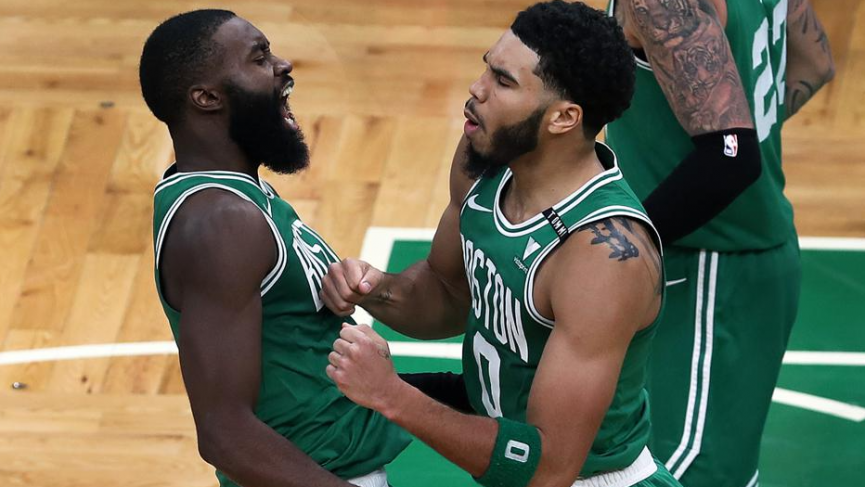 Celtics Odds for NBA Title Have Value at 16-1 One Month into Season: Depending on where you shop, Boston has the fifth-best odds to win the NBA title and the 3rd best odds from the Eastern Conference behind Milwaukee and Brooklyn at anywhere between 13 and 20-1. With a young roster and recent deep playoff runs, are the Celtics ready to contend for the NBA championship?
NBA Eastern Conference Championship Odds
| 2021 NBA Season | Eastern Conference Odds | Odds via Bet365 |
| --- | --- | --- |
| Nets +160 | Bucks +333 | Celtics +550 |
| 76ers +550 | Heat +750 | Pacers +1800 |
| Raptors +2000 | Hawks +4000 | Magic +5000 |
| Knicks +5000 | Wizards +6000 | Hornets +8000 |
| Cavaliers +10,000 | Bulls +15,000 | Pistons +20,000 |
Recent Celtics history:
Three years ago, Boston reached the eastern conference finals with second-year Jaylen Brown and rookie Jayson Tatum leading the way. They would lose game seven to LeBron James' Cleveland Cavaliers. Note Brown and Tatum each led Boston in scoring three times during the series. Two years ago, Boston would sweep Indiana before losing to Milwaukee in five games. That team had Kyrie Irving play a major role, and they underachieved considering their run the year prior. Last year, with Irving gone and signing star Charlotte point guard Kemba Walker, Boston got back to the east final where they would lose to Miami in six games. Boston has gone through the progression most up, and coming NBA teams go through with their young stars. They make the playoffs, win a round or two, and learn the nuances of playoff basketball. With these experiences under their belt, there is now an expectation for Boston to take the next step.
Offseason moves:
This year Boston lost Gordon Hayword to free agency as the talented but oft-injured forward left for Charlotte. They also traded center Enes Kanter and did not pick up the option on point guard Brad Wanamaker. To replace those two, Boston signed center Tristan Thompson and point guard Jeff Teague. Boston also drafted point guard Payton Pritchard who has paid tremendous early dividends with Kemba Walker missing the year's start with a knee injury.
Switching centers was a lateral move as Kanter averages 11.5 points and 7.6 rebounds for his career compared to Thompson, who averages 9.4 points and 8.7 rebounds. The one benefit Boston does get is Thompson does have championship-winning experience from his time n Cleveland. While Wanamaker was a serviceable player, his inexperience showed in the playoffs last year, and replacing with a veteran like Teague will likely be another small thing that will likely help Boston in the playoffs.
Thompson and Daniel Theis, and Robert Williams provide the Celtics with enough versatile big man who will be important in an Eastern Conference that features Giannis Antetokounmpo and Joel Embiid. No, Boston doesn't have frontcourt stars, but they will be able to throw multiple bodies at their opponents.
Covid-19 issues:
Boston recently had three games canceled due to Covid-19 as Tatum, among other Celtics, contracted the virus. As a result, the Celtics did not have a minimum of eight available bodies to play the games. That, along with Walker's knee injury, means Tatum, Brown, and Walker have yet to play with each other this season. Despite this, Boston owns an 8-6 record, and remember last year was Walker's first with the Celtics thus, I expect them to be even better this year as a group once all are available to play. Boston went through their Covid issues; now is probably best if they don't have any other disruptions to their season as they can focus on finding a rhythm.
Star Talent
Tatum and Brown have both taken a step forward this year, averaging career highs in points. Tatum is averaging 26.9 points (3.5 PPG more than last year) on a career-best 43.8% from 3. Brown is averaging 25.8 points (5.5 PPG more than last year) on a career-high 51.8% shooting. They have both also improved their assist numbers, and note neither is averaging more minutes per game; thus, they are just more productive when they are on the court. Walker saw a decline in his stats last year and a slight decline in minutes as he was not asked to do everything the way he was with his old team.
You could argue that with some of the Covid-19 and injury issues with Boston that Tatum and Brown's scoring is up due to not having Walker available to start the year. It is more likely that as young players, they are just continuing to progress and improve. Evidence of that is their scoring averages have gone up consistently since they entered the league, and they are just starting to enter their prime.
East landscape and Final Thought:
Milwaukee has been favored to come out of the east in each of the past two seasons and come up short, losing four straight to Toronto from 2-0 up and not getting out of the second round this past season.
When it comes to pure scoring, Brooklyn will lead the way with Durant, Irving, and recently acquired James Harden. However, as currently constructed, they lack any sort of defensive capabilities, and the Harden trade forced them to give up their best rim protector Jarrett Allen.
Boston is either the 3rd choice or co third choice to come out of the east and Philadelphia. The Celtics, with continued progression from their young stars, decent depth, and experience from previous playoff runs, could make a push in the Eastern Conference. Unlike Brooklyn, they can play defense, and their guards can make life difficult for teams such as Milwaukee and Philadelphia. Boston has some appeal on the NBA title odds of 16-1 or better.