Brooklyn Nets vs Toronto Raptors Pick August 17, 2020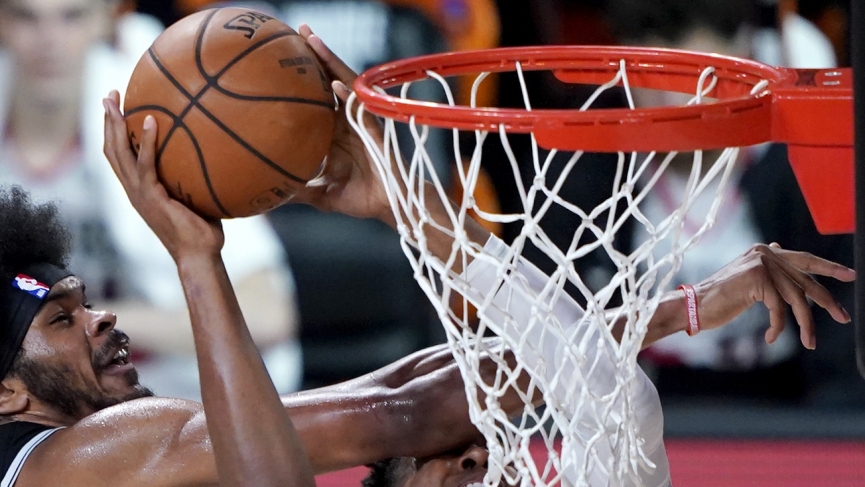 Game: Brooklyn Nets vs Toronto Raptors
Time: 4 pm ET on ESPN
Odds: +420/-560 Total 221.5 at Fanduel
The time has finally come! We have the NBA playoffs here and we are ready to attack these lines, so let's get right into it. We have the 7th seeded Brooklyn Nets vs Toronto Raptors pick in what looks to be an interesting first series match up. The Nets have surprised everyone since joining the bubble, including me. They had a nice 5-3 record in the bubble and they clinched a playoff spot even with their injuries this year.
They will be playing this game without Spencer Dinwiddie, Kevin Durant, DeAndre Jordan, and Kyrie Irving. They even fired their coach right before COVID, so they have Jacque Vaughn running the team now. On the other side of the ball, we have a team that has been playing great all season and they are looking to defend their NBA title, the Toronto Raptors.
The Raptors dominated in the bubble, as expected. They went 7-1 and locked in the number 2 seed in the East to face an "easy" first-round opponent in the Brooklyn Nets. I say "easy" because Vegas has Toronto at -8000 favorites to win this series, while Vegas has the Nets at +1800 underdogs. The total for this game is at 222 and that number is way off to me. My numbers have this game ending in the low 200's, now let me tell you why.
Nets offense vs Raptors offense
The Brooklyn Nets offense is not the best and when they face this #1 defensive Toronto team trying to defend their title, it's going to be that much harder for them to score. The Nets offense is ranked 24th in FG% at 44.8%. Well, it just so happens that the Toronto Raptors are ranked #2 on defense in FG% against at 42.8%.
The Brooklyn Nets are ranked even lower in 3pt FG% at 34.3%, which ranks them 26th. On the other side, the Toronto Raptors defense is ranked #1 against the 3 ball at 33.7%. I also mentioned above that the Nets have some key players that are already listed as OUT for this game. Well, they also have some players that are game-time decisions. This means that even if they do play, they will not be at 100%.
Those players are Jamal Crawford, Chris Chiozza, and Donta Hall. When Kyrie Irving and Dinwiddie are out, the Brooklyn Nets like to throw up more shots from the 3 point line, but with Toronto ranking #1 in defense against the 3, it's going to be hard for them to get their points.
Toronto on the other hand is looking for revenge. The Raptors let the Nets beat them the last time out on Feb 12th 101-91. You better believe that Toronto has not forgotten about that. With the Nets beating them the last time out and this being the first game of the playoffs, I expect Toronto's Defense to come out on fire, minimizing the Nets opportunity to score.
With Toronto's defense being so strong, they are going to force the Nets into a deep shot clock so they can get better shots off. With Toronto's offense, I expect them to do more outside shooting. The Nets are going to try playing zone defense to stop Toronto from scoring their easy down low baskets.
I expect the Nets defense to play strong and force those tough outside shots which will also kill the play clock with Toronto trying to set up better shots. The Raptors also start out slow in the first game of the playoffs as they are 3-10 ATS since 2012 in the first game of the series and they are 1-5 ATS in the first round as the favorite. The Raptors totals have gone UNDER in 7 of their last 8 conference quarterfinal games and nothing changes today. Below are a couple of KEY TRENDS I like this game.
Nets vs Raptors Key Trends for this game
Under is 6-1 in Nets last 7 games after scoring more than 125 points in their previous game.
Under is 7-1 in Raptors last 8 Conference Quarterfinals games.
Under is 4-1 in Raptors last 5 games following an ATS win.
Under is 4-1 in Raptors last 5 games as a favorite.
Under is 7-2 in Raptors last 9 overall.
Under is 7-2 in Raptors last 9 when their opponent scores 100 points or more in their previous game.
Under is 7-2 in Raptors last 9 after scoring 100 points or more in their previous game.
Under is 6-2 in Raptors last 8 when their opponent allows 100 points or more in their previous game.
Under is 5-2 in Raptors last 7 games following a straight-up win.
So for this game, RSP is going with the Brooklyn Nets/Toronto Raptors UNDER 222. Fanduel has the total at 221.5