Tampa Bay Rays vs NY Yankees Pick September 2, 2020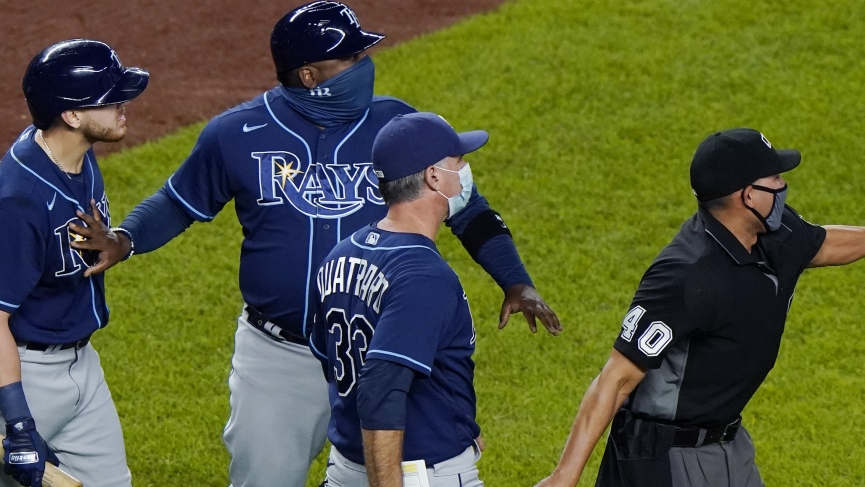 Game: Tampa Bay Rays (25-12) vs New York Yankees (20-14)
Odds: Rays -106 / Yankees -102 / Total: 8.5
Where: Yankee Stadium New York @ 7 pm EST
The New York Yankees are not the team we expect them to be. They can't stay healthy, and their starting pitching is still suffering despite their massive payroll each and every year. Jordan Montgomery will try to get the Bronx Bombers out of their slump, while Tampa Bay will counter with Charlie Morton, who's starting to pitch like he did last year when he finished 3rd in Cy Young voting. Yankees are a hurting unit with injuries, while the Rays have the youth, and bop the Yankees are lacking. My best bet first five innings under 4.5 -110
Tampa Bay Rays vs NY Yankees starting pitching
Team
Pitcher
Inning
Pitched
Batting
Avg.
WHIP
FIP
K-BB %
LOB%
GB/FB
HR:FB
Hard
Contact
%
Rays
Morton (R)
16.200
0.304
1.500
4.510
16.900
74.600
0.820
13.600
53.700
Morton (Away)
5.000
0.286
1.400
4.130
23.100
90.900
1.000
20.000
57.100
Yankees
Montgomery (L)
24.100
0.242
1.070
3.710
17.000
63.000
1.550
13.600
30.700
Montgomery (Home)
20.100
0.221
0.930
3.230
19.800
71.400
1.800
13.300
28.800
Charlie Morton started the year with eight runs allowed in his first two games, questions started to swirl after July left Morton in the dust. August things began to look more like a Charlie Morton start, allowing only two runs in his next two games. Both were at home, though during his career, in nine games Morton owned a .209 batting average, and a 1.20 WHIP.
Things will only be easier for Morton this time around when the three-headed monsters are all missing in action (Torres/Stanton/Judge). Morton has had a few weeks off since his last start versus the Yankees where he was pulled after two innings with a shoulder injury, he did not try and push through the injury and was taken out of the game immediately. This Yankee lineup is not hitting, I can see why Tampa Bay's pitching staff choose the Yankees as Morton's first game back, New York is just not hitting.
Jordan Montgomery has been a tough pitcher to get a grasp of, who is Jordan Montgomery. The 6 foot 6, 230-pound pitcher owns a sub 4.00 ERA and 1.30 WHIP. Montgomery is going to have to slow down Kevin Kilmer who is currently smashing for .310 ISO Power in the past three weeks of play. There are only a few Rays bats who have seen Monty, and Kilmer is one of them. The kid is doing nothing wrong at home, pitching the majority of his starts at Yankee Stadium, though he was touched against harder hitting teams like the Braves, and Phillies. Tampa Bay qualifies as a hard-hitting team, our table below will break down both offenses current form in the past three weeks. Montgomery will need to keep this Rays lineup in check, as the Yankees bats have gone quiet.
Tampa Bay Rays vs NY Yankees offensive production: Aug 18th- present
Offense
Batting
Average
K %
OPS
ISO Power
BABIP
wRC+
GB: FB
HR: FB
Hard
Contact
%
Rays (vs L)
0.212
23.100
0.682
0.131
0.257
97.000
1.000
10.300
41.100
Rays (Road)
0.267
22.400
0.820
0.211
0.311
122.000
1.360
19.700
38.100
Yankees (vs R)
0.210
25.600
0.712
0.189
0.248
92.000
1.130
17.500
37.200
Yankees (Home)
0.210
25.100
0.709
0.192
0.245
94.000
1.020
16.900
34.400
Tampa Bay can produce on the road, but not against left-handed pitching, they will be faced with an ace thus far in Jordan Montgomery for the Yankees. There are heavy discrepancies on the road and against left-handed pitching. Every major offensive category is down for Tampa on the road, not good for offense. Since Montgomery has pitched over 80 percent of his games at Yankee Stadium, it leads me to believe he will have another solid game. Tampa Bay has the advantage once our starters leave the game, but I feel the total at 4.5 in the first five innings is a great grab with these two studs going for each squad. Late in this game, we could see some shenanigans since the bullpens were throwing at each, the Rays are in payback mode.
Since the Yankees lost Judge and Stanton New York has become a very average offense that was led by Faber Torres. Since Torres now went down with a hamstring injury, the bats have become stagnant, striking out more than any other team in the league, not helping their starting pitchers. Morton was pulled last time out, he was dealing despite the shoulder injury. Montgomery is having the best start to his career in the three-season he's been with the Yankees, look for pitchers duel, not a home run derby.
Tampa Bay Rays vs NY Yankees pick and bullpen production
| | | | | | |
| --- | --- | --- | --- | --- | --- |
| Bullpen | Innings | K-BB % | Batting Avg. | WHIP | FIP |
| Rays | 51.200 | 9.800 | 0.201 | 1.160 | 4.510 |
| Rays (Road) | 28.000 | 13.600 | 0.204 | 1.140 | 4.670 |
| Yankees | 30.100 | 14.300 | 0.262 | 1.550 | 6.460 |
| Yankees (Home) | 23.100 | 14.000 | 0.239 | 1.460 | 6.650 |
New York has slightly better bullpen numbers at home, yet their bullpen is still less than impressive. Other than Tommy Kahnle the relievers are completely healthy, its guys like Chapman and Green who are not having the starts they envisioned. Tampa Bay has had a solid bullpen for years, and that trend has continued this year. After the first five-inning watch out for the Rays to take this game late. We find the first five-inning under 4.5 -110  a profitable look for two pitchers heading in the right direction. 
Tampa Bay Rays vs NY Yankees injury report: Offense only
| | | | |
| --- | --- | --- | --- |
| Rays | Diaz | 3B | 10-Day IL (Hamstring) |
| | Zunino | C | 10-Day IL (Oblique) |
| | | | |
| --- | --- | --- | --- |
| Yankees | Torres | SS | 10-Day IL (Hamstring) |
| | Stanton | DH | 10-Day IL (Hamstring) |
| | Judge | RF | 10-Day IL (Calf) |
Best Bet: First Five Innings Under 4.5 -110