Rockies at Astros Pick and Today's MLB Best Bets August 18, 2020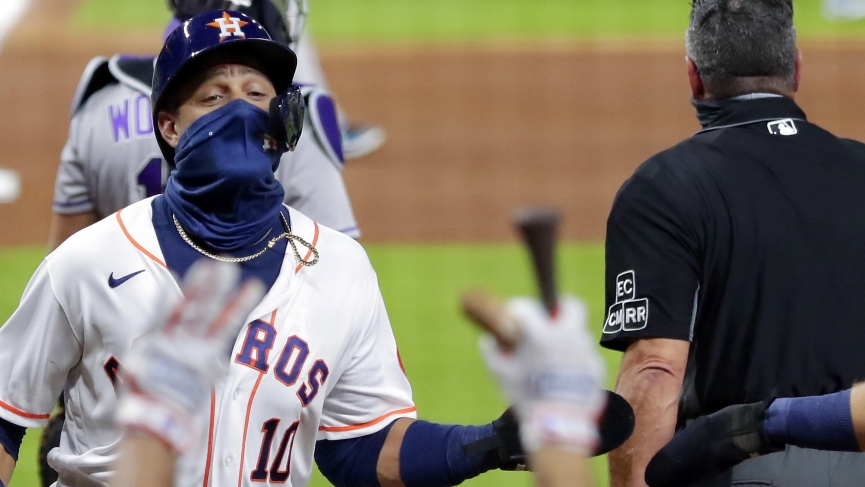 This MLB season is biting back on my early-season success with baseball betting. I went 1-2 last Thursday to bring me dangerously near the .500 mark. 
On Tuesday, I'll start off with my Rockies at Astros pick and aim for my baseball bets to bring me back from the abyss and make us some money. I've gone back to one of my successful strategies: Target soft run lines with a significant favorite who's sending a seasoned pitcher to the mound. 
The best way to dig out of a hole is to lean on talented pitchers. I'm backing three ace-level right-handers who are going to work with positive odds on their home favorite's run line. 
Here's hoping these MLB run line sleeper bets cement me into positive territory by my Wednesday article.
2020 Total: 21-20 +14.71 units in wallet
(Note: All MLB odds and lines current as of Tuesday, midnight ET.)
Colorado Rockies at Houston Astros Pick
Probables: RHP Antonio Senzatela at RHP Zack Greinke
First pitch: 3:10 p.m. ET
➕ 5 units on Astros' Run Line -1.5 (+100) at BetMGM and FoxBet
Senzatela is saddled with a 5.40 ERA for his career at home, but his road work isn't much better (5.06). For this year's short workload, however, the righty has improved his delivery and conditioning, and he sports a 3.27 ERA in two road outings with a 4.50 rate at Coors Field over two appearances. 
However, are you going to fade Greinke at home? I'm not. He boasts an excellent 3.46 ERA in 15 career outings at Minute Maid Park, and he's coming off a one-run victory in 6 1/3 IP his last time out, which also happened to take place in Houston.
The Astros' lineup is missing a few key pieces (Yordan Alvarez, Michael Brantley), but while Senzatela has shown improvements this season, he's not a pitcher worthy of getting in Greinke's way. Given the Rockies' early-2020 success — including a 2-1 victory over Houston on Monday — this marks a perfect time to fade the road squad who in past seasons has heavily depended on home performance.
Still, Houston ranks second with an .859 OPS since the start of the 2019 season, and even with the Astros' weakened rotation in the absence of Justin Verlander and bullpen, who misses Roberto Osuna, Greinke should provide a comforting presence.
St. Louis Cardinals at Chicago Cubs Pick
Probables: RHP Daniel Ponce de Leon (0-1, 6.75 ERA) at RHP Yu Darvish (3-1, 1.88 ERA)
First pitch: 8:15 p.m. ET
➕ 5 units on Cubs' Run Line -1.5 (+116) at DraftKings
Jumping into my St. Louis Cardinals at Chicago Cubs pick, the Cubs are heavy favorites on the back of their top-end starting pitcher, so I had to navigate to the run line to find profitability. Chicago has made a whopping $518 off the Moneyline on their 14-7 season. I'll back another suffocating righty ace who's working from home. Darvish has a 2.12 ERA in 17 innings at Wrigley Field this year. 
Since the start of the 2019 season, the Cubs offense ranks seventh with a .789 OPS against right-handed pitchers and ninth at home with a .799 OPS. Chicago is also a top-10 club against the run line at home (7-6, per TeamRankings.com). 
Ponce de Leon is a fringe starter who's been thrust into the rotation given the season-ending injury to Miles Mikolas, so he likely won't have the stamina to pitch for long, and the Cardinals' bullpen is dealing with a few injuries. 
Oakland Athletics at Arizona Diamondbacks Pick
Probables: RHP Frankie Montas (2-1, 1.57 ERA) at RHP Luke Weaver (0-3, 11.85 ERA)
First pitch: 6:10 p.m. ET
➕ 3 units on Athletics' Run Line -1.5 (+105) at BetMGM
For Athletics vs Diamondbacks, Weaver has struggled to find his early-2019 form and is basically a pitching machine right now. Chase Field has a humidor and becomes friendlier to pitchers, so I'm out on the Over/Under despite his woes. 
I'm not 100% on backing Montas away from his comfy confines of RingCentral Coliseum, which boasts a foul territory the size of California itself, but unlike his counterpart on the hill, he's shining as he did in early 2019 before he was suspended for a positive PED test.
Montas has also completed seven innings in each of his past two starts, including a road win in Seattle and a shutout of the Astros.  Though they're 4-7 against the run line on the road, the A's are 7-4 straight-up in that same split. Arizona is 5-6 on the run line in their home battles, so I'll side with the better pitcher.