Reds vs Cardinals Pick and 2 MLB Best Bets August 20, 2020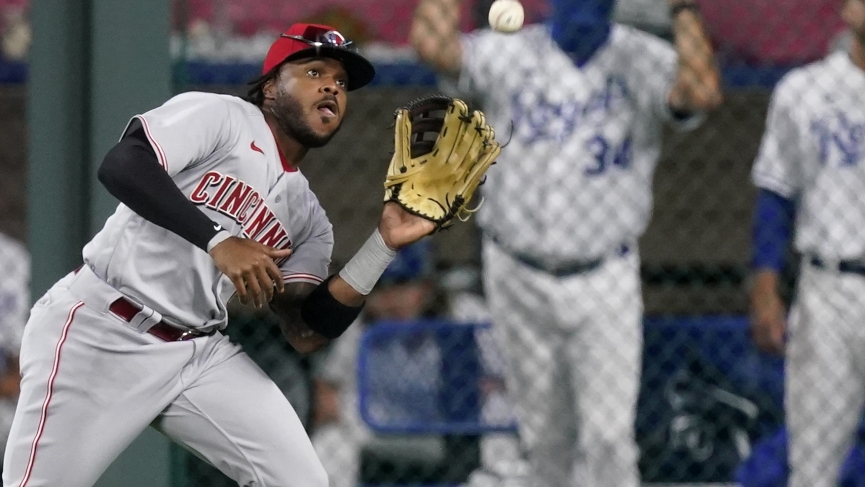 Well, I'm officially below .500 for MLB betting picks this season, but before we get into my Reds vs Cardinals pick and my 2 MLB best bets, let's look at how my wallet is holding up.
2020 Total: 23-24 +8.95 units in wallet
Even after they failed to hold a win for Jacob deGrom, the New York Mets saved my run line pick by an extra-innings, two-run homer Wednesday.
Fun stat: I only bet a negative MLB line 12 times out of those first 47 — just 26%. Can't say I'm not taking big swings. 
Time to rein things in a bit and boost that win rate; I don't even have Hamilton's worth of units right now. Here's hoping we get back on track with these three picks for Thursday night games — and pitching quality definitely varies.
(Note: All MLB odds and lines current as of Thursday, 8 a.m. ET.)
Cincinnati Reds at St. Louis Cardinals
Probables: RHP Sonny Gray (4-1, 2.05 ERA) at RHP Adam Wainwright (2-0, 1.64 ERA)
First pitch: 8:15 p.m. ET
➕ 3 units on Reds' Moneyline (-138) at FanDuel
Few pitchers are more thankful to work outside of their home park than Gray, who ranks 12th with a 2.94 road ERA since the start of the 2019 season. His revelation in 2019, reuniting with former Vanderbilt muse and Reds pitching coach Derek Johnson, has carried over into 2020; he's posted an elite 45:9 K: BB in 30 2/3 IP. 
Gray owns a 1.54 ERA in two starts at Busch Stadium. Though Wainwright holds a 2.84 career ERA at home over his long career, his low 2020 ERA is not as believable as Gray's, given his 8:4 K: BB. I expect that to rise.
These two teams are quite evenly matched with the season-long offense: The Reds rank 18th with a .739 OPS, and the Cardinals are 21st (.734). With that in mind, I'm siding with Gray and the surprisingly dominant Reds bullpen (10 K/9 this year, the fourth-best rate in the league).
Arizona Diamondbacks at Oakland Athletics Pick
Probables: LHP Alex Young (1-0, 3.86 ERA) at LHP Sean Manaea (0-2, 7.65 ERA)
First pitch: 9:40 p.m. ET
➕ 2 units on Athletics' Run Line -1.5 (+128) at FanDuel
This bet is a nod to the Athletics being one of the best home teams in the league at 10-3 (tied for second), with an average margin of victory of 1.2, which ranks tied for seventh, per TeamRankings.
The Diamondbacks (.817 OPS, fifth) and A's (.803, seventh) rank among the top 10 offenses versus lefty pitching, and Manaea's season-long line makes me look ridiculous for trusting him. 
Alas, his .381 BABIP is inflated, and I expect that to dip as he finds his footing. He's less than a year removed from returning from shoulder surgery rehab, after all. Plus, RingCentral Coliseum (and all its other corporate names) has bailed him out in his up-and-down career; he holds a solid 3.75 ERA for his career at home.
On the other hand, most of Young's "good on paper" work this year has come in relief, and he similarly surpassed expectations with last year's 3.86 ERA, which hid tepid a 7.7 K/9 and 2.9 BB/9. He relies on inducing groundballs – and he's lucked out so far with an absurdly inflated 96.2 LOB%. Many of those runners will start crossing as the contact he allows falls in his opponents' favor more frequently.  
Los Angeles Angels at San Francisco Giants Pick
Probables: LHP Jose Suarez (–) at RHP Kevin Gausman (0-1, 4.21 ERA)
First pitch: 9:45 p.m. ET
➕ 2 units on Over 9.5 (+110) at FoxBet
Logical double-up wagers that I like are difficult to come by Thursday. With this in mind, and despite the pitcher-friendly host park in this matchup, I'm taking a chance on these two quietly effective offenses. 
The Halos rank fifth with a .787 OPS against righty pitching, and Gausman has allowed a barreled ball on 11.9% of the contact against him, per MLB's Statcast, which ranks him tied for the 54th-worst rate among qualified pitchers.
San Francisco ranks 12th versus lefties with a .796 OPS, and Suarez, who's making his season debut, was saddled with a 7.11 ERA across 15 starts in 2019. As he's reached the higher minors levels and the majors, his K/9 has dipped; he's the type of lefty you can strategize against. 
I was shocked at this stat: Through Wednesday, the Giants are tied for a league-best 66.7% on the Over/Under (14-7-5) and have the fewest Unders in the majors, per TeamRankings. The books apparently expect that to change soon; I'm not as confident it'll drastically drop in the future. Mike Yastrzemski is enjoying another breakout stretch, and they seem to have their platoons working well.