Reds at Brewers Pick and Today's MLB Best Bets August 24, 2020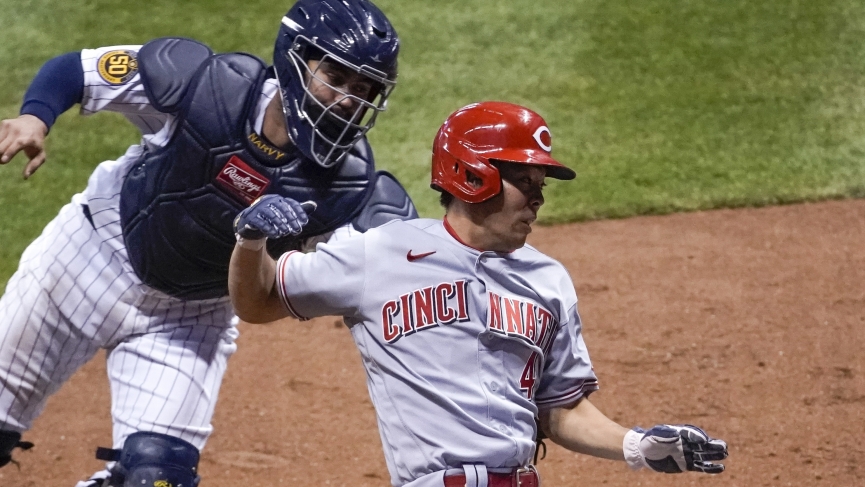 My Reds at Brewers pick kicks off my MLB betting for today. My MLB record is back to .500 (25-25, +10.71 units) on the back of a 2-1 record last Thursday.  Bettors only have nine MLB games from which to choose Monday, but I found three opportunities to tilt the profitability in our favor.
For my trio of baseball bets, I'm latching onto:
A left-hander who's flashed more of his old Cy Young form recently
An underrated 2020 breakout who should sustain his momentum — even against one of 2019's best hurlers
The league's ERA leader visiting a hitter-friendly park but getting to face a weak lineup.
(Note: All MLB odds and lines current as of Monday, 8 a.m. ET.)
Cincinnati Reds at Milwaukee Brewers Pick
Probables: RHP Trevor Bauer (3-0, 0.68 ERA) at LHP Brett Anderson (1-2, 3.71 ERA)
First pitch: 8:10 p.m. ET
➕ 3 units on Under 8.5 (-103) on BetAmerica and ResortsCasino.com
Bauer's ERA tops the league leaderboard. He's tapped back into his ceiling thanks to working with Reds pitching coach Derek Johnson, one of his longtime idols among baseball minds. The righty boasts a 41:7 K: BB and has allowed just two homers in 26 1/3 innings — curing a major drawback of his disappointing 2019 while keeping his elite command.
Anderson has been his typically serviceable, innings-eating, ground ball-inducing self – he's actually on a career-high ground ball pace of 67.3%, which helps him survive in Miller Park. He's also boosted his K/9 from 4.6 last year to 7.4 in 2020, making him a more trustworthy arm for betting purposes, especially in the Under.
Milwaukee has averaged just 3.73 runs per nine at home, and the Reds come in at only 3.05 on the road. Milwaukee, meanwhile, ranks just 27th overall with a .668 OPS and 24th at home (.686).  Though Milwaukee is 4-3 on the Over/Under at home, Cincinnati is 5-9 on the road, chiefly due to leaving their batter-enhancing Great American Ball Park and the success of their top three pitchers (Bauer, Sonny Gray, Luis Castillo).
This isn't a Brewers lineup who should scare many bettors. In fact, losing Mike Moustakas to these Reds in free agency has left a gaping hole in the middle of the order.
Toronto Blue Jays at Tampa Bay Rays Pick
Probables: RHP Tanner Roark (2-1, 4.76 ERA) at LHP Blake Snell (2-0, 3.00 ERA)
First pitch: 3:10 p.m. ET
➕ 2 units on Rays' Run Line -1.5 (-108) at FanDuel
After working his way back into health after recovering from an elbow injury, Snell has gone deeper into games and has a solid history in his splits for this game. The lefty boasts a 2.45 ERA in 48 starts at Tropicana Field. In addition to a two-inning shutout appearance against the Blue Jays earlier this year, he mowed them down in 2019 with a 2.51 ERA in three meetings.
Toronto has been forced to play its home games in its Triple-A Park in Buffalo, but they haven't exactly enjoyed traveling to other parks: The Jays rank 20th with a meager .675 OPS in road games, and they'll make the trip without touted young shortstop Bo Bichette (knee), who's on the injured list.
Toronto's bullpen remains vulnerable in Ken Giles' (elbow) absence, too, and while the Rays just lost Nick Anderson (elbow), they have much more depth in relief pitching. Plus, though they're 6-8 against the run line at home, the Rays are 10-4 straight-up in Tampa Bay and are riding hot at 8-2 overall in their last 10.
Kansas City Royals at St. Louis Cardinals Pick
Probables: RHP Brad Keller (3-0, 0.00) at RHP Jack Flaherty (1-0, 3.12 ERA)
First pitch: 8:15 p.m. ET
➕ 2 units on Under 7.5 (+105) at FoxBet
Some books are keener than others on Keller's early breakout, but FoxBet provides the most juice with a half-run discount on the Over/Under than the widespread figure of eight runs (as of this writing).  Any club of Kansas City's mediocrity facing Flaherty, one of 2019's best pitchers in the second half, will get pushed toward negative odds on the Under, but the Cardinals are uninspiring in their own right.
In their last 10 games, the Royals are 0-9-1 on the Over/Under (8-19 overall); St. Louis is just 4-6 (7-10 overall). The Cardinals rank 20th with a .712 OPS at home, and both clubs rank in the bottom third against right-handed pitchers: Kansas City at .709 (21st) and St. Louis 24th (.695).
Keller, meanwhile, has had a bit too many walks (4.1 per nine innings) but has increased his strikeout rate (7.6 K/9) and has preserved his groundball success. That 100% LOB rate of course will dip, but he still should chew up enough solid innings to keep this total low.