Kansas City Royals vs Chicago White Sox Pick August 28, 2020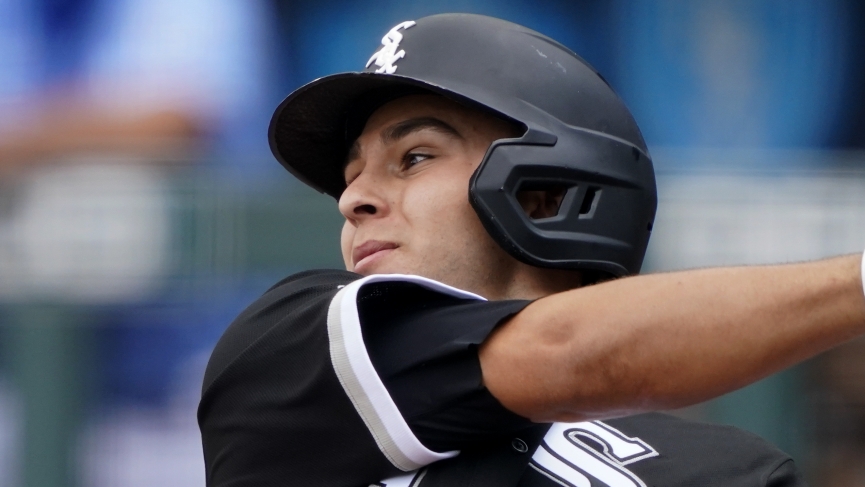 MLB Game: Kansas City Royals (12-19) vs Chicago White Sox's (19-12) 
Odds: Royals +130  / White Sox's -140 / Total: 10
Where: Guaranteed Rate Field Chicago @ 8 pm EST 
Kansas City Royals vs Chicago White Sox pick is today's MLB play of the day. Some familiar foes take the field tonight, with one team moving up, and the other falling deeper down the standing. This series will be a make or break for the Royals Season. We have the better pitcher in Duffy going for the Royals, and a few batters who can smash Lopez. Let's sneak one out here with the Royals F5 team total over 2.5 -102 
Royals vs White Sox Starting Pitching
Team

Pitcher

Inning

Pitched

FIP

WHIP

Batting

Average

K-BB %

GB/FB

Hard

Contact

%

HR: FB

LOB%

Royals (Away)

Duffy

20.100

3.250

0.840

0.157

21.900

0.670

28.000

8.300

61.700

White Sox

Lopez

4.000

8.150

2.000

0.250

0.000

0.830

66.700

16.700

39.500
We have a solid sample size of games to work with when it comes to KC pitcher Danny Duffy. This lefty has enjoyed a nice 2020 start to the year, despite his 2-2 record. Duffy has an average of about six strikeouts per game, and his WHIP is under 1.00 on the year. He actually improves when he comes on the road, which in large part bodes well for Duffy as he will need to be on the best left-handed hitting team. Duffy has all the tools that to shut down a potent lineup, expect another above par effort. His career numbers against a few White Sox players is not great, but if Duffy can avoid Abreu, Anderson, and Engel the rest of the team are below 0.200 batting average. 
Reynoldo Lopez is slowly making his way into this season, in just two games Lopez has gone only four innings giving up six runs in the process. He was faced with two powerhouse clubs in the Twins and Cubs, but his track record against this Royals squad is not a positive one. Similar to Duffy, Lopez will need to be very careful pitching to three bats in the Royals lineup, that being Soler, O'Hearn, and Dozier. Major concern should be noted when Soler and O'Hearn step up to the plate, with a Slugging percentage over 1.00. A hot bath is an understatement. Until Lopez can settle into the season, I think he will be a liability for the White Sox's going forward, especially against a divisional opponent like the Royals.
Royals vs White Sox offensive production
Offense

Batting

Average

K %

OPS

wOBA

BABIP

wRC+

HR:FB

Hard

Contact

%

Royals

0.217

23.7

0.654

0.283

0.255

76

13.6

42.5

White 

0.312

21.5

1.00

0.418

0.337

170

28.4

47.8
Yes the White sox's smash lefties, but expect some regression to come. We have to take into account who the White Sox's are hitting. I know for a fact Duffy has been solid all year and knows this White Sox's team quite well. Duffy was able to take down the Twins in his past two starts, dealing late into each start. Things will be tougher against this White Sox's lineup, but I believe with his confidence leading into the year compared to previous will be the difference-maker against the Sox's.
We all know the Royals have some pitching concerns, but his lineup can keep up with the best of them in the AL Central. White sox's are playing in over their heads. Not to mention they will be missing two key bats in tonight's game, 2B Madrigal, and CF Garcia.
We have a case of a team overachieving, and a team underachieving. We have a pitcher who is dealing this year, he just needs to watch out for three bats was stated in the White Sox's lineup. It's a very similar case to Lopez, he needs to watch out for three bats the Royals have. This is why i want to focus our attention on fading Lopez early, and rely on the Royals bats who know Lopez very well. 
Royals vs White Sox Bullpen Relief
Bullpen

FIP

WHIP

Batting

Avg.

K-BB %

LOB%

Royals (Away)

5.75

1.49

0.242

11.3

85.7

White Sox's (Home)

4.49

1.26

0.235

14.8

70.3
Bullpen Advantage slightly lies with the White Sox's, we have two solid pens based on our LOB percentage, WHIP,  and batting average. It really could go either way late, this is why we will fade Lopez early. With Duffy dealing lets ride his hot hand, and fade the cold (Lopez).  Take advantage of the Royals early and often. Best Bet Royals first five team total over 2.5.
Royals vs White Sox Injury Report: Offense Only
| | | | |
| --- | --- | --- | --- |
| Royals | Perez | C | 10-Day IL (Eye) |
| | Heath | CF | 10-Day IL (Hamstring) |
| | | | |
| --- | --- | --- | --- |
| White Sox | Madrigal | 2B | 10-Day IL (Shoulder) |
| | Garcia | CF | 60-day IL (Thumb) |
Best Bet: KC Royals F5 Team Total Over 2.5 -102