Athletics vs Rangers Pick – August 27, 2020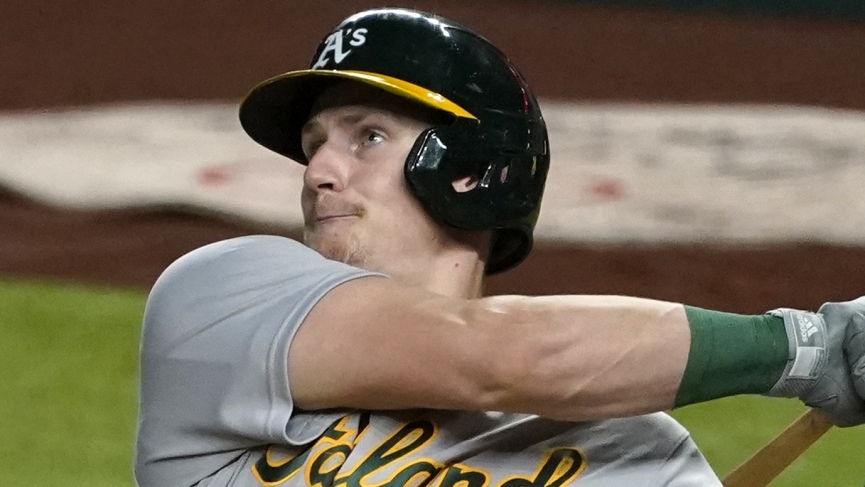 MLB Game: Oakland Athletics (22-10) vs Texas Rangers (11-19)
Odds: Athletics -172 / Rangers +157 / Total 10
Where: Globe Life Park Texas 630 pm EST
Today's Athletics vs Rangers pick has us looking at the powerhouse Oakland Athletics as they will look for their second consecutive series win when they bring 2-1 Chris Bassitt to the mound. Texas will counter with 1-3 Jordan Lyles, who is not having a good start to 2020, nor is the Rangers offense. A well-rested Matt Chapman, and a below-average pitcher in Lyles, chalk up another victory for the Athletics. Oak F5 -0.5 -140 will be in our pockets this evening.
Athletics vs Rangers starting pitching: Aug 1st – present
Team

Pitcher

Inning

Pitched

FIP

WHIP

Batting

Avg.

K-BB %

GB/FB

Hard

Contact

%

HR: FB

LOB %

Athletics (Road)

Bassitt

16.200

4.720

0.960

0.210

16.200

1.160

36.700

15.800

72.5

Rangers (Home)

Lyles

14.1

6.92

1.81

0.317

5.7

0.56

39.2

16.00

64.3
Bassit will be happy he is not facing the Angels, take out his three starts against LAA, Bassit has only allowed 5 runs in 18 innings. Bassit lost to the DBacks (4-3) and had a tough bounce-back game when he had to face the Angels who had already seen him twice this month. Bassitt has a great chance to lock in on a team that sits in the basement when it comes to offensive production at home and in August. Whenever you can grab a pitcher in the first five innings who's WHIP is under 0.96 on the road, you should take it. Now the line is already set accordingly in my opinion, that is why we look to cut it in half n back the first five.
Jordan Lyles will have a hard time improving his stats when he has to take on a well-rested Athletics team. Matt Chapman sat out yesterday's game and will be in the lineup tonight, to make things worse for the Rangers offense Texas only had three hits in last night's game, in return this gave the Athletics a day off on defense. Lyles WHIP screams liability, and when the batter gets on base they're scoring at a 35.7 percent rate. He is not garnishing strikeouts, yet allowing just as many walks he does K's. The Athletics proposes a major problem for Lyles, he's been a heavy fly ball pitcher with at 0.56 GB: FB ratio at home. It's hard for me to back a team that has injuries to their starting nine, and a pitcher who is fly ball happy. Until I see some changes to this team's makeup, why throw your money down the toilet with the Rangers at this time.
Athletics vs Rangers offensive production: Aug 1st- present
Offense

Batting

Average

K %

OPS

wOBA

BABIP

wRC+

HR:FB

Hard

Contact

%

Athletics (Road)

0.230

25.700

0.767

0.334

0.281

111.000

15.300

43.200

Rangers (Home)

0.206

21.900

0.600

0.269

0.257

49.000

5.100

43.400
This where our advantage lies. Since August 1st Oakland has a somewhat low batting average and BABIP though excels when it comes to extra-base hits. OPS & wOBA factor how well a hitter can reach base, along with how well he averages for power. Now we have a power-hitting team with a fly ball-tossing gas can in Lyles. We haven't even talked about the bullpens, but we can definitely say Oakland have the bats, while the Rangers hit for near nothing. 49 wRC+ is an absolute disaster, why would we think Texas hits here when they can continue to be behind the 8 ball.
Athletics vs Rangers bullpen production: Aug 1st- present
Bullpen

FIP

WHIP

Batting

Avg.

K-BB %

LOB%

Athletics (Away)

4.240

1.180

0.199

15.900

92.900

Rangers (Home)

4.240

1.330

0.204

10.500

72.900
Let's make it a trifecta. Oakland checks off all three major categories we like to indulge in. Now Texas's best chance from defeat may be late, other than their 72.9 percent LOB%, there is not much of a difference between these two bullpens. I do believe we lead by a run or two after five innings, that is why we'll be pulling the trigger on the Oakland Athletics F5 -0.5 -140 @ FanDuel
Athletics vs Rangers injury report: offense only
| | | | |
| --- | --- | --- | --- |
| Rangers | Player | Position | Injury Status |
| | Odor | 2B | Day-to-Day (eye) |
| | Calhoun | LF | 10 Day IL (Hamstring) |
| | | | |
| --- | --- | --- | --- |
| Athletics | Player | Position | Injury Status |
| | Chapman | 3B | Day-to-Day |
| | Pinder | 2B | Paternity |
| | Andrus | SS | 10-Day IL (Back) |
Best Bet: Athletics F5 -0.5 -140 @ FanDuel