Astros vs Rockies Pick and Today's MLB Best Bets August 19, 2020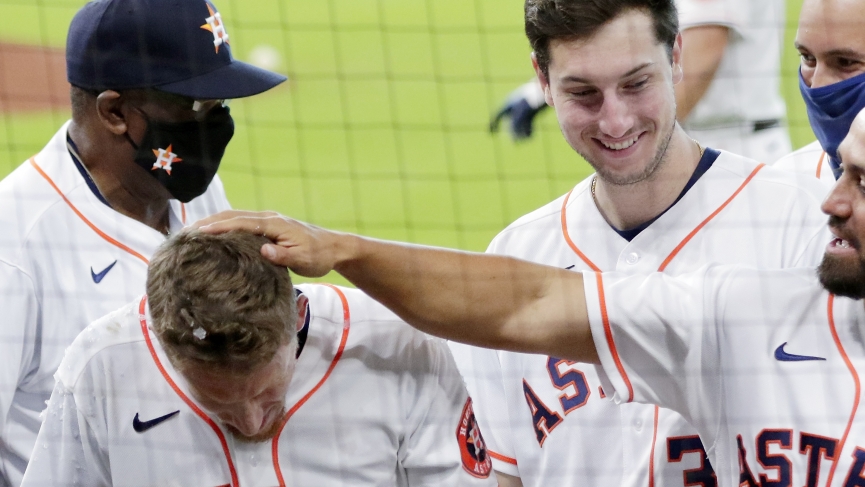 Staying positive and kicking off my Astros vs Rockies pick and a couple of best bets for today. My MLB betting picks suffered another rough 1-2 night Tuesday, but I was salvaged by the Chicago Cubs defeating the St. Louis Cardinals. Still, I'm clinging to a .500 record:
2020 Total: 22-22 +12.51 units in wallet
I'm restricted to making $3 bets, thanks to my strict budgeting when I dip this low. That's a lesson for anyone looking to get into sports betting: Set a budget for a certain period and minimize reloads to infrequent occasions and at levels that will keep you comfortable.
(Note: All MLB odds and lines current as of Tuesday, midnight ET.)
Houston Astros at Colorado Rockies Pick
Probables: LHP Framber Valdez (1-2, 1.90 ERA) at RHP Ryan Castellani (0-0, 1.04 ERA)
First pitch: 8:40 p.m. ET
➕ 3 units on Rockies' Run Line +1.5 (-105) at BetMGM and DraftKings
I was burned by falling a run short of cashing the Astros' line Tuesday, but I'm back for more punishment, though the lines shifted out of double-up range overnight.
The Astros will be without big boppers Yordan Alvarez and Michael Brantley — both inhabitants of the injured list — and the Rockies get to take their cuts in their treasured home park. Colorado heads back to Coors Field leading the league with a .881 OPS since the start of the 2019 season (through Monday).
They also rank sixth against lefties with a .807 OPS over that same window, so hosting Valdez, who's trudged to a career 4.97 ERA away from Minute Maid Park. A Mile High assignment is a nightmare scenario for a hurler whose numbers slip when he travels. 
While he's a talented formerly hyped prospect, his ERA is bound to rise soon. Also, some may point to Castellani's inexperience and fortunate early performance as reasons to fade the home team, but I'll go with the seasoned home offense with an unfair advantage.
Toronto Blue Jays at Baltimore Orioles Pick
Probables: LHP Tommy Milone (1-2, 4.00 ERA) at RHP Tanner Roark (1-1, 6.00 ERA)
First pitch: 1:05 p.m. ET
➕ 3 units on Over 9.5 (-103) on BetAmerica and ResortsCasino.com
The lines on this Over/Under have become more favorable overnight, so I was pleased to see this one turn in our direction to get closer to a double-up. Baltimore (.767 OPS, 10th) and Toronto (.750, 11th) have a top-12 offense against right-handed pitching. 
Roark has allowed a miniscule .226 average on balls in play to opponents, but much of the damage against him so far has been done by his 2.25 HR/9. I expect more misfortune on normal contact to offset that big-fly slippage, and that'll be helped by hitter-friendly Camden Yards.
Milone, meanwhile, has increased his strikeout rate (9.0 K/9) and lowered his homer pace (0.50 allowed per nine), but 46.6% of the contact he's allowed is categorized as Hard, per Fangraphs. He's been getting lucky more frequently than getting punished. 
Toronto just lost Bo Bichette for at least a few weeks, but Toronto has enough lineup depth to make up for it, and Baltimore's surprising start to the season has included a revival at the plate that includes a breakout from Renato Nunez. 
The O's are also 8-3 on the road and are 12-8-3 on the Over/Under, so although the Jays have carried a lot of hype with young bats Vladimir Guerrero Jr. and Cavan Biggio, Baltimore will contribute its own thump to cashing in on the total.
New York Mets at Miami Marlins Pick
Probables: RHP Jacob deGrom (2-0, 2.45 ERA) at RHP Pablo Lopez (2-1, 2.25 ERA)
First pitch: 7:10 p.m. ET
➕ 3 units on Mets' Run Line -1.5 (-123) at DraftKings
I know I know, backing the Mets' offense to give deGrom a win is always a fun proposition, but when my chips are down, I'm going to back aces in the most profitable way possible. Enter the run line.
Lopez often flashes elite form, especially at pitcher-friendly Marlins Park, but I'm going to pick on a Miami lineup that still has some helpful bats on the COVID-19 list. This offense already has been one of the worst against righties (.677 OPS, 29th) since the start of the 2019 season.
I'm of course keeping in mind deGrom is returning from a shortened start caused by neck issues last week, and the right slipped a little with a 3.71 ERA in three starts at Marlins Park last year. The back-to-back NL Cy Young Award winner looks good to go, however, and I'll take my chances with this lineup.