Astros vs Diamondbacks Pick and Today's Best Bets August 5, 2020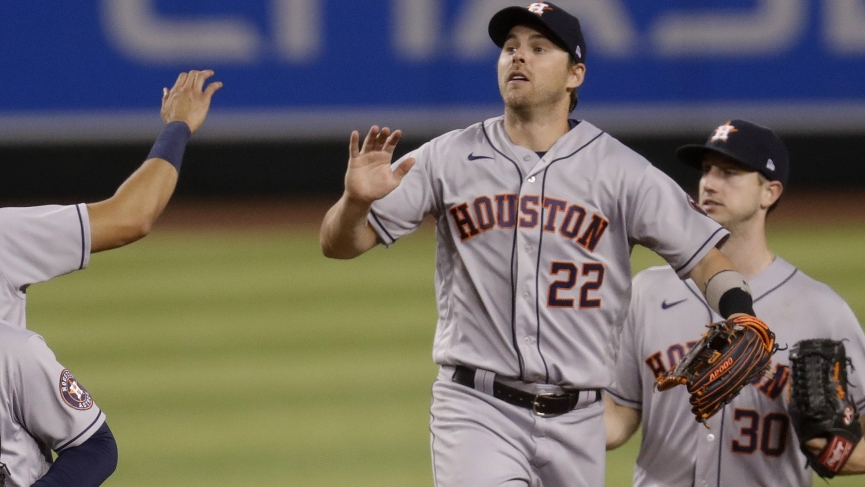 As we are about to get into my Astros vs Diamondbacks pick and the rest of today's best bets, we have 16 games on the schedule, but that includes two pairs of doubleheaders (New York Yankees at Philadelphia Phillies, and Miami Marlins at Baltimore Orioles), so be careful when placing bets on those.
Still, baseball has plenty of action this Wednesday. I dive into the latest odds, lines and picks a day after going 4-1 for the second time in my four days on Odds.com.
Total: 12-6 (.667 win rate), including 10-2 on Run Lines, +45.60 units in wallet.
Now, I aim for a 5-for-5 on Day 5. By the way, the game I'm most looking forward to watching — NOT BETTING — is the marquee pitcher's duel between the Cincinnati Reds' Luis Castillo and the host Cleveland Indians' Mike Clevinger.
(Note: All lines current as of Wednesday, 9 a.m. ET.)
🔒 Lock Favorites: Wednesday, Aug. 5
Chicago Cubs' Run Line (-2, -105 on BetMGM) vs. Kansas City Royals, 3 units
Oakland Athletics' Moneyline (-167 on BetMGM) vs. Texas Rangers, 3 unites
Houston Astros at Arizona Diamondbacks pick
Probables: RHP Lance McCullers (1-0, 5.40 ERA) at LHP Robbie Ray (0-2, 8.64 ERA)
➕ 3 units on Astros' Run Line -1.5 (+118), DraftKings
Wow, what a soft line. The square books are making it easy for me to pick on these spreads early this year.  The Astros lead the majors both in wOBA (.362) and walk rate (11.2%) against LHPs since the start of 2019. We got a clear look at this when Houston peppered Madison Bumgarner's dipping velocity Tuesday.
Ray holds a career 4.11 BB/9, and he'll be sure to struggle to navigate around the strike zone against this potent lineup.
McCullers is also struggling to start the season, but that Diamondbacks lineup is tamer, and considering his two starts were his first regular-season action since 2018 Tommy John surgery. Ray has flawed control even when healthy; McCullers has the upside to correct it, and the fact that his offense gets to face another southpaw should calm Houston bettors.
The Astros have a 3-1 record on the road so far, and Arizona is 1-4, so in this short sample, no real reason to weigh Chase Field games in the D-backs' favor.
New York Mets at Washington Nationals pick
Probables: RHP Rick Porcello (0-1, 13.50 ERA) at RHP Max Scherzer (0-1, 2.84 ERA)
➕ 5 units on Nationals' Run Line -1.5 (+100), BetMGM
This is my second straight day picking on the Mets. I don't necessarily loathe them for betting/fantasy purpose, but Wednesday marks their second straight day facing one of the Nats' trio of aces.
Scherzer has walked four and three batters, respectively, in his first two games, but he's made up for that with 11 and 10 strikeouts, respectively. 'Mad Max' mowed down the Toronto Blue Jays last time out with 7 1/3 shutout innings and those 10 whiffs, so he looks to be rounding into form after a rough 2020 debut versus the New York Yankees.
Porcello typically gives up plenty of homers (1.60 HR/9 or higher in two of the past three full seasons) and hasn't allowed one yet. I expect Washington to light this powder keg and give Scherzer plenty of cushion to cruise toward a win.
Scherzer boasts a career 2.95 ERA at Nationals Park and a 2.63 ERA in 21 appearances versus the Mets.
Boston Red Sox at Tampa Bay Rays pick
Probables: LHP Martin Perez (1-1, 5.06 ERA) at LHP Ryan Yarbrough (0-1, 1.54 ERA)
➕ 5 units on Over 8.5 (-110), BetMGM/PointsBet
The Red Sox rank 10th against lefty pitchers since the start of the 2019 season with a .331 wOBA (weighted on-base average). J.D. Martinez alone could hold down that fact, leading the league with a .519 wOBA versus southpaws in that same window.
The Rays have been slightly less successful, (.317, ranking 20th), but they can still produce handy platoon matchups based on their roster construction.
Perez basically throws batting practice, and Yarbrough's 2020 ERA hides a minuscule 5.40 K/9 and 3.09 BB/9 — not great for preventing contact. He's not useless, but he's somewhere on the skills spectrum between the mirage of 2020 and his underrated 2019 (4.13 ERA hiding a great 1.27 BB/9 and heavily influenced by an unlucky 62.8 left-on-base percentage).
Though Boston's offense, which is packed with many top names like Martinez, are just 3-7 (2-4 on the road) against the Over/Under. The Rays are 5-5 (3-3 at home). Even with those mediocre numbers, I'll venture that the weak starting pitching matchup will help improve those trends.