New York Islanders vs Philadelphia Flyers Pick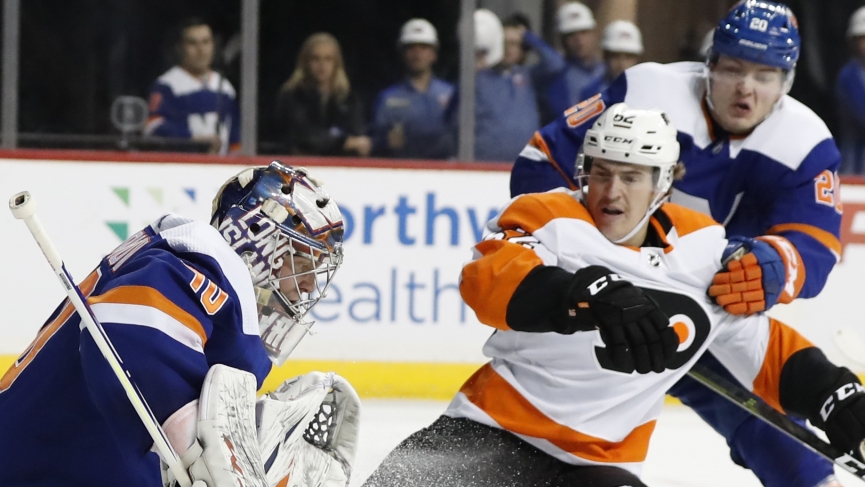 Flyers have been grounded
As we take a look at the New York Islanders vs Philadelphia Flyers pick, the Islanders have been putting on a continuous defensive clinic throughout the Stanley Cup Playoffs which is why they have gone a fantastic 7-2 to this point in the postseason. When they get a lead, they have put things on lockdown and made life miserable for their opponent to find easy opportunities to score goals.
The Washington Capitals found that out in the first round and now the Philadelphia Flyers are dealing with the same fate right now. Philadelphia has scored only 7 goals in the first four games of this series and we have seen two of their top offensive players Claude Giroux and Travis Konecny go scoreless in this series.
That must change tonight if the Philadelphia Flyers hope to extend this series to a Game 6. They also must improve on the power play as the Flyers have gone five straight games without a power-play goal against the very strong and stingy Islanders defense. Semyon Varlamov has also been terrific in net for most of the playoffs with only one shaky performance which came in the 1st Period of Game 2 of this series against Philadelphia. Other than that, he has been sharp in net tracking pucks well and displaying rock-solid rebound control.
Islanders Offense Still Undervalued
The New York Islanders have been thought of as a good defensive team but a squad that sometimes has trouble scoring goals and finding the back of the net with a great deal of consistency. That is definitely starting to change. The NY Islanders are getting contributions from most of their top-six forwards here in these playoffs. Josh Bailey, Anthony Beauvillier, Brock Nelson, and Mathew Barzel all have double digits in points in the playoffs and seven different Islanders players have scored 3+ goals in the playoffs.
They are getting more from their depth forwards as well than the Isles have received in the past. The NY Islanders have scored 3+ goals in 8 of their last 10 playoff games and that is an area they have improved significantly during the course of the season. The acquisition of Jean-Gabriel Pageau from the Ottawa Senators at the trade deadline really helped this team at both ends of the ice. Pageau is having the best offensive season of his career but he also played a 200-foot game and is strong away from the puck defensively as well. Pageau has chipped in 7 goals, 2 assists, and 9 points in the Islanders 13 playoff games.
New York Islanders vs. Philadelphia Flyers pick
I won't be betting against the New York Islanders here. This is a team that has controlled this series throughout. I could easily make the argument that the Islanders have won 10 or 11 of the 12 periods of hockey that have been played in this series between these two teams. The Islanders offensively have been superior getting more scoring from their top players than the Flyers have.
New York's defense has played better in this series holding the Flyers offense at bay for most of the series. Carter Hart in net hasn't been bad for Philadelphia nor was Brian Elliott in the one start he made in this series for the Flyers. The fact remains that both Semyon Varlamov and Thomas Greiss have been just a little better which has also helped contribute to this 3-1 series lead for the NY Islanders.
I don't discount that we'll see a big effort from Philly tonight looking to stay alive but that doesn't necessarily equate to them winning the game. Look no further than the Boston Bruins last night who played solid and the effort was there for them against the Tampa Bay Lightning as the Bruins tried to keep their season alive but they ended up losing 3-2 in OT.
I like the Islanders here tonight in Game 5 to end this series and I also think a look toward Over 5 in this game is worth a bet as well. It has been a low scoring series to this point but a total of 5 in an elimination game is very low when you consider that Philadelphia has to try and open up a bit and get on the scoreboard first. There is also a good chance that you could see extended time with the empty net late in the game which could lead to a goal-scoring explosion late in the 3rd Period.