Blue Jackets vs Lightning Pick August 13, 2020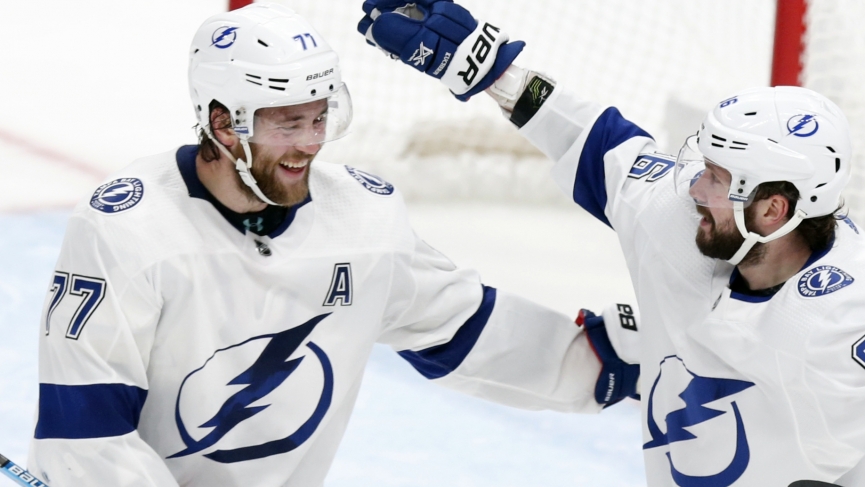 For today, we will get into my Blue Jackets vs Lightning pick. It would be an understatement to say that both teams emptied the gas tank in Game 1 of this series on Tuesday afternoon. The Columbus Blue Jackets and Tampa Bay Lightning both left it all out on the ice in a five OT marathon game which was eventually ended by Brayden Point's game-winning goal to give Tampa Bay a 3-2 victory. This is a very daunting turnaround for both teams with that game finishing Tuesday night after 9 pm ET over 6 hours after it started and now having to play Game 2 of this first-round series on Thursday afternoon.
M as in Marathon
One of the primary handicapping factors for me in looking at the next game following that type of extended overtime during the NHL Stanley Cup Playoffs is looking at ice time in the previous game for key players on both sides. Columbus's top two defensemen are Seth Jones and Zach Werenski and both of them were on the ice for more than 60 minutes on the Game 1 loss. That is likely to have a reverberating effect on their performance in Game 2, especially as blueliners.
Physical and mental fatigue often leads to more turnovers and giveaways with the puck as well as an increase in breakdowns in coverage in the defensive zone. It's simply a matter of human nature. As good as Seth Jones and Zach Werenski are for the Blue Jackets leading them from the back end, I would suspect we may see some struggles defensively from them in Game 2.
It's not realistic to expect a strong performance from two players that logged the extended amount of time on the ice they did just 48 hours ago. That's a concern when going up against the offensive depth that Tampa Bay has as the Lightning can throw multiple forward lines out on the ice that are capable of finding the back of the net and getting on the scoresheet.
M as in Momentum
There is no doubt the initial thinking would be that Tampa Bay has all the momentum coming into Game 2 after that five OT win in Game 1 because they feel invigorated and confident while Columbus is devastated and demoralized playing such a long game only to end up on the losing side of it. I would caution against that because Columbus, in particular, is a team that showed they had the capability of bouncing back in strong fashion following a very tough and disheartening loss when they blew a 3 goal lead to the Toronto Maple Leafs in Game 4 of their play-in qualifier series and lost in OT.
They followed up such a brutal and tough defeat by playing terrific in Game 5 in the series clincher shutting out the Leafs to advance to this first-round series against the Tampa Bay Lightning. Columbus has shown they can fight back from adversity and play well in the next game. This situation off an exhausting five OT loss will certainly test their mentality but this Blue Jackets team has been very resilient all season and it wouldn't totally shock me to see them respond well even after a very painful loss.
This quote from Columbus forward Oliver Bjorkstrand stands out about the ability of this Jackets team to park the previous game and bounce back the next game: "It's playoff hockey, you're going to lose games. This was just a long OT game we lost, so it's no different. We've just got to bounce back and be ready for the next game, and we will."
Blue Jackets vs. Lightning Pick
I'm more interested in betting the total than the side here in Game 2. We have two fatigued squads but it is more likely to show up for the defensemen on both teams. Seth Jones and Zach Werenski played 60+ minutes in Game 1 for Columbus on their blue line while Victor Hedman (coming off an injury to boot) and Ryan McDonagh, two key defensemen who play in all situations, for Tampa Bay both played in excess of 47 minutes in the five-overtime marathon of Game 1.
Defensemen are on the ice longer than forwards in multiple OT playoff games like the one on Tuesday between these two teams and I expect the physical toll of Game 1 to show on the blue line of both teams in this game resulting in more turnovers, miscues, blunders, and penalties which all could lead to more goals because the defensemen are just a step slow coming off the immense workload they all had to shoulder in Game 1 on Tuesday.
I also expect both goalies Joonas Korpisalo for Columbus and Andrei Vasilevskiy for Tampa Bay to have their performance in Game 2 negatively affected by the 150 minutes they both played in Game 1. It's difficult to be as sharp after facing that many shots and playing for that length of time in the previous game. This total is 5 at some books and 5.5 at others but regardless of what number you find, I recommend betting the Over here in Game 2. I expect defense and goaltending, in particular, to be less than stellar in this short turnaround after the Game 1 overtime marathon.