Blackhawks vs. Golden Knights Pick Game 5 August 18, 2020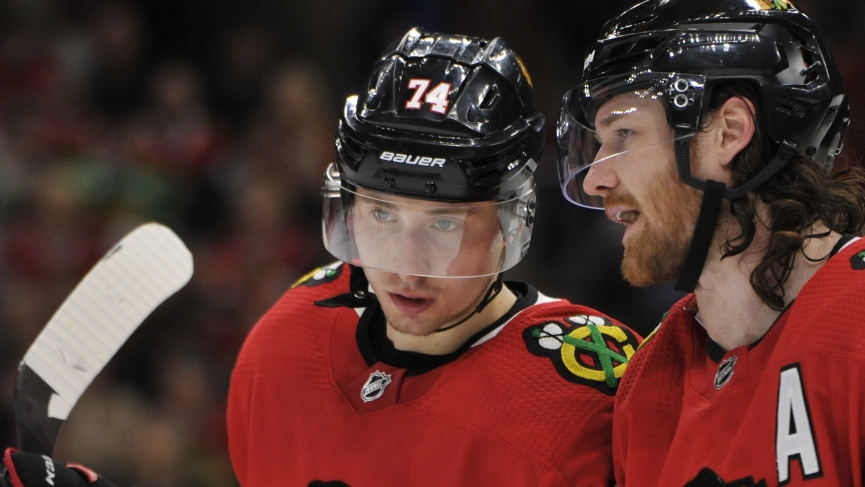 Let's dive into my game 5 Blackhawks vs. Golden Knights pick. Chicago won Game 4 to stay alive in this series but Chicago was terrible in the game. Welcome to the way hockey works sometimes. The team that carries the play and dominates the game doesn't always win the game. The reason for that was the absolutely scintillating performance in net by Chicago's veteran netminder Corey Crawford who managed to make 48 saves in the 3-1 win for the Blackhawks in Game 4.
The Corey Crawford Show
Vegas was in the offensive zone for the entire hockey game and Chicago pretty much resigned themselves to trying to protect the 2-1 lead they built after the 1st Period and sit on it. They were able to do so but only because of the spectacular goaltending from Crawford. Vegas won every single race to loose pucks all over the ice throughout the hockey game outshooting Chicago 49-25 but ended up with a loss at the end of the night.
Now comes the Game 4 hangover
Chicago playing defense for as long as they had to in Game 4 to try and make their narrow lead stand up takes a significant toll on teams entering the next game. You always exert more energy defensively than you do offensively. It takes a much greater physical strain on players at that end of the ice and I expect the fatigue and physical wear and tear of defending their own net in Game 4 to really show up here in Game 5.
It's worth noting that we have had two consecutive games in this series stay Under the total but both of those games had a combined 53 and 74 shots on goal so the chances were the in those games but the goals weren't. I expect that to change tonight in Game 5 and certainly, Chicago will need to play with a greater sense of urgency to possess the puck more and not sit back entirely as they did in Game 4. It worked for them in the last game but that isn't s long-term recipe for success and winning hockey games moving forward. It's worth noting the Vegas Golden Knights may have some reinforcements returning to their lineup as Paul Stastny and Tomas Nosek who didn't play in the last game due to injuries may be able to return for them here in Game 5.
Blackhawks vs. Golden Knights Pick
I think the series ends tonight and it could end in a rout. This game has the makings of following a similar script as Game 4 between Colorado and Arizona yesterday. In game 3 of that series, Colorado was robbed of a win stolen from them by Arizona goalie Darcy Kuemper who made 49 saves in a 4-2 Coyotes win. Arizona had no business winning that game and Colorado should have scored at least 5 or 6 goals in the Game 3 loss but Kuemper was magnificent.
In game 4 yesterday between the Avalanche and Coyotes, the floodgates opened for Colorado and all the goals they should have scored in Game 3 found their way into the net in Game 4 as Colorado unloaded for 7 goals in a 7-1 blowout win and took advantage of a very fatigued Arizona goaltender and defense. I see the same scenario possibly happening here. Corey Crawford is the ONLY reason Chicago won Game 4 of this series as he made 48 saves on 49 Vegas shots to lead the Blackhawks to a 3-1 win to stay alive in this series.
Chicago was completely dominated in terms of shots, puck possession and offensive zone time in the game and I expect this to be the game and the spot for the offensive floodgates to open for Vegas tonight much like they did for Colorado yesterday. I'm not saying a 7-1 final score is in the cards for Vegas tonight like it was yesterday for Colorado but I am saying that the Golden Knights should have an excellent chance to win this game by 2 goals or more. They have been the better team all series long and I think they want to end this thing now before Chicago gets any more confidence.
I also like the Over and now after consecutive Unders in this series, we have seen the total drop below 6 for the first time in this series. The Chicago defense was hanging on for dear life in Game 4. I expect Vegas to score early and often which will force Chicago to open things up and the Blackhawks still have plenty of firepower to find the back of the net as well. This is great value to bet Over 5.5 here especially in an elimination game.