Arizona Coyotes vs. Colorado Avalanche Pick August 14, 2020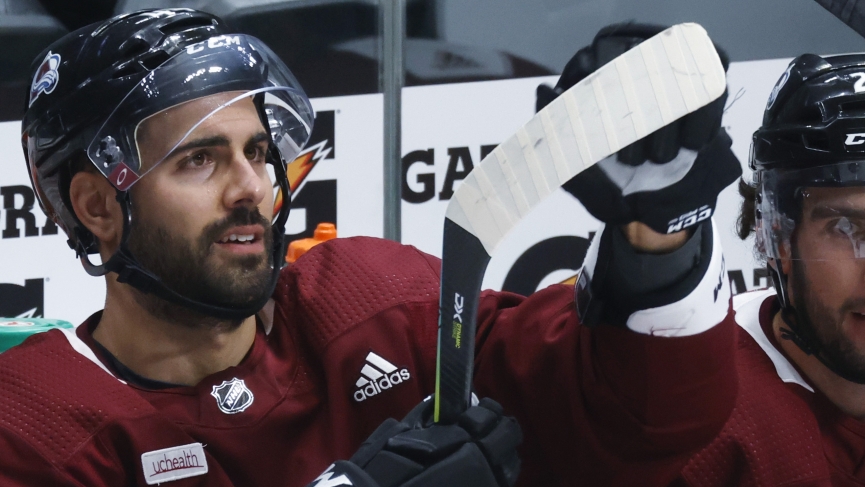 My Arizona Coyotes vs. Colorado Avalanche pick us upon us but first, we need to look at what happened in game 1. There was no offense to be found for the Arizona Coyotes in Game 1 of this series against the Colorado Avalanche.
Arizona opted to play a defensive-minded style of game just sitting back throughout the hockey game trying to keep Colorado off the scoreboard while hoping to pounce on the first mistake the Avalanche made and use that to go down the ice and score a goal. Unfortunately, that plan produced bad results for Arizona.
Coyotes Offense Dry As The Desert Air
The Arizona Coyotes made a valiant effort to steal Game 1 from the Colorado Avalanche thanks to their tenacious work at the defensive end of the ice. The game was scoreless midway through the 3rd Period but eventually, the roof caved in on the Coyotes. It's difficult to try to win a game where you absorb all the pressure but barely give out any of it yourself to the opponent and eventually, the Avalanche broke through against the stingy Yotes defense and goaltender Darcy Kuemper who played a fantastic game.
Colorado busted out scoring 3 goals in a span of 1 minute and 23 seconds late in the 3rd Period to get the 3-0 victory in Game 1. Colorado dominated the game in terms of every major facet including offensive zone time, puck possession, and shots on goal which was a wide margin of 40-14 in favor of the Avalanche.
Coyotes vs. Avalanche Depth Perception
Colorado has way too much depth up front offensively for Arizona to match up adequately because all four lines for the Avalanche can contribute and score goals for this team. It would probably benefit Arizona to play a tighter checking brand of hockey like yesterday in this series but not to the point where the only muster 14 shots on goal and even head coach Rick Tocchet mentioned after the loss that his Coyotes team didn't have the puck enough during the game.
That message is likely to get heard by the players and I am expecting them to make a strong effort to play more in the offensive zone than they did in Game 1. Look for Arizona to try to be more aggressive and assertive offensively in this game. The Coyotes especially need Taylor Hall, Phil Kessel, Clayton Keller, and Christian Dvorak to be the catalysts to sparking the Coyotes offense.
None of them had much in the way of truly terrific scoring chances and opportunities in Game 1. With Arizona being a much more reliant team on their top-six forwards to produce offense and score goals for them than Colorado, it is imperative the Coyotes get a step up effort and performance from all of the players I just mentioned. and On the flip side, Colorado finally solved the defensive riddle thrown at them by Arizona with that late scoring outburst in the 3rd Period and I think that breakthrough in the 3rd Period of Game 1 has the potential to carry over into Game 2 on Friday afternoon.
Arizona Coyotes vs. Colorado Avalanche Pick
If Colorado is going to come close to the 40 shot plateau again in Game 2, there's a solid chance they can score at least 3 goals in this game just as they did in Game 1. The first game of this series made it four out of five games for Arizona so far in the restart where they have surrendered 40+ shots on goal and that is playing with fire when facing the potent and depth laden Avalanche offensive attack.
However, Arizona simply must try to open up and take more chances in the hopes of capitalizing at the offensive end of the ice than they were willing to take in the first game of this series. 14 shots in a playoff game are not enough and I believe Arizona will be very eager to try and score the first goal of the game as the Coyotes are a better and more effective team when they play with a lead as opposed to having to chase the game from behind and that will make this a more wide-open game.
It's surely worth noting the early start time for this game which will be 2 pm Eastern Time and Noon locally in Edmonton making this a daytime game. That's worth mentioning because Arizona and Colorado are a combined 14-9 to the over this season in day games. I lost with the over in Game 1 of this series but I'm coming right back with that same wager and recommendation here in Game 2 expecting the red light to be turned on more often on both sides sending this game over 5.5 goals.