Washington vs Arizona Cardinals Pick – NFL Week 2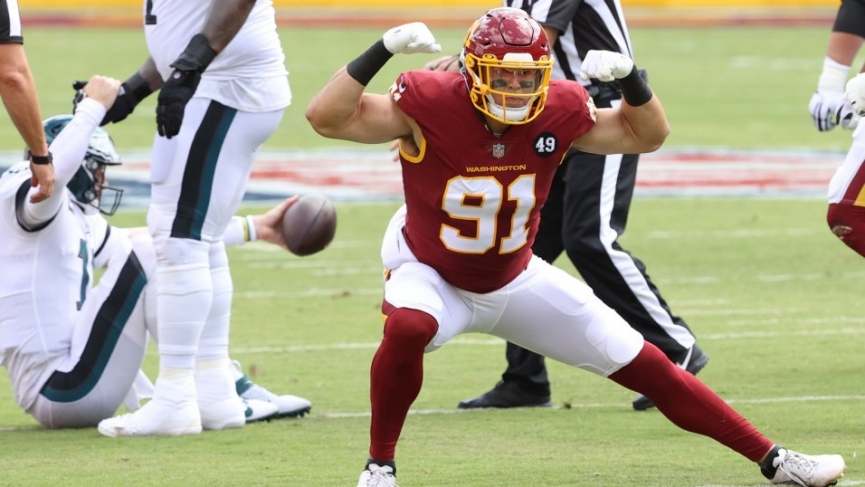 Odds.com's Washington vs Arizona Cardinals Pick – NFL Week 2: John Ryan has an 83% ATS trend backing this game, as well as a 63% ATS trend in the first half. Let's take a look at Washington vs Arizona – NFL Picks Week 2
| | | |
| --- | --- | --- |
| NFL Betting | Washington | Arizona Cardinals |
| Best ATS Line | +7.5 (-110) | -7 (-110) |
| Total | Over 46 (-110) | Under 46.5 (-105) |
| Where/When | State Farm Stadium | Sunday, Sep. 20, 4:05 PM EST |
The Washington Football Team leads the NFC East after a shocking come from behind 27-17 home win over the Philadelphia Eagles. Washington has had disappointing and dysfunctional seasons and have won two straight games just 5 times over the last four season and have won three consecutive games just four times since 2012 and not since the 2018 season. A road win and 2-0 record would prove the franchise has put the misery of the last decade behind them. 
Duel Threat Kyler Murray
In much the same way the Arizona Cardinals took to the road and defeated their division rival the San Francisco 49ers 24-20 installed as 7-point underdogs. Cardinals quarterback Kyler Murray had a spectacular afternoon completing 26 of 40 pass attempts for 230 yards and a touchdown. He also led the team in rushing gaining 91 yards on 13 attempts and a touchdown. 
Murray was sacked twice, but it was not the fault of the offensive line. He had chances on both to throw the ball away and had rolled out of the pocket. When he remained in the pocket, he had clean line sights and plenty of time to throw the ball. ESPN produces a useful metric that hey coined pass-block-win-rate, which counts the number of times an offensive lineman has control of a pass rusher for a minimum of 2.5 seconds. The Cardinals offensive line finished third-best in Week 1 earning a 74% win-rate. Murray's ability to scramble and elude pass rushers will make his offensive line even better over the course of the season. 
Washington's Defensive Front Has Pedigree
The Football Team recorded 8 sacks on Carson Wentz including two interceptions and three forced fumbles that ignited their comeback win last week in Philadelphia. Ryan Kerrigan had two sacks and two of 14 quarterback hits the defensive unit accumulated. Rookie defensive end Chase Young had 1.5 sacks and a team-high 4 quarterback hits. 
To the detriment of the offensive line, Eagles quarterback Carson Wentz is holding the ball far too long. Of the 8 recorded sacks, 7 of them happened with Wentz having the ball for over 4 seconds. He must learn to throw the ball away and not always look to extend plays. He went 1-4 gaining only 10 yards in pass plays where he held the ball for more than 4 seconds. 
Murray has the elite quickness necessary to extend plays without an elevated risk of turning the ball over. So, Washington will show many different pre-snaps looks on defense to confuse the second-year quarterback into making poor decisions. These differing pre-snap looks have the potential to cause missed blocking assignments along the offensive line as well. However, Murray and his OL are simply too good to allow that type of scheme to impact their play execution. 
A First-Half Betting System
Here is an excellent first half betting system that supports the Cardinals getting off to a fast start in this game. The system has earned a fantastic 26-5 against-the-spread (ATS) record good for cashing 84% of the 31 bets made. The requirements are to simply bet on home favorites using the first-half line that are off a road win over a divisional foe in the first four weeks of the regular season. 
Here is a second first-half system that has earned a 217-128 ATS mark for 63% winning bets spanning the last 30 seasons. This system requires a bet being placed on home teams that are favored by 2 to 6.5 points using the first half betting line and are facing a team that is coming off an upset win installed as a home underdog. 
Washington vs Arizona Cardinals Pick:
Overall, the models predict a Cardinal win by more than 10 points. The Cardinals are projected to gain at least 380 total yards of offense including 125 or more rushing yards and score a minimum of 27 points. In past games in which the Cardinals scored 27 or more points and gained 380 or more total offensive yards they went on to earn a 44-8-1 SU record for 85% wins and 44-9 ATS for 83% winning bets since 2000. When they have also gained a minimum of 125 rushing yards, they are a near-perfect 18- SU and ATS and have covered the spread by an average of 17 points. Further, the Cardinals are 7-0 ATS when they have rushed for 125 or more yards in games played over the last two seasons. Take the Arizona Cardinals as a Best Bet. The best price on Arizona is at -7 (-110) via FoxBet