Tampa Bay Buccaneers vs Las Vegas Raiders Pick – NFL Week 7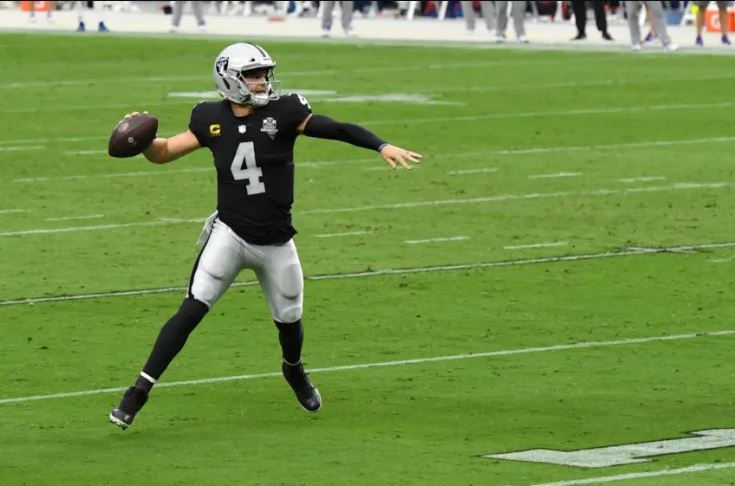 Odds.com's Tampa Bay Buccaneers vs Las Vegas Raiders Pick – NFL Week 7: The 3-2 Las Vegas Raiders host the 4-2 Tampa Bay Buccaneers at Allegiant Stadium. Las Vegas is coming off their bye and is 3-2 ATS and 4-0-1 to the 'over.' Tampa Bay is 3-3 both ATS and O/U.

| | | |
| --- | --- | --- |
| NFL Betting | Tampa Bay Buccaneers | Las Vegas Raiders |
| Opening ATS Line | -2 (-110) | +2 (-110) |
| Total | Over 52 (-110) | Under 52 (-110) |
| Where/When | Allegiant Stadium | Oct 25th, 1:00 PM EST |
Raiders offensive line
The number one story this week for the Raiders has been that offensive tackle Trent Brown tested positive for Covid-19. As a result, the Raiders sent home their entire offensive line and they haven't practiced since Monday. The entire offensive was put on the NFL's Covid-19 list but since it was on Monday, it's still possible that those players could play Sunday assuming they passed all the tests. At this point, there have been no other positive tests.
With the Offensive line being a full unit, it would make it hard to trust the Raiders even if their starters play, as they would not have had any practice time together. Trent Brown only played in the Raiders' last game against Kansas City and their week one game against Carolina as he had been dealing with an injury in between those contests. The Raiders, therefore, are used to playing without him but that doesn't mean his impact won't be noticeable as Las Vegas had scored 34 and 40 points in the games he has played.
Establishing the Run
Las Vegas offensively has tried to establish the run in all their games with running back Josh Jacobs. He ranks second in the NFL averaging 21.2 rushing attempts per game. This strategy has not worked well as Jacobs is averaging just 3.6 yards per rush which ranks 43rd in the NFL.
Tampa Bay owns the number one rushing defense allowing a paltry 3 yards per rush attempt therefore it was unlikely Las Vegas was going to have any success running the football anyway regardless of who was available on the offensive line.
Henry Ruggs III and Raiders offensive explosiveness 
Against Kansas City, Las Vegas got rookie wide receiver Henry Ruggs III back from injury and his impact was immediately noticeable. He only caught two passes but one was for 46 yards and the other was a 72-yard touchdown. Ruggs III gave Las Vegas the deep threat they desperately needed to add another element to this offense and with him taking attention away from others, Nelson Agholor was able to make an impact catching a 59-yard touchdown pass. As a result, Las Vegas was able to score 40 points and note that is the only game this year where Kansas City has allowed more than 20 points.
Perhaps without a cohesive offensive line, Raiders quarterback Derek Carr won't have the required time to make explosive plays down the field. If that is the case, Las Vegas will have to revert back to the ball control offense they have used previously as they have been willing to run the football even when it's not working great. The Raiders rank 6th in the NFL in time of possession, 5th in completions per game, 1st in completion percentage, and 3rd in 3rd down conversion percentage indicating an ability to move the football methodically.
Being able to complete short passes and stay on schedule on offense will be important for Las Vegas because, on top of having an elite run defense, Tampa Bay also has an elite pass defense ranking 4th in the NFL in opponent yards per pass attempt allowing just 6.1 yards. They also have a ferocious defensive line that is 2nd in the NFL averaging 3.7 sacks per game and should be able to put pressure on Derek Carr.
Tampa Bay offense statistically vs Raiders defense
Tampa Bay offensively under quarterback Tom Brady has put up pedestrian numbers ranking 21st in yards per pass attempt at 6.7 yards per attempt. Tampa Bay also ranks a below-average 22nd in yards per play gaining just 5.6 yards. Tom Brady ranks 19th in total quarterback rating and has uncharacteristically thrown a pair of pick 6's. He is taking more shots down the field however as he ranks 12th amongst quarterbacks in intended air yards per pass attempt at 8.6. Last year, Brady ranked 23rd in intended air yards per pass attempt at 7.6, a full yard less than he is averaging this year.    
Tampa Bay has been a little more effective running the football as they had a 100-yard rusher in 4 of 6 contests. That said Tampa Bay has been league average rushing the football averaging 4.2 yards per rush attempt.
The Buccaneers should have success moving the football against a Raiders defense that ranks 30th in the NFL allowing 6.2 yards per play and 26th in the NFL allowing 7.5 yards per pass attempt. The only team that did not score a minimum of 30 points against the Raiders was New Orleans.
Tampa Bay Wide Receivers
Last week, Tampa Bay saw the return of wide receiver Chris Godwin from injury and he made an immediate impact catching five passes for 48 yards. Tight End Rob Gronkowski also had his best game last week since coming back from retirement catching five passes for a team-high 78 yards and a touchdown.  While those two got going, Scotty Miller and pro bowl receiver Mike Evans, who had been carrying the offense previously, both only caught one pass. Yes, Tampa Bay scored 38 points last week but 14 of those came thanks to a pick 6 and another interception that set Tampa Bay up at the one-yard line.
Note that while Godwin, Evans, and Miller all played last week, they are all dealing with injuries and have been limited participants in practice. Considering this is their first year with Tom Brady, it's easy to understand why building chemistry might take a while especially with the receivers being in and out of the line-up on a weekly basis.
Tampa Bay vs Las Vegas Pick:
Last week Tampa Bay played their cleanest game of the season allowing zero sacks, turnovers, and having no penalties. Despite this, they are still 29th in the NFL in both penalties per game and penalty yards per game. Trusting them to be as thorough this week is hard to do. Trusting Las Vegas when their entire offensive line hasn't been able to practice, is also not a great proposition.
I prefer the 'Over' 52 OR LOWER because the Raiders have played without Trent Brown previously and Ruggs III makes their offense explosive. Tampa Bay meanwhile is just starting to get healthy offensively and as their rhythm improves, so should their offense.
I prefer 'Under' 52.5 or HIGHER in this contest because without the Raiders offensive line being able to practice, they will have a hard time moving the football against a Buccaneers defense that is top five in almost every category. When Tampa Bay established the lead last week against Green Bay, their offense became conservative and Las Vegas might not be able to put pressure on Tampa Bay to score.