Seattle Seahawks vs Atlanta Falcons Pick Week 2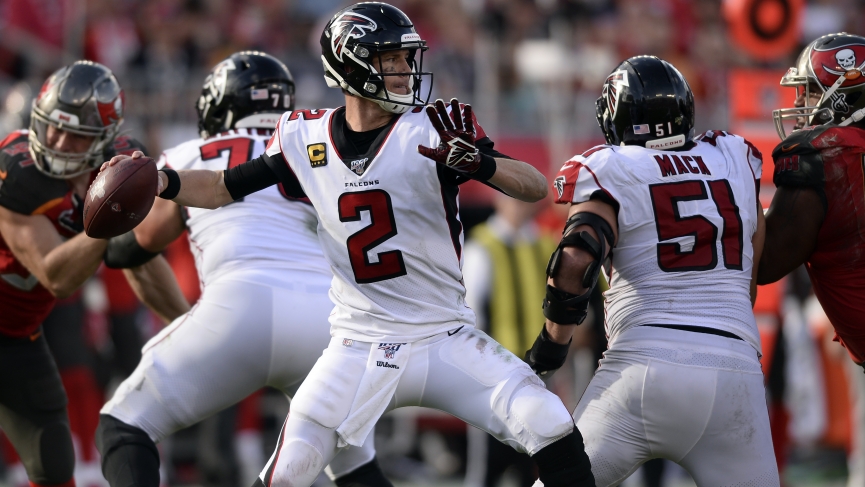 Seattle Seahawks vs Atlanta Falcons pick for week 2 at the Mercedes-Benz Stadium is one of the best venues in all of sports but will remain without fans for at least the first two home games of the Atlanta Flacons schedule. The Atlanta offense has always been dangerous for most opponents and will be better this season having added running back Todd Gurley through free agency and TE Hayden Hurst, who was acquired in a trade with Baltimore.
The Falcons Running Game is Much Better
The Falcons running game ranked 30th in the NFL gaining just 1,361 rushing yards as compared to a league average of 1806 rushing yards. Further, the Falcons ranked 29th in the NFL with just 332 rushing attempts. They went 1-7 over the first eight games and fell behind early in games forcing them to abandon most or all the run plays. When an NFL team is behind in a game, especially by two or more scores, play-action gets no respect from the defense and is simply a worthless formation.
Gurley has been banged up physically over his career, but still provides a new and real run threat for all defenses to respect. His presence will provide more opportunities to use play-action pass routes, which is where the addition of Hurst and his above-average speed will be a huge asset this season.
Falcons Matt Ryan Will Be Better Protected
The running game fell into the statistical abyss for the Falcons, which put tremendous pressure on Matt Ryan to complete difficult passes and sustain scoring drives. The Falcons through the most passes in the NFL with a number no one really likes 666 throws from scrimmage. The Cincinnati Bengals were a distant second with 617 pass attempts and by comparison, the terrific Baltimore Ravens offense that led the league in scoring ranked last with 439 pass attempts. So, the Falcons can expect a much better balance of run and pass plays making it far more difficult for defensive coordinators to prepare to defend.
Matt Ryan threw just 24 passes that were targeted down the deep middle of the field. The Tampa Bay Bucs ranked first with 37 throws in this category by way of comparison. With the addition of Hurst at TE and his speed, it is a sure bet you will see the middle of the field exploited by the Falcons whenever they can get Hurst in man coverage by a linebacker. The Falcons ranked 17th in the NFL running 113 pass plays using play-action and gained 827 yards from those plays. By comparison, Jared Goff and the Rams ran 194 play-action plays and gained a league-best 1,564 passing yards. Gurley was part of that offense.
What About the Team Trends?
Well, there are gaggles of them of course being spit out of my vast NFL database that can go back to 1980 if it provides meaningful results. Coach Carroll is just 3-14 ATS in games played in September since being hired by the Seahawks; 2-10 ATS in road games that have occurred in the first two weeks of the season.
The Falcons are a stout 19-6 ATS in home games that occurred in the first two weeks of the season. Moreover, they are 4-0 ATS as home dogs in the first two weeks of the season spanning the last 10 seasons.
How About Those Machine Learning Metrics We Love?
The Falcons are projected to execute at least 25 rushing plays, average at least 4.5 rushing-yards-per-attempt, and attain a yards-per-point ratio of not higher than 11.5 in this matchup. The Falcons are 48-8 SU and 37-15-4 ATS for 71% winning bets in home games when they have averaged a minimum of 4.5 RYPA and executed at least 25 rushing plays. When they have achieved the rushing metrics and had a YPPT ratio of not more than 11.5, the Falcons have earned a perfect 16-0 ATS mark covering the number by an average of 12 points.
The Seahawks when traveling on the road are a near imperfect 1-10 SU and ATS and failing to cover the spread by an average of 15 points when they have allowed an opponent to rush the ball for a minimum of 25 attempts, gaining an average of 4.5 RYPA, and allow an opponent YPPT ratio of 11.5 or lower. Take the Atlanta Falcons and use the Money Line!