Wilson No Longer MVP Odds on Favorite for 2020 Regular Season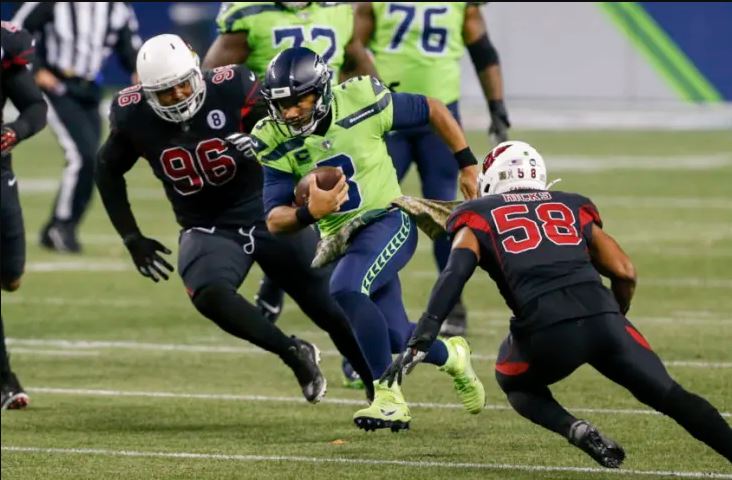 Russel Wilson MVP Odds Slipping Away: We're more than halfway into the oddest of NFL seasons are now in the books, and it's an appropriate time to take a statistical look at some of the MVP contenders. No non-quarterback has won the award since Adrian Peterson in 2012, and barring injuries to several top QBs; it's not likely to happen this year either. With that, a glance at the leading contenders and why they top the betting charts leading into the second half of the season.
NFL Most Valuable Player Odds
Updated: Nov. 24th
Patrick Mahomes -125
Russel Wilson +275
Aaron Rodgers +500
Kyler Murray +1400
Ben Roethlisberger +1600
Josh Allen +2500
Russell Wilson (+275)
The planets seem to be properly lined up for Wilson, who is the clear front-runner for the MVP. His statistics halfway through the season are staggering – 30 touchdown passes, 70.7% completion percentage, 298.6 yards passing average.
Wilson's season has been remarkably consistent. He opened by throwing for 322 yards and four touchdowns (with a 119.5 QB rating) in beating Atlanta, then followed that up with five touchdowns and a 132 rating in taking the Patriots before burning the Cowboys and Dolphins for a combined 675 yards. Since the beginning of October, Wilson has only thrown for less than 300 yards twice, in their 27-26 win over Minnesota, and their 37-27 win over San Francisco. After the Seahawks beat Arizona on Thursday night, Seattle now sits at 7-3, tied for the top spot in the NFC West.
Patrick Mahomes (-125)
The 2018 winner has been ready to pounce. The 2018 MVP has 27 TDs passes and just two interceptions, and those numbers don't figure to decline as the Chiefs create some space between themselves and the rest of the AFC West. Mahomes's best game of the season came at a perfect time – Week 3 Monday night against the Ravens in Baltimore when he threw for 385 yards and four touchdowns with a 133.5 QB rating. Mahomes and KC put up 27 points in the first half and rolled 34-20.
Mahomes went through all of October throwing for an average of just 2 touchdowns per game but exploded in Week 9 and Week 10, putting up 5 touchdowns against the Jets, and 4 touchdowns against the Panthers. Mahomes has had an average completion percentage of 72% in the month of November, putting up 11 touchdowns total.
In leading a balanced Chiefs offense, Mahomes now leads the league in total passing yards, but he's more about making amazing plays to win games. It also didn't hurt that the last time voters cast a ballot with Mahomes's name on it, it was to award him the Super Bowl MVP.
Aaron Rodgers (+500)
Remember him? The All-State Insurance guy who the Packers reportedly were already thinking about moving on from? THAT guy? Out of nowhere, the Packers won their first four games and are now at 7-3, and a factor again in the NFL.
Rodgers has led the charge with 29 touchdown passes against only four interceptions. He's averaging 288.9 yards per game, with a 68.2% completion percentage. Rodgers ranks second in the league in touchdowns, only behind Russel Wilson, and is 5th in QB passing yards with 2889.
Rodgers is a two-time (2011, 2014) league MVP but may have to up his game a little more as long as Wilson and Mahomes keep winning and producing.
Tom Brady (+3300)
Speaking of three MVPs, TB12 would like to remind you that he is still in the conversation. After throwing for just 216  yards and two touchdowns against the Rams in Week 11, Brady is clearly no longer the lead dog, at age 43. Everyone in the league is continually looking for signs of slowing down, but Brady stubbornly kept that door shut. He has 25 TD passes and is averaging 268.6 yards per game, with a 63.9% completion percentage.
Lamar Jackson (+12,500)
Lamar Jackson's numbers through 11 weeks (15 touchdowns, 6 interceptions, 63.6 percent completion percentage) are not exactly eye-catching. Especially considering last year's unanimous winner hasn't gone over 250 yards in a game since Weeks 1 against Cleveland. At this point, the 23-year-old first-rounder seems to have a better shot at the Super Bowl MVP than he does the regular season, but let's not count the kid out just yet.
---
Keep it locked to Odds.com for all of your betting needs for the NFL season. The best current odds can be found at our NFL Odds Page. Stay tuned for plenty more NFL Weekly Picks throughout the season.