Kansas City Chiefs vs Buffalo Bills Pick – NFL Week 7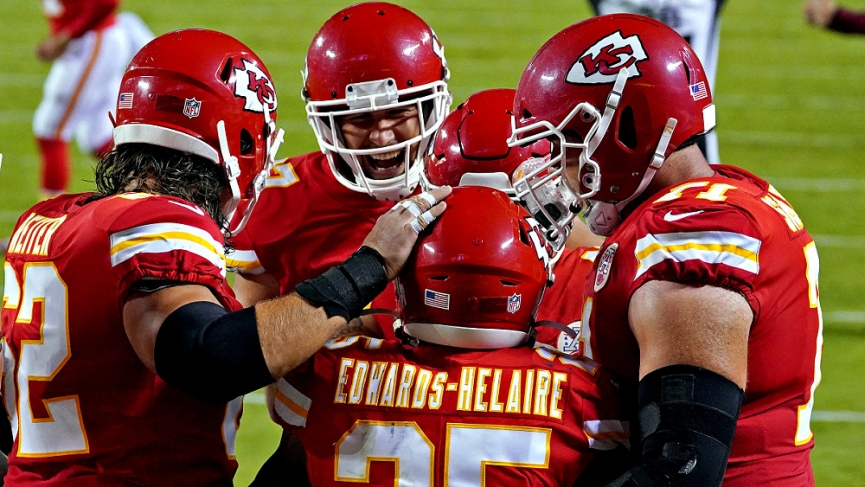 Odds.com's Kansas City Chiefs vs Buffalo Bills Pick – NFL Week 7: The 4-1 Kansas City Chiefs travel to take on the 4-1 Buffalo Bills in a battle of first-place teams and both teams are coming off their first loss. Both teams own 3-2 ATS records with Kansas City 3-2 to the 'under' and Buffalo 4-0-1 to the 'over'

| | | |
| --- | --- | --- |
| NFL Betting | Kansas City Chiefs | Buffalo Bills |
| Opening ATS Line | -3.5 (-110) | +3.5 (-110) |
| Opening Total | Over 55 | Under 55 |
| Where/When | Bills Stadium | Oct 19th, 5:00 PM EST |

This game was scheduled to be played on Thursday but was moved to Monday after Covid-19 impacted Buffalo's week five opponent Tennessee. That game was played on Tuesday meaning Buffalo has had less time than Kansas City, who played Sunday, to prepare for this contest.
The Josh Allen Offense
Buffalo quarterback Josh Allen had his worst game of the season on Tuesday when throwing for a season-low 263 yards, 6.4 yards per pass attempt, and two interceptions. Buffalo as a team only averaged 5.4 yards per play. Despite a poor game, Buffalo still ranks 8th in the NFL in yards per pass attempt at 7.9 yards, a significant improvement from last year when they finished 22nd in that category. They are also sixth in the NFL averaging 6.2 yards per play.
Buffalo offensively needs to rely on Josh Allen because the running game has been non-existent. They rank 26th in yards per rush attempt at 3.8 yards. For a team that is 4-1 and consistently playing with the lead, they rank a surprisingly low 25th at 24.4 rushing attempts per game. Starting running back Devin Singletary has not been able to get going. He has a total of 238 rushing yards for the season which ranks tied for 27th in the NFL with quarterback Lamar Jackson and is averaging a pedestrian 3.9 yards per carry.
Kansas City looking to rebound
Kansas City is also coming off their worst game of the season and in particular a terrible second half against Las Vegas. With the game tied at 24 going into the second half, Kansas City had one first down on their first four possessions of the half and quarterback Patrick Mahomes threw an interception. Las Vegas was able to capitalize with 16 unanswered points and only with the bigger lead, was Kansas City able to drive down and score a meaningless touchdown. Las Vegas outgained Kansas City by 77 yards, had a +1 yards per play differential, and had over 10 minutes more of time of possession. Of course with the Bills inept running game, hard to imagine seeing them replicate the same script.
Kansas City faces a non-divisional foe
Kansas City has played three teams –Houston, Baltimore, New England- that made the playoffs last year, they were favored in every game and won every game by at least two touchdowns. In their other two games against the LA Chargers and Las Vegas, they failed to cover both times and needed overtime to beat Los Angeles. While Los Angeles and Las Vegas might be weaker opponents, they are division rivals and the games lived up to the 'throw out the records in division games' philosophy. Buffalo made the playoffs last year, currently lead their division, and are not a division rival thus they fit more with the first group of opponents that Kansas City has handled so easily this year.
Kansas City offense
Kansas City still has a top 10 offense averaging 6.2 yards per play but they have lacked some explosiveness this season. They have just five passing plays of 25 yards or more and note that Patrick Mahomes had averaged 8.4 yards per pass attempt for his career but this year he is averaging a career-low 7.6 yards per pass attempt. Despite this Kansas City has had no problems scoring points averaging 29.8 points per game.
Bills defense and second-half woes
Buffalo defensively has been mediocre this season. Last year they allowed just 4.9 yards per play which ranked 4th in the NFL and this year they are giving 5.8 YPP which is tied with Kansas City for 19th. Last year, Buffalo ranked 3rd in opponent yards per pass attempt allowing just 5.8 yards this year they rank 19th in that category behind Kansas City.
The problem for the Bills defense has been closing out games. They allowed the Jets to score 14 second-half points, Miami to score 18 second-half points. They led the Rams 28-3 and allowed them to score 29 second-half points and even take the lead. Las Vegas scored 10 second-half points and Tennessee scored 21. Buffalo ranks 31st in the NFL allowing 18.4 points per game in the second half. Considering they have had less time to prepare having played on Tuesday, I can very easily see a situation where they get leg weary in the second half and once again give up a plethora of points.
Kansas City Chiefs vs Buffalo Bills Pick
The best current price on the Chiefs ATS is at +100 via PointsBet:I don't think Buffalo can slow the game down as their running game has been mediocre. Getting into a contest where you are trading scores with Kansas City, isn't going to work for many teams.  Buffalo's defense has been below average, especially in the second half, thus the short week likely hurts their chances in this contest and Kansas City is a motivated favorite coming off their first loss.