Baltimore Ravens vs Houston Texans Pick – NFL Week 2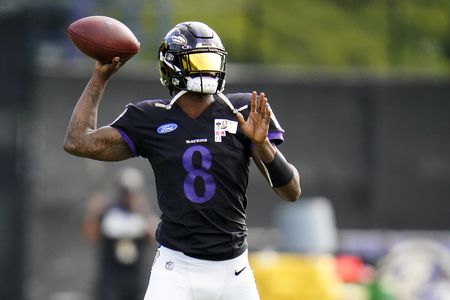 OddsHQ's Baltimore Ravens vs Houston Texans Pick for NFL Week 2: The Ravens have gone 12 straight regular-season games without trailing in the second half. An unprecedented stat that hasn't been matched since the Chicago Bears did the same in the early 1930s. The Ravens head into Houston on Sunday, to take on a Texans team that they are 9-2 against all time. 
| | | |
| --- | --- | --- |
| NFL Betting | Baltimore Ravens | Houston Texans |
| Best ATS Line | -7 (-104) | +7 (-110) |
| Total | 50.5 (-120) | Under 52.5 (-110) |
| Where/When | NRG Stadium | Sunday, Sep. 20, 4:25 PM EST |
Ravens Looked Fine Tuned in Week 1
The Ravens start the season off 1-0 after a crushing home victory against Cleveland. Lamar Jackson was excellent in week 1, completing 20/25 passes, and throwing for 275 yards, with 3 touchdowns, and no interceptions. Jackson also led the team in rushing, with 45 yards on 7 carries. Mark Ingram did not have a great game, only rushing for 29 yards on 10 attempts. Although, Marquise Brown had a solid day, with 101 yards on 5 reception. Though he was unable to find the endzone. These numbers show just how deep and versatile this Ravens' offense can be, and there's no reason why it shouldn't continue all season.
For a quarterback who was predominantly regarded as a 'run-first QB.' Lamar Jackson has developed his arm significantly since coming into the league, and his arm power is going to be a key factor for the Ravens in the 2020 NFL Season. Jackson is going up against a Texans defense that sits in the middle of the road, as far as defensive ratings go. Houston's pass defense is severely lacking, and when put up against a double threat QB like Jackson, that weakness is likely to be exploited. If Houston forces Jackson out of the pocket, he has the ability to scramble and evade contact. As well as having the ability to rush the ball for big gains. The Texans struggled to penetrate Kansas City's offensive line in Week 1, putting up just 1 sack in their loss to the Chiefs. It's not going to get any easier for Houston, who takes on a Ravens team that has a much tighter o-line than Kansas City.
"Houston, we have a problem."
As for the Houston offense, Deshaun Watson was not exactly terrible in week 1. Completing 20/32 passes, throwing for 253 yards with 1 touchdown and 1 interception. David Johnson had a mediocre debut, carrying the ball 11 times for 77 yards, and 1 touchdown with his new team. Will Fuller had an 'okay' game, putting up 112 yards on 8 receptions. However, beyond those three key players, the Texans struggled to generate anything threatening offensively.
The big storyline this offseason for the Texans was trading away their star WR Deandre Hopkins to the Arizona Cardinals for RB David Johnson. Johnson will definitely be an improvement for their run game, but he still needs a good offensive line to help him make big runs, and that is something that this Texans team lacks. After years behind one of the worst offensive lines in the NFL, Johnson has found ways to make big plays happen. However, those days are past him, he has battled injuries the past few seasons and is not getting any younger. Without a substantial upgrade to their offensive line, Johnson is going to be underutilized in a Texans offensive scheme that has been poorly pieced together. Week 1 also showed the impact of losing a star WR like Deandre Hopkins. As Hopkins had a massive outing for the Cardinals, while DeShaun Watson saw himself left with very few options downfield on Thursday. Something just isn't right in Houston, and it's not going to get any better, as the Texans will now face a Ravens squad in week 2, who is one of the best defensive teams in the NFL.
If Will Fuller is going to be the only one making catches on Sunday for Houston, it's going to be a big problem. The Texans need someone else to step up on this offense because if Watson has to throw to Fuller all day, Marcus Peters and the other solid defensive backs for the Ravens will make short work of those attempts.
The Ravens are solid as a defense against the read-option, and with the Texans having such a poor offensive line. Watson and Johnson will be struggling all day from behind the line of scrimmage. Will Fuller as a receiving threat will dry up as the game goes on, likely leaving the Texans handcuffed to make plays off the rush. The Ravens defense only got to Mayfield twice last week, but one of those sacks was made by rookie Patrick Queen. Showcasing yet again, that young defensive draft talent is capable of making an immediate impact in the NFL. With all of this in mind, Watson, Johnson, Fuller, and the whole Texans offense will likely struggle to move the ball on Sunday. As this one-dimensional offense may get exposed heavily vs what looked like a well-polished Ravens defense in week 1.
Baltimore Ravens vs Houston Texans Pick
Overall, this is a Baltimore team that has won 10 of their last 11 regular-season games by 7 points or more. This is a team that has the playoffs as a foregone conclusion, setting their team goals on a #1 seed, an AFC Championship and ultimately a Super Bowl. Meanwhile, the Texans will have to fight tooth and nail every game just to stay above .500. However, don't think that the Ravens will be taking the Texans lightly. This game means a lot to the Ravens, since there will be only 1 bye in the AFC playoffs this year. The Ravens will be in a tight battle with the Chiefs for that #1 seed, so every game should be viewed as a must-win. There really isn't much more here to handicap. It's pretty simple, this line is at -7, and the Ravens are more than 7 points better than the Texans.  At this point, getting the Ravens -7 is a gift from the bookmakers. Get in on it now while you still can.
Baltimore Ravens -7 (-104) via BetRivers