Baltimore Ravens vs Buffalo Bills Predictions | January 16, 2021 | NFL Playoffs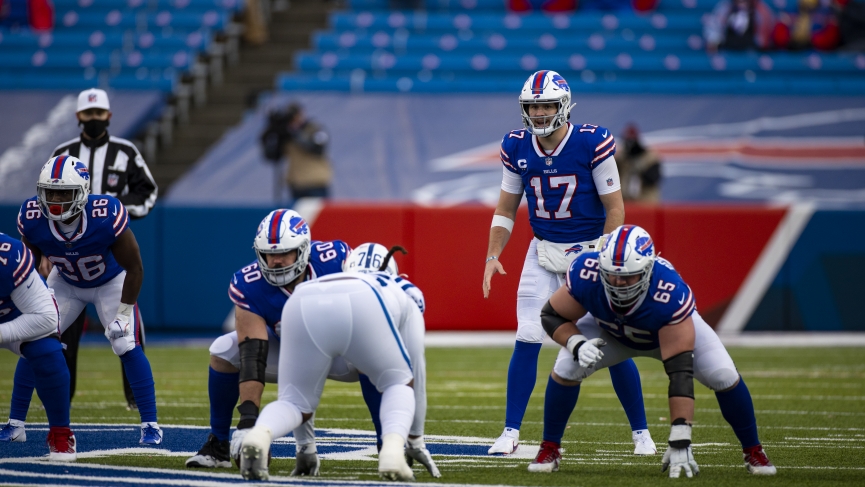 Baltimore Ravens vs Buffalo Bills Predictions | January 16, 2021 | NFL Playoffs: The Buffalo Bills are the best team to bet on as the betting favorite over the last four years, at 17-11-1 ATS as the chalk favorite, going all back to when head coach Sean McDermott was hired back in 2017. The Buffalo Bills have a chance to pick up their first AFC Divisional Playoff win since January 15th, 1994, when they host the Baltimore Ravens on Saturday night.
| | | |
| --- | --- | --- |
| NFL Playoffs | Buffalo | Baltimore |
| Opening ATS Line | -2.5 (-110) | +2.5 (-110) |
| Total | Over 49.5 (-110) | Under 49.5 (-110) |
| Where/When | Bills Stadium | Sat. Jan 16th, 8:15 PM ET |
The Bills come into Saturday night's game riding an 8-1 ATS streak, with their only loss on the betting line coming against the Colts last week in the NFL Wild Card round. Meanwhile, the Ravens enter this riding a significant streak of their own, going 7-0 ATS in their last 7 playoff games overall. 
Match-Up and Trends
| Team | Record | ATS | O/U |
| --- | --- | --- | --- |
| Baltimore | 12-5 | 11-6 | 7-10 |
| Buffalo | 14-3 | 11-6 | 11-5-1 |
The Bills are 7-5 ATS as the betting favorite this season, with their only outright loss to an underdog coming against the Tennessee Titans in Week 5, who played the Bills on extended rest, winning the game 42-16 as +140 moneyline underdogs. The Bills had an average line of -210 in their 12 games as the chalk, covering those 12 games by an average of +2.5 points per game.
Baltimore was just an underdog just twice this regular season, and went 2-0 ATS, winning the first game 24-10 over the Colts at +1 on the spread in early November. The Ravens were then forced to play the Steelers about a month later without their starting QB Lamar Jackson due to COVID-19 and with all of their missing in players factored in, the Ravens were +405 underdogs to the Steelers, but managed to cover the +10.5 point spread with a 19-14 final score.
Measure of Expectation
| Team | ML Profit | ML Fade | Avg. Margin | Avg. ATS Margin |
| --- | --- | --- | --- | --- |
| Baltimore | -$124 | -$394 | +10.1 | +3.5 |
| Buffalo | +$602 | -$528 | +7.6 | +5.1 |
Based on the measure of expectation, you have to give the edge to the Buffalo Bills in this one. Bettors who have backed the Bills this season have enjoyed a +EV year, going 14-3 for +6 units profit. A $100 bettor who wagered on the Bills in every game this season profited $35 per game, win or lose. Not to mention the Bills failed to cover the spread just five times this season, with one of those games coming against a Tennessee Titans team on extended rest.
The Ravens have been exceptionally well this year, at 11-6 ATS. However, based on their early season expectations, you have to give the Bills a better overall rating as far as living up to their name and what their overall performance projections were at the beginning of the year. To think that the Ravens were -195 favorites to the defending Super Bowl Champion Kansas City Chiefs in week 3, only to lose that game 34-20 in blow out fashion.
Baltimore Ravens vs Buffalo Bills Predictions:
The Bills have some injuries issues that could hurt them this week. RB Zach Moss injured his ankle last week against the Colts and had to be carted off the field, he is on the IR and will likely not return for the remainder of the playoffs. Star WR Stefon Diggs is listed as probable with an oblique strain, while fellow WR Cole Beasley was hobbled for most of the game against the Colts, and is currently listed as probable with a sore knee. While it is likely that Diggs will be good to go, and that Beasley, even if injured, will still play and make a big impact. The loss of Zach Moss is probably the one that hurts the Bills the most, who have struggled to generate a good run game with Devin Singletary taking a bit of a step back performance-wise this season.
The Ravens injury report is a little bit shorter than the Bills, but if Marcus Peters doesn't play in this game, the Ravens could be in a bit of trouble. Peters injured his back against the Titans last week, and is currently listed as questionable for Saturday's game. It would be a huge loss for a defense that has allowed just 221 yards per game through the air, as they take on one of the potent offensive teams in the league in the Bills, who have averaged 288.8 yards passing per game.
On paper, this is the Ravens game to lose, and some would argue that the wrong team is favored here. However, if you're going to back the Bills in this game, you're probably better off waiting for the public money to come in on the Ravens before kick-off on Saturday which it undoubtedly should. This line opened at Buffalo lined as -2.5 point favorites but has stayed put at this number, despite the Ravens being a heavily bet team almost all season long.
As for the betting total, this one opened at 50 and has since moved a tick down to 49.5. There is some value on the Over here, as these two teams have averaged a combined 51 points per game, a good point and a half higher than the current betting total.
Something has to give in this match-up, the Bills have been snake bitten in the playoffs for almost three decades, but are managing to turn things around, while Lamar Jackson has been riddled with poor playoff performances, and he too has managed to change the narrative surrounding him, just as the Bills have done this season. When it's all said and done, the Bills are likely the more complete team, and unless some intangible factors come into play like injuries or poor officiating, than the Bills should take this one and head to the AFC Championship. However, at the current price, this game is almost unbeatable. If you're betting either side, you'd probably like to get a better number, yet the market has yet to move. For now, the best bet on this game is the Over, as it wouldn't be a shock to see more than 24 points in the opening half of this one.