Utah Jazz vs Denver Nuggets Pick – Game 7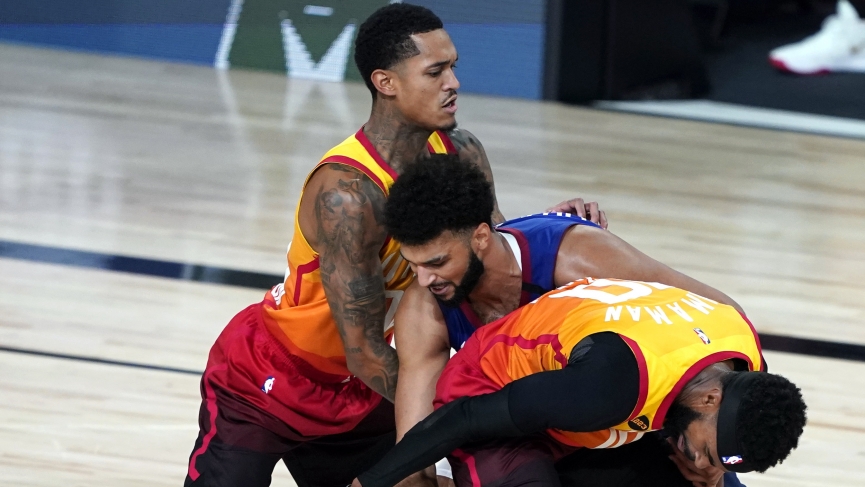 NBA Playoff Series: Utah Jazz vs. Denver Nuggets (Game 7)
Date/Time: Tuesday September 1, 2020
Odds: Jazz +1.5/-110 Nuggets -1.5/-110 | Moneyline +102/-120 | Total 218
The M&M Show Has Gotten Rave Reviews
The M&M Show in this Utah Jazz vs. Denver Nuggets series which is going the distance has been an entertaining show well worth the price of admission. I am referring to Murray & Mitchell. Jamal Murray of the Denver Nuggets and Donovan Mitchell of the Utah Jazz have put on a shooting clinic going above and beyond the call of duty in order to try and put their team over the top in this hard-fought, back and forth first-round series.
Jamal Murray has gotten the better of this matchup in Game 5 and 6 which has enabled the Denver Nuggets to battle back from a 3-1 series deficit to force a Game 7. Murray has scored 92 points in the last two games combined including 50 points in Game 6 and in those two games, he shot a blistering 34-for-50 68% from the field and 13-for-20 65% from 3 point range. It has been consecutive performances for the ages by Jamal Murray.
However, Donovan Mitchell hasn't been far behind for the Jazz as he's scored a combined 232 points in the first six games of this series averaging 38.7 points per game. It has been an awesome and scintillating showcase of these two phenomenal offensive players and I'm sure they are about to give the NBA world another brilliant show to wrap up this series in Game 7 on Tuesday night.
How does the Jazz start playing a different tune?
That's the big question heading into Game 7. The Utah Jazz needs to find a new tune and get into a new groove because they have clearly lost the momentum following the back-to-back losses they have suffered which have brought us to this seventh and deciding game. Utah lost the battle inside in Game 6 decisively.
Early on in the series, Rudy Gobert was leading the charge for the Jazz in the frontcourt finding ways to get easy buckets, crashing the glass, and having an edge in those two areas over the Nuggets but Denver turned the tide in a big way in Game 6.
Denver was +13 on the glass as they held a significant 43-30 rebounding edge. Often that's a sign of a team willing to do whatever it takes to win by giving themselves so many extra possessions and chances to score. Utah will need to shore that up in Game 7 for them to reverse the current direction and momentum of this series both of which trending toward Denver.
The Jazz defense has shown cracks and allowed the Nuggets offense to find their footing more and more as the series has progressed. Denver has shot 49% or better from the field as a team in three straight games in this series against Utah since Game 4. That type of defense isn't going to get it done at playoff time. The pendulums have swung in those key areas defense and rebounding. Prior to Game 4, Utah was winning the battle in those two categories against Denver but the script has changed over the last three games.
Utah Jazz vs Denver Nuggets Pick
I have been betting every game of this series 'Over' the total and have been rewarded with a winning wager in five of the six games in this series. The Over is 5-1 in this series alone. The Over is a spectacular 13-1 in Denver's 14 games played since the NBA restart began here in Orlando. I see no reason to deviate from that trend here.
Many people believe Game 7's in an NBA playoff series are good 'Under' bets and normally I wouldn't disagree. We often see teams step up the defensive effort and intensity in a Game 7 with the season on the line for both teams. However, in this series, we have two teams that defensively have not shown the ability to step up to the plate, adjust and play better against the two focal catalysts leading each of them offensively Jamal Murray for Denver and Donovan Mitchell for Utah.
I'm not sure the fact this is Game 7 can make a team, that hasn't been able to guard the best player and shooter on the other team at any point in this series, suddenly flip a switch, turn things around and get the job done. I'm riding the trends here which are as strong as can be toward the Over and will bet this game 'Over' the total of 218.
I also have a smaller play on Denver -115 on the ML. I picked the Nuggets to win this series initially. With all the momentum and confidence now on their side and more recent experience as a team than the Jazz in Game 7's, I expect them to find a way to emerge with the Game 7 and series win to advance to the second round.