Utah Jazz vs Denver Nuggets Pick – August 25, 2020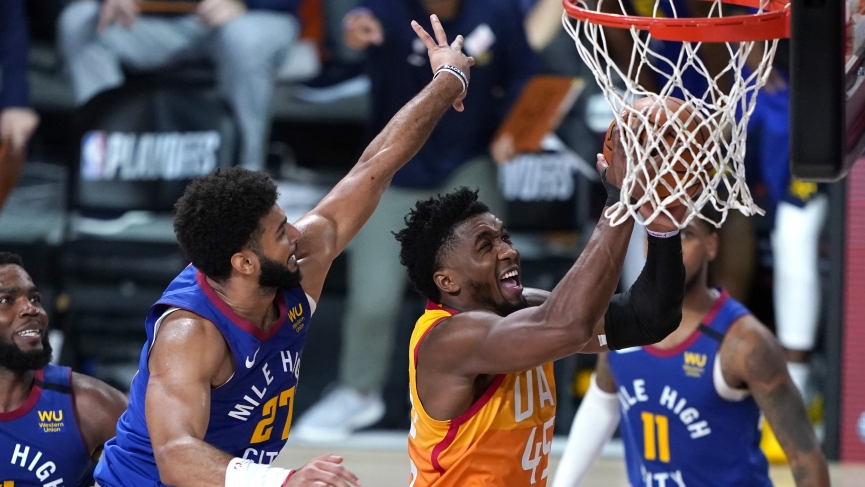 NBA Playoff Series: Utah Jazz vs Denver Nuggets Game 5
Date/Time: August 25, 2020 6:30 EST
Odds: -2.5/+2.5  | Moneyline -137/+116 | Total 219.5
Tonight, we have a huge game 5 matchup going between the Utah Jazz and the Denver Nuggets. Utah has a solid 3-1 lead heading into tonight and would love nothing more than to end this series tonight and UPSET the #3 seed in the west. Denver won Game 1 in overtime 135-125, but Utah has won every game since. Donavan Mitchell leads the way in game 4 for Utah, scoring 51 points. Jamal Murray was right behind him for Denver, scoring 50 points. Both players will be ready for this game as Mitchell and company look to close out the series and send Denver home.
Will the Denver Nuggets force a game 6 or is this series over after today?
That's the question everyone is asking and I'm going to tell you why there will be a game 6, so let's get right into it. The Denver Nuggets know they can beat the Utah Jazz. They did it throughout the regular season and once in the bubble before the playoffs got here, but now they are having a little trouble. They are having a hard time stopping Donavan Mitchell, but no team is going to stop him, they just need to contain him.
The Denver defense needs to step up and dominate the boards and stop giving Utah 2nd chances. Denver on defense is ranked 4th in rebounds per game while the Utah offense ranks 13th. Denver has made some adjustments to their line up in game 4 and it kept the game a lot closer. They moved Michael Porter Jr. out of the starting line-up and have him coming off of the bench now.
Utah is attacking Porter so his role will be changing for Denver so they can win this game. Let's also not forget that Denver does have their own 50 point scorer in Jamal Murray. Expect another big game out of him tonight along with Nikola Jokic. He had a nice bounce-back game in game 4 scoring 29 points as he did in game 2 with 28. I expect him to put those kinds of numbers up again tonight.
Jazz Looking To Finish The Nuggets Run
On the other side of the ball, we have the Utah Jazz who are looking to close out this series today. In game 4 Utah was making every shot they put up. It didn't matter if it was a one-handed 3 pointer or a jump hook 3 pointer, it was going in. Denver's defense hasn't been the best, but as mentioned above they have made some changes. One of the things Utah has taken advantage of this series is the pace of this game. The pace for this series has dropped BIG time. I expect Denver to increase the pace throughout the whole game knowing this could be their last. Expect a lot more speed in this one.
We also have RLM (reverse line movement) on this line and I love to follow that factor. The line for this game opened up at Utah Jazz -3.5. The public is hammering the Jazz, yet the line has dropped a whole point. Well if the public loves the Jazz at -3.5 which is 2 baskets, why would Vegas make the line even better for them at -2.5? It's because Vegas and RSP are on the same side and we are going to hammer the Denver Nuggets tonight. Below are a couple of key trends that I like for this game.
Utah Jazz vs Denver Nuggets pick
Below are a couple of key trends that I like for this game:
Jazz are 2-6 ATS in their last 8 games vs. a team with a winning % above .600.
Jazz are 2-7 ATS in their last 9 games vs. a team with a winning straight up record.
Jazz are 1-4 ATS in their last 5 games after allowing more than 125 points in their previous game.
Jazz is 4-16-2 ATS in their last 22 games as a favorite.
Nuggets are 6-2 ATS in their last 8 games after allowing more than 125 points in their previous game.
Nuggets are 7-3 ATS in their last 10 home games vs. a team with a winning road record.
Jazz is 2-8 ATS in the last 10 meetings in Denver.
Jazz are 2-5 ATS in the last 7 meetings.
So for this game, RSP is taking the Denver Nuggets +2.5 vs Utah Jazz. We are 5-2 our L/7 article plays so let's keep it going today!