Thunder vs Rockets Pick – NBA Playoffs Game 5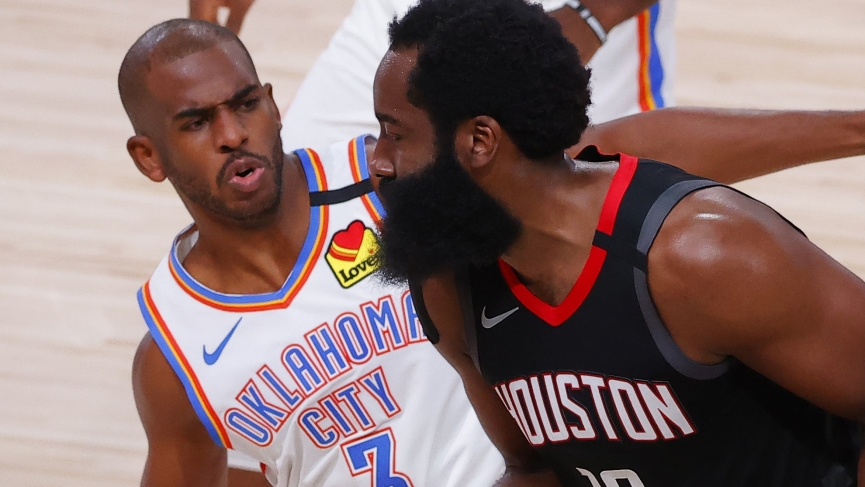 NBA Playoff Series: Oklahoma City Thunder vs. Houston Rockets (Game 5)
Date/Time: Wednesday, August 26, 2020, 6:30 pm EST
Odds: +4/-4 | Moneyline +138/-167 | Total 224
"Thunder, feel The Thunder, lightning then the thunder" – Houston is feeling it now
The above quotation is a musical lyric from the hit song "Thunder" by Imagine Dragons and it illustrates the way this series has completely changed in the last two games. The Houston Rockets are absolutely feeling the Oklahoma City Thunder now after consecutive wins in this series. OKC reversing the pain after getting totally dominated for the most part by Houston in the first two games of this series.
What has changed? A lot. Oklahoma City got Luguentz Dort back from injury in Game 2 of this series and he is arguably the best defender on the team. In Game 2, Dort was not at his best and likely still trying to work his way back into game shape. In the last two games, he has made a massive impact at the defensive end of the court trying to be the defensive stopper against James Harden. Harden was held to 6-for-15 shooting from the perimeter in Game 4 and most his misses came in the latter stages of the game and the defense played by Dort on him played a large role in that. 
The other turning point in the series besides Dort was head coach Billy Donovan going with a smaller and quicker lineup of his own for extended portions of Game 3 and Game 4. This countered the Houston Rockets small ball lineup which they've been employing for months due to the lack of size and rim protection with the team at the moment. The small lineup and the relentless assault from beyond the arc from Houston was something that OKC struggled with in the first two games. The Thunder adjusted by going smaller and suddenly they were able to do a better job of containing the Rockets often lethal 3-point perimeter shooting. 
Chris Paul had a rough first two games for the Thunder and said after Game 2 he needed to be better. He responded in a big way registering 26 points in both Game 3 and Game 4 and shot a strong 21-for-39 54% in those contests. Dennis Schroeder the backup PG to CP3 for Oklahoma City also had a very good Game 4 performance. He led the team in scoring with 30 points helping the Thunder offensively and being part of the big turnaround from the first two games when Oklahoma City looked completely out of sorts at the offensive end of the court. 
Rockets fuel leaking
Game 5 will be the first time that the pressure is finally shifting to the Houston Rockets in this series and we know that in the James Harden/Mike D'Antoni era, this hasn't always been a team to respond well to playoff pressure. Close game execution late in the 4th Quarter is a big question mark for me with Houston and we saw it in the last two games without Russell Westbrook.
There isn't a bigger situation that Houston misses Westbrook more than in a very close game in the latter stages of the 4th Qtr and we saw the Rockets offensive fuel start leaking against the sticky Thunder defense. I think part of why that happened is because of Westbrook's absence as he is someone that is usually a key cog in how Houston runs their offense late in close games. Westbrook will miss Game 5 and that means someone else besides James Harden will have to find a way to step up and make some shots if this once again is a close game late.
Thunder vs Rockets Pick
Momentum is a strange beast. Oklahoma City had none of it heading into Game 3 trailing 2-0 in the series and having not really played well at all in those first two games. Now they have tons of it after two really solid, gut it out wins in a row against Houston to even up this series at 2-2.
Oklahoma City has been excellent both SU and ATS this season in close games and they have a fantastic ATS record in the underdog role especially when priced as underdogs of 4.5 points or fewer. The Thunder are 20-7 ATS this season as dogs of 4.5 points or less. I think that's a track record worth riding here.
Houston is -3.5 here in Game 5 and unless they absolutely romp over Oklahoma City in this game they could be in trouble. If OKC can hang around and keep this game close down to the last few minutes, the Rockets' late-game execution minus Westbrook comes into question as does their ability to play well and function with such immense playoff pressure and expectations on this squad. That's a risk I'm not willing to take. I like Oklahoma City +3.5 and I also like the Over in this game at 224.5 as we saw both teams utilize smaller lineups leading to an uptick in pace and tempo as well. Look for more of the same here.