San Antonio Spurs vs New Orleans Pelicans Pick – August 9, 2020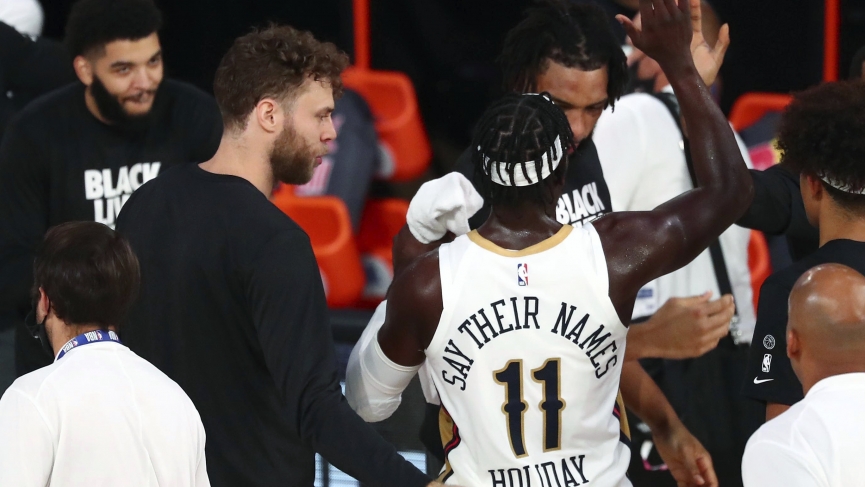 Today we will take a look at my San Antonio Spurs vs New Orleans Pelicans pick. Both teams are Staying Alive, Staying Alive. That's what BOTH of these teams will try to do as they head into the Sunday showdown! We have the 30-38 San Antonio Spurs (11th place in the West) facing off against the 30-39 New Orleans Pelicans (12th place in the West). If either of these teams wants to make the playoffs they are going to have to win this game.
Both Teams Are on The Line
Both teams head into this game on the edge of elimination. Every game from here on out could determine their future. These are win or go home games. If either of these teams is going to want to win this game, then they will need to put up some points and that's what both of these teams have been doing all season long and it has continued since joining the bubble. That's why we will be attacking the OVER on this game!
Spurs Are a scoring machine
The Spurs have done nothing but score since joining the bubble. They have scored 129/108/130/126 and 119 and today, they might score their most points since the restart. That's because the Pelicans are not playing any defense since the restart and I don't see that changing today. The Pelicans are Ranked 27th in points against per game at 116.9 points per game. With the Spurs scoring more than 116.9 points in 4 of their last 5 games, I don't see how the Pelicans will be able to stop DeMar DeRozan and company.
The Spurs are moving the ball along with upping their pace, which is leaving them a lot of 3 pointers in transition. With Aldridge being out, the outside shooting has gone up. We had the Spurs OVER the other night when they played the 76ers at the total went over with 5+ minutes left in the 4th quarter. The same tempo that was played in that game, will be played in this game. The Spurs had one day rest and so did the Pelicans, so that will help keep this pace up even more. Their games have gone OVER in 4 of their last 5 games and it has gone OVER in 5 of their last 6 games following a straight-up win. DeRozen, Mills, Gay, and company will not have a problem scoring today.
The Pelicans got game too…
Then on the other side of the ball, we have the Pelican offense who are scoring points as well. They rank 5th in scoring per game at 115.9 points and the main reason for that is all the shots they make from far range. The Pelicans rank 7th in 3 pointer percentage at 37.1, while the Spurs let up 35.8% from 3. Ingram, Reddick, and company love to shoot the 3 balls and that is not going to stop today.
With the tempo being fast, the Pelicans will score more points down low with Aldridge being out and Zion having more rest since he hasn't played since Thursday. I expect him to score early and often. With his playing minutes being limited, that gives Ingram plenty of extra time to do his thing. He is averaging 23.9 per game. Not to mention, we all know Jrue Holiday is going to score his 20+ points as well. He scored 28 points in his last game out and he will continue to score with or without Zion in the lineup. With Zion in the lineup, that gives Holiday more space with teams focusing on him when he is down low.
San Antonio Spurs vs New Orleans Pelicans Pick
So with the Pelican scoring and the Spurs not playing defense, this total will sore way over the total. Below are a couple of trends I like for this game.
Key TRENDS for this game:
Over is 8-1 in Spurs last 9 road games vs. a team with a losing home record.
Over is 5-1 in Spurs last 6 games following a straight-up win.
Over is 4-1 in Spurs last 5 overall.
Over is 4-1 in Spurs last 5 after allowing 100 points or more in their previous game
Over is 4-0 in the last 4 meetings in New Orleans.
So for this game, RSP is going with the San Antonio Spurs/New Orleans Pelicans OVER 238 for his RAZOR SHARP ARTICLE PLAY OF THE DAY!