Pacers vs Heat Pick – NBA Playoffs Game 4 August 24, 2020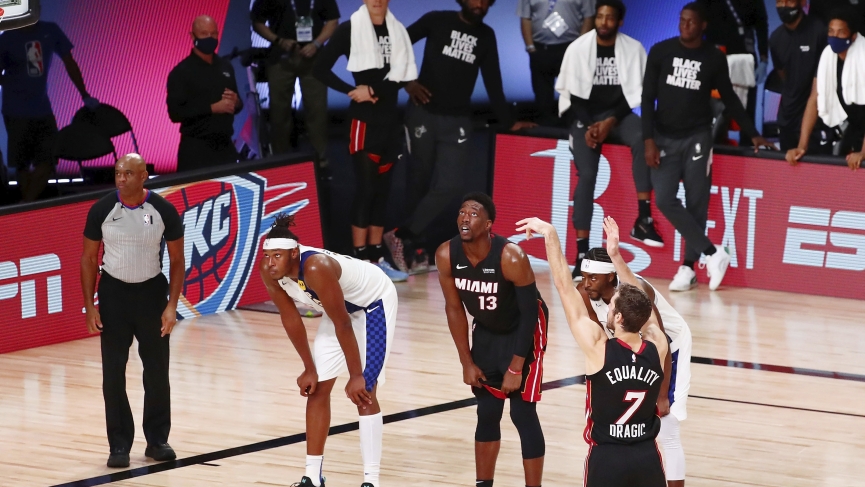 NBA Playoff Series: Indiana Pacers vs. Miami Heat (Game 4)
Date: 6:30 pm ET on TNT 
Odds: +6.5/-6.5 | Moneyline +215/-263 Total 217
We are taking a look at my Pacers vs Heat pick for game 4 of this NBA Playoff series. Miami looking like the superior team where Indiana just can stop.
Indiana Feeling The "Heat"
It's a frustrating time right now to be a fan of the Indiana Pacers. No matter how much your team has stepped up their effort and performance in this series, it still doesn't seem to be good enough to take down this Miami Heat squad which is rolling and they could be rolling right toward a four-game sweep here in Game 4 tonight.
There was a lot to like with how Indiana played in Game 3 of this series on Saturday. It was Indiana's best offensive game of the series by far for a squad that usually has trouble putting the ball in the basket. The Pacers shot 49% from the floor in Game 3 and they received outstanding performances from Malcolm Brogdon, T.J. Warren, and Victor Oladipo who combined for 77 points in the game. Aaron Holiday chipped in with 10 points off the bench and yet somehow despite all of that going for Indiana in Game 3, it still ended up being not enough as the Heat rallied down the stretch and took control of Game 3 making big shots and getting key stops to pull away and win 124-115.
Indiana Pacers head coach Nate McMillan was critical of the officiating following the Game 3 loss which is a big red flag to me because anytime a coach goes off on a tangent about officiating in a situation like this when their team is down 3-0 in a series, it feels as if they are trying to find someone else to blame other than the performance of his own team.
Miami has multiple flamethrowers at the moment
The discrepancy between these two teams at the 3 point line in this series has been a major contributing factor to the Miami Heat 3-0 series lead. The Heat is hitting an outstanding 14.7 three-pointers per game while the Pacers are shooting a paltry 37.4% from the perimeter leading to Miami outscoring Indiana by a whopping margin from the perimeter in this series.
The Heat's incredible floor and scoring balance have also been a handful for the Pacers at the defensive end of the court because it forces Indiana to have to pick their poison as to which player they pay more attention to. Miami has a remarkable five different players averaging at least 15 points per game for them in this series as Jimmy Butler, Goran Dragic, Tyler Herro, Bam Adebayo, and Duncan Robinson are all at 15+ points per game in this series. Indiana is far more reliant on a couple of players namely Brogdon, Warren, and Oladipo for their scoring and there is a drop-off in term production after those big three.
Pacers vs Heat Pick
Indiana has played good basketball in spurts in this series but Miami has played better for extended stretches and has been the far superior squad in terms of 4th Quarter execution at crunch time which is a big reason why the Heat have been able to take a commanding 3-0 series lead in this first-round matchup.
Indiana's offense has struggled to find good looks at the basket late in close games while Miami is getting those quality looks and hitting those shots in the process. That's exactly what we saw down the stretch in each of the last two games of this series. The long-term profitable angle of betting against the team trailing 3-0 in an NBA playoff series looking to avoid the sweep (which was a strong 34-25 ATS since 2005 entering yesterday's games) really should have gone 2-0 ATS yesterday.
Brooklyn easily got bounced by Toronto in blowout fashion. Boston was on their way to covering the number against Philadelphia but they failed to cover thanks to just a horrendous and awful final minute of the game for Celtics backers who were forced to rip up their tickets after a Joel Embiid 3-pointer at the buzzer enabled the 76ers to get inside the number. That angle is still 35-26 ATS backing teams in Game 4 when they up 3-0 in a playoff series since 2005.
That angle is in play here and I expect Miami to get the job done and sweep Indiana. Miami is simply better than Indiana. The Pacers played as good a game as they were capable of in Game 3 of this series on Saturday and yet they still found a way to lose it late both SU and ATS and fall by a score of 124-115. Miami is a perfect 5-0 SU and ATS in the last 5 meaningful games against Indiana and all of those Heat victories came by 9 or more points.
The Pacers did beat the Heat in the second regular-season game between them in Orlando but that was a complete throwaway game with the Heat resting their starters that day. I expect Miami to win this game by a margin and end this series with a sweep just like Boston and Toronto did yesterday. I think there is an incentive for the Heat to try and finish this today knowing they could get a similar amount of rest for their next series as the Raptors and Celtics.