Celtics vs Bulls Pick, Maybe but Probably Not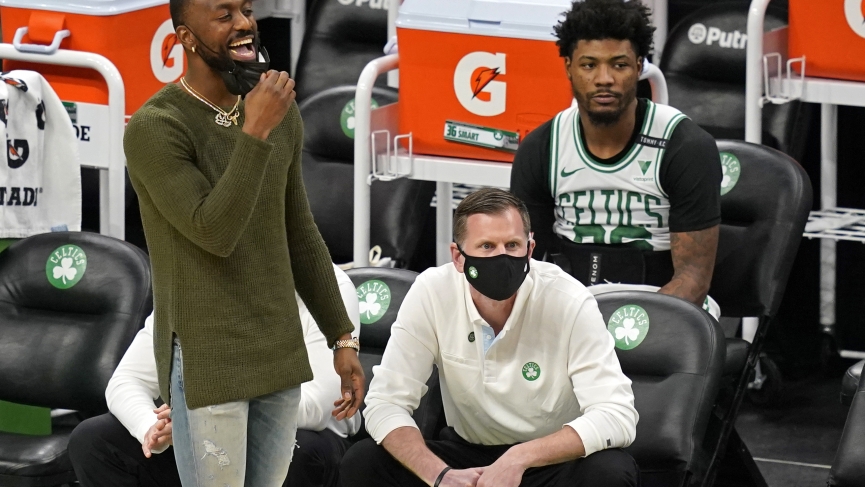 I remember watching the Celtics after the Larry Bird years when Mike Gorman and Tommy Heinsohn managed to find the game's best storylines. If you didn't know who the new 8th man was coming in, you knew everything about em going back to their middle school team by the final buzzer. We could use the legendary duo these days as young players are about to set new records for minutes. The C's have a whopping nine players on course to miss Tuesday's matchup. In honor of Mr. Celtic, I quote, "This is getting ridiculous!"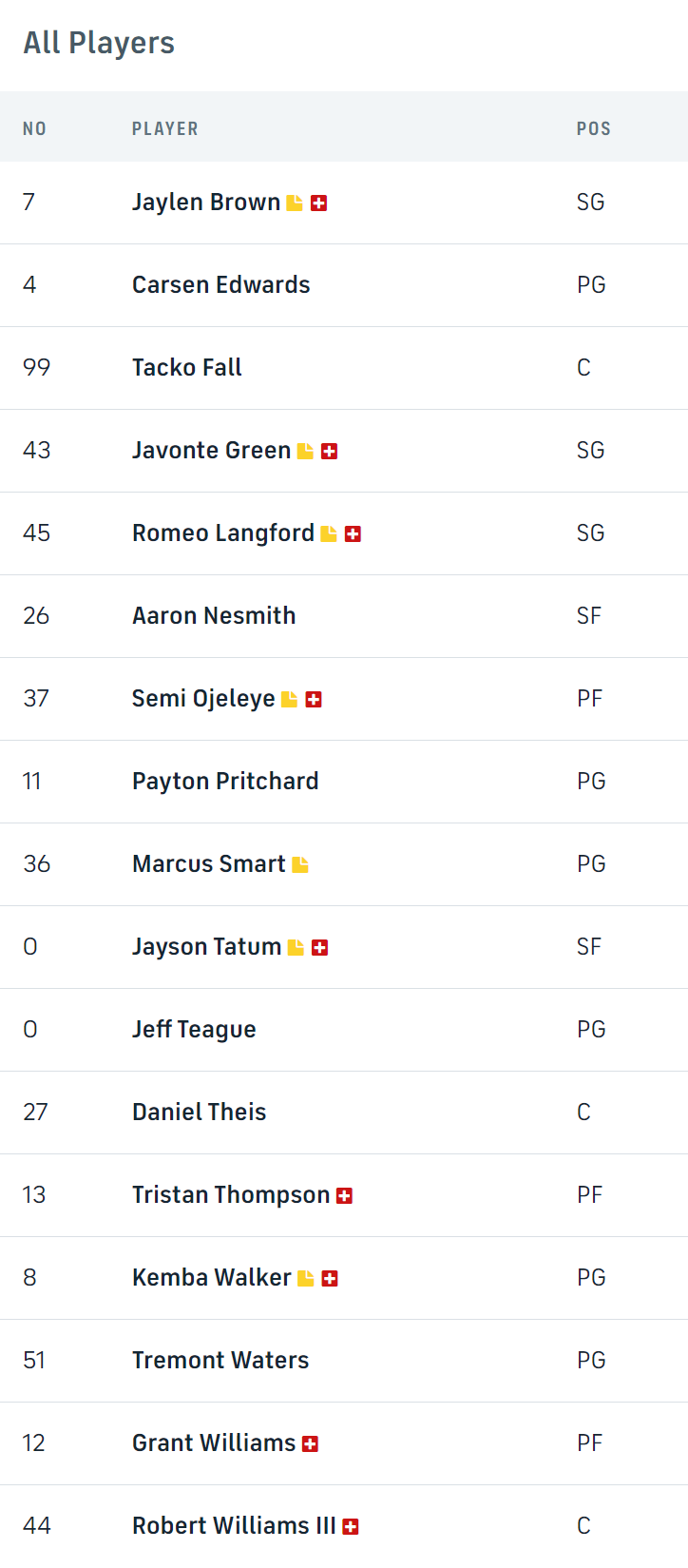 That's a lot of injury icons to the right of player names!
Jason Tatum tested positive Friday night but, thankfully, is not feeling any symptoms. Tatum coming up positive put some of the other Cs in quarantine for safety protocols.
Celtics Injury/Covid Status
| | |
| --- | --- |
| Player | Status |
| Semi Ojeleye | Covid Quarantine |
| Tristan Thompson | Covid Quarantine |
| Grant Williams | Covid Quarantine |
| Jaylen Brown | Covid Quarantine |
| Jayson Tatum | Covid Quarantine |
| Robert Williams III | Covid Quarantine |
| Javonte Green | Covid Quarantine |
| Romeo Langford | Injury (Right Wrist) |
| Kemba Walker | Injury (Left Knee) |
So how do we handicap the Celtics?
First, we need to look at what they are missing. Jaylen and Jason are in one of 3 pairs of teammates that are both in the top 12 in scoring. I picked top 12 because JB is 12th, Still counts! Of those 12 players, they are first and second for minutes played. To state the obvious, handicapping Boston on Tuesday, is handicapping an entirely different team.  The Celtics need to make up for over 52 points on 69 minutes.
Time for PP11 to take it to the next level
Yes, I just gave him that nickname… At least, I think it was me. I didn't Google it yet. But he deserves it. My man Payton Pritchard put 23 and 8 against a $55 million dollar backcourt when they traveled to the Toronto Tampa Raptors, with the Celtics managing to cover the +6 point spread. There is no pressure on PP11 as any losses come with a C19 asterisk. If Pritchard can't dance his way to another starter level performance, expect Jeff Teague to take the reigns. Teague was cleared today in time for the Celtics to try to claim first place in the East.
Time For The Fall Guy!
That's a very poor subtitle, but I can't be like every other Celtics piece and use the words Tacko Time. We don't even eat tacos on the east coast. Before I moved out of Connecticut, I thought tacos were a food you ate in the bathroom. I refuse to help Taco Bell have an advertising opportunity… Not until the guac doesn't come from a plastic tube.
Tacko Bell Fall had arguably his best game of his young career on Friday with 4 points, 8 boards and 3 blocks in 19 minutes versus the Wizards. Not huge numbers but valuable minutes.
"I know I belong"
"I know I belong" Was the quote of the day from Tacko. Tommy H: "Oh, this kid's gonna be good."
Storylines aside, the Celtics can't be the pick on Tuesday unless sportsbooks are giving them at least +7. This small squad could start Pritchard, Teague, Smart, Edwards & Theis with two players 5 feet+ coming off the bench. The Bulls, on the other hand, are getting 7'0 power forward Lauri Markkanen back from the injury list. The Bulls have seen some tough results in their three games but lost those games by an average of only 3 points while Lavine has been on a tear averaging 38 over those three losses. If the Celtics do make it to Chicago, it will be a bad matchup requiring Boston's guards to shoot the ball better than their season average to have a chance.