Rockies vs Diamondbacks Pick and Today's MLB Best Bets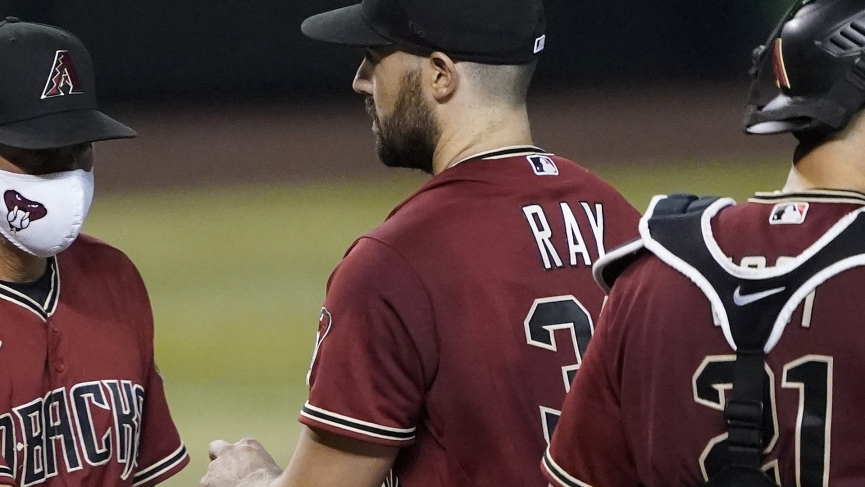 Target my Rockies vs Diamondbacks pick to kick off today's MLB betting. Baseball bettors, in fact, have a slew of doubleheaders from which to choose Thursday, as the schedule is packed with make-up games and scheduled twin bills.
Unfortunately, to make my picks for Thursday, I'm digging into my piggy bank to scrape up the final few cents I need.
2020 MLB Picks record: 27-29, 4.91 units in wallet.
This is my final column for Odds.com. Thanks to Odds.com for giving me this opportunity, and thank you for reading. I hope I've helped you with your MLB betting journey.
(Note: All MLB odds and lines current as of Thursday, 10 a.m. ET.)
Colorado Rockies at Arizona Diamondbacks Pick
Probables: LHP Kyle Freeland (2-1, 2.87 ERA) at RHP Zac Gallen (0-0, 2.25 ERA)
First pitch: 6:10 p.m. ET
➕ 2 units on Under 8.5 (-105) at PointsBet 
The other sportsbooks listed on Odds.com's tracker all pegged the total at a flat 8, which means I'm stuck taking less-than-thrilling returns on the more comforting 8.5. However, considering it's a Rockies road game in a pitching park as favorable as Chase Field — topped off by an excellent duo of starting pitchers — I'll check the box for this NL West clash.
Both squads have dragged heavily to the Under all season: Colorado is 13-17-1 against the Over/Under, and Arizona is 12-20, according to Covers.com.
Gallen's 2020 ERA nearly matches his 2.27 career ERA at home across eight starts. In his six efforts this season, he's improved on his walk rate from 4.1 BB/9 in 2019 to 3.0, and he's kept his dominance at 10.5 K/9. The 25-year-old also carries a 2.65 ERA across three meetings with the Rockies.
Freeland, meanwhile, also has enjoyed success at Chase Field with a 3.42 ERA in five starts. Most Colorado starting pitchers have better numbers when escaping Coors Field, and the lefty has a 3.92 road ERA compared to 4.17 at home for his career. 
Boston Red Sox at Toronto Blue Jays Pick
Probables: RHP Chris Mazza (0-1, 6.35 ERA) at LHP Hyun-Jin Ryu (2-1, 3.19 ERA)
First pitch: 6:37 p.m. ET
➕ 1 unit on Blue Jays' Run Line -1.5 (+110) at BetMGM
Ryu gave up five runs in just 4 1/3 innings in his first start at the Blue Jays' temporary home, Sahlen Field in Buffalo, on July 30 but rebounded in his next trip "home" Aug. 11: 6 IP, 1 ER, 2 BB, 7 K. The lefty's adjustment to AL play has gone well (33:9 K: BB in 31 innings).
There's caution to be had, given that Sahlen Field has played overly friendly to hitters and Boston hits lefties well (their .771 OPS ranks a respectable 13th). However, Toronto should hold court against Mazza, who hasn't finished more than three innings in his two big-league appearances.
Though they're just 5-6 in Buffalo so far, Toronto leads the majors with a .910 OPS at home. Plus, the Jays average 2.1 homers per game in Buffalo against righty pitchers.
Minnesota Twins at Detroit Tigers Pick
Probables: RHP Randy Dobnak (5-1, 1.78 ERA) at LHP Matthew Boyd (0-4, 8.48 ERA)
First pitch: 7:10 p.m. ET
➕ 1 unit on Tigers' Moneyline (+140) at PointsBet
This is a tale of two starting pitchers who soon could be heading in different directions with their performance.
Dobnak's ERA clings to the good fortune that comes from his .226 BABIP allowed to opponents and his 93.3% rate of runners stranded. His ground-ball-centric approach can help him sustain such numbers for long stretches, but this is a profile that — while great for eating innings — isn't designed to have a result as sparkling as he's shown so far.
Boyd is on the other end of the spectrum. His 10.4 K/9 again ranks among the MLB leaders, but he's allowed a whopping eight homers in just 28 2/3 innings pitches. That translates to an ugly 2.51 HR/9. Fortunately, that rate is a bit lower at his Comerica Park home: 1.86, compared to 2.84 per nine elsewhere. 
This is certainly a reach of a bet, but Boyd has been saddled with an absurdly low 49.4 LOB% at home. That's a far below-average rate of stranding baserunners. Also, compare his 10.24 ERA in 9 2/3 home IP to his much more serviceable 4.50 Fielding Independent Pitching, which measures what he can control. 
Better fortune on batted balls is difficult to precisely predict, but in this matchup between a pitcher who's gotten way too lucky and a pitcher who's had almost nothing work in his favor outside his own dominion, I'm going to take advantage of a home pitcher with a great K rate who's getting positive odds.