Philadelphia Phillies at Washington Nationals Pick – August 26, 2020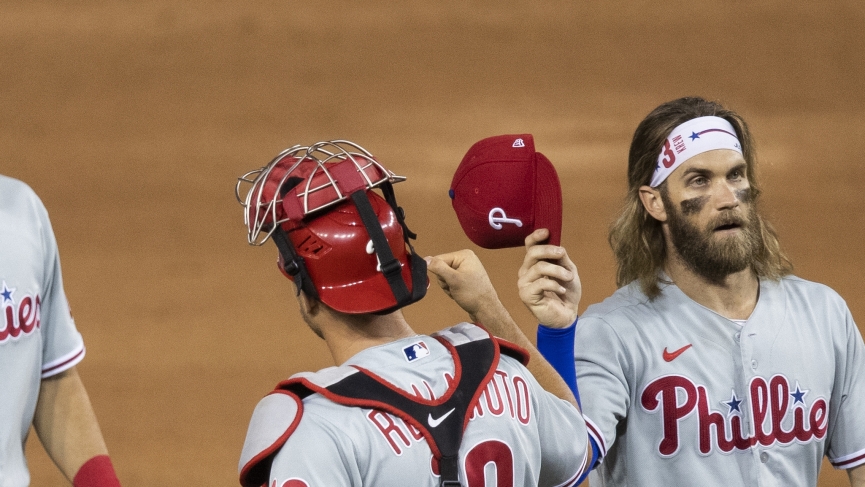 Today's top MLB play is my Philadelphia Phillies at Washington Nationals pick. 
I'm back for more baseball bets after brutal 0-3 Monday dropped me below .500 (25-28). 
Here are some Wednesday evening MLB games to bet on, including two surprising run totals featuring two matchups of excellent starting pitchers. I also back a road team who should terrorize its surprisingly weak opponent.
(Note: All MLB odds and lines current as of Wednesday, noon ET.)
Philadelphia Phillies at Washington Nationals Pick
Probables: RHP Aaron Nola (2-2, 3.10 ERA) at LHP Patrick Corbin (2-2, 3.99 ERA)
First pitch: 6:05 p.m. ET
➕ 2 units on UNDER 8.5 (+105) at FoxBet
I was shocked to see a book total this high with these two quality arms taking the hill. This lack of confidence has some merit, though: Maybe the bullpens will mess this up, and these offenses both rank in the top 10 in OPS (Phillies' .796 is fifth, and the Nationals' .768 is 10th).
But Corbin sports a career 2.80 ERA in 22 starts at Nationals Park and controlled his four meetings with the Phillies last year to a sparkling 2.88 ERA. The Phillies hold a .830 OPS versus lefties (eighth), but I'm siding with Corbin's skills.
Nola struggled with a 6.86 ERA in his four clashes with the Nationals, but this year's version has much less punch on offense. And before a slip-up against the Atlanta Braves on Friday, he enjoyed a three-start stretch in which he rattled off a 0.86 ERA with a 30:3 K:BB in 21 innings. Nola often nibbles too much around the strike zone, but so far in 2020, he looks more aggressive and effective with his four-seam fastball and ability to generate swinging strikes. 
Even with all the Phillies' success on offense, they're just 11-11-3 against the Over/Under overall, according to Covers.com, and are just 4-6 straight-up on the road. The Nationals are 5-9 on the O/U at home. 
Minnesota Twins at Cleveland Indians Pick
Probables: RHP Jose Berrios (2-3, 4.75 ERA) at RHP Mike Clevinger (1-1, 3.24 ERA)
First pitch: 7:10 p.m. ET
➕ 2 units on Under 8.5 (+104) at BetAmerica/FanDuel/ResortsCasino
Clevinger re-emerges after an imposed quarantine in response to his breaking of quarantine. He's walked five batters in each of his past two starts, which deservedly gives pause to trusting these two to hold the Under. Berrios has endured similar troubles (14 walks in just 30 1/3 IP), but the righty tamed the Tribe last year with a 2.55 ERA and 26:6 K:BB in four starts.
But given how good these two teams have been the past few seasons, and especially 2020, the combined Over/Under records for this season will surprise you: Minnesota is 9-21-1 (7-8 on the road), and Cleveland is 8-21-1 (5-10 at home). Over the past eight meetings at Progressive Field, the Under is 6-2, per Covers.com.
Cleveland ranks 26th with a .685 OPS against righties and 25th at home (.691), so they're in good shape to hold up their end of disappointment on the scoreboard. 
Oakland Athletics at Texas Rangers Pick
Probables: RHP Mike Fiers (3-1, 5.81 ERA) at LHP Kolby Allard (0-2, 7.82 ERA) 
First pitch: 8:15 p.m. ET
➕ 1 units on A's Run Line -1.5 (+110) at BetMGM
Fiers gets a lot of run support despite his struggles, and he'll likely fail to deliver a quality start in this one, but his bats should help him. The A's rank seventh with a .767 road OPS; they like traveling away from RingCentral Coliseum. 
But Texas' offense has stalled in 2020 (.633 OPS, 29th), and their park has actually played more pitcher-friendly than expected, according to ESPN's Park Factor ratings. In fact, the Rangers rank last with a .600 OPS at home. 
The Rangers' meager offense hasn't stopped them from succeeding at home (8-7 straight-up), but Oakland is 8-6 straight-up on the road. I'd rather place my trust in Oakland's lineup, anchored by the perennially underrated Matt Chapman. He'll have some help with these splits, too: Stephen Piscotty has 4 HR and a .313 BA on the road; he and Mark Canha (1.282 OPS against LHP ranks 16th) are noted lefty killers, too. Allard holds a career 1.72 HR/9 and a disappointing 6.2 K/9 against righty batters; he has trouble putting them away.
When it comes to run-line betting, I also like to back trustworthy bullpens. Oakland certainly has that, ranking first this year with a 1.92 ERA from its relievers. Texas? 20th (4.95 ERA).