KT Wiz vs Lotte Giants Picks June 7th, 2020
4 am EST. KT Wiz will look to march themselves back into the winner's circle when they take on the middling Lotte Giants. Let me assure you when Despaigne takes the mound, he'll have revenge on his mind. I am ready to trust the bats from KT, as they take on Lotte's weakest starting pitcher. KT F5 -0.5. 
KT Wiz vs Lotte Giants at Sajik Baseball Stadium
When the KT Wiz takes the field for this morning's finale at Lotte, they will be facing one of the weakest starters Lotte Giants have. If you are playing a team like the KT Wiz, it's almost a standard you need a solid starter to hold this KT team from putting up 5 runs any given game. Hitting has never been an issue for KT, they average 6.2 runs on the year while tallying up the hits with 10.9 a game.
Next to the NC Dinos and the Doosan Bears, no one in the KBO can compete with these top 3 slugging teams. The difference between all three is their bullpen support. KT has blown tons of games going down the stretch, a perfect example was just last night, KT's starter went 8 strong giving up only 3 hits, only for his team to lose in the bottom of the 9th.
Since facing two of Lotte's top starting pitchers, tonight will be much different. KT  winning only one game in June will not last long, and with Despaigne towing the rubber for KT, this should be a walk in the park, compared to his last outing versus Doosan.
KT Starting Pitcher Odrisaner Despaigne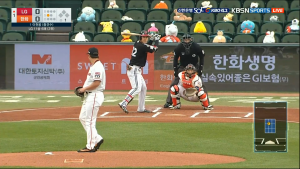 Let's take a closer look at KT's starting pitcher, righty Odrisamer Despaigne. In his first season as a KBO pitcher, he's been moving comfortably,  posting a 3.89 ERA, and a 1.22 WHIP. I swear WHIP is just as important as ERA if your pitcher is allowing hits and walks each innings chances are that team will score runs.
In Despaigne's two road starts, he faced LG and NC. If you can hold both of those clubs to under 6 hits going 5 or more innings, you should have a little problem against a Lotte team, who average only 3.7 runs a game, and 8.5 hits. Despaingne's first game of the year was against this same club, where he had the 2nd best outing of his KBO career, going 6 innings allowing only 4 hits, striking out 8, and walking 0. If this is not a perfect spot for Despaigne, and his powerhouse club, I don't what is. Lotte will look for the sweep tonight, and if they succeed, it will be the first time since week 1 Lotte has swept a series. 
Lotte's Pitching is Anyone's Guess
The Lotte Giants have gone through starting pitching like a cheap rap, mixing in 8 starting pitchers to their rotation, this tells me Lotte has not settled on who their starting 5 will be. American pitcher Adrian Sampson made his second start for Lotte, and it was one to forget, giving up 10 hits in only 4 innings to the Kia Tigers.
Lotte has fallen fast from where they were 4 weeks ago, since their 5-0 start to their campaign, Lotte has managed only 8 wins in their last 23 games. With this mini two-game winning streak, you could say they're turning it around, im not ready to believe that quite yet. When Lotte was winning games in week 1, they were lower scoring, relying on their bullpen to close teams out. Lotte's bullpen has reached a 1.48 WHIP, while the second half offensive numbers have dipped, going from 4.50 in week 1, to now 1.67. Tonight's starter for Lotte, "Park Se-woong" will have his work cut out for him, as he still searches for his first win of the year. 
It's tough to give credit to Lottes starter Park Se-woong this season, better yet since 2017. Se-woong has a 0-5 record, a 6.38 ERA, and a 1.75 WHIP. Just looking at those numbers makes me cringe, even the last place Hanwha would enjoy facing Se-woong. KT are looking to leave with a victory, and avoid being swept. When we take a closer look as to what's gone wrong for Se-woong, its been everything. Walks seem to be his biggest problem when on the mound, averaging over 2 a game dating back to last season. His strikeouts are low, which tells you he doesn't have the stuff to blow by you, more of a contact pitcher. When you put the recipe together, contact hitting pitcher, and KT offense top 3 in the league, you get madness. You can see in the table below just why we are fading Se-woong.    
| | | | | | | |
| --- | --- | --- | --- | --- | --- | --- |
| | ERA | WHIP | Innings | Hits | Strikeouts | Walks |
| Despaigne | 3.89 | 1.22 | 6.2 | 6.7 | 6 | 0.8 |
| Se-woong | 6.38 | 1.75 | 4.8 | 6.2 | 3.4 | 2.2 |
How to Make Money on This Matchup
When looking to make money in tonight's matchup, I recommend you take the KT Wiz early and avoid their plague of a bullpen, who's notorious for losing games late. Lotte will need to hit with KT in order to keep up with their big bats. I do not see this coming to fruition, with a hungry hard-throwing Despaigne taking the mound, give me the KT Wiz early and often, as we look to finish the week off on a high note.
Tonight's KBO Best Bet: KT Wiz F5 -0.5 -130