Diamondbacks vs Rockies Pick – August 10, 2020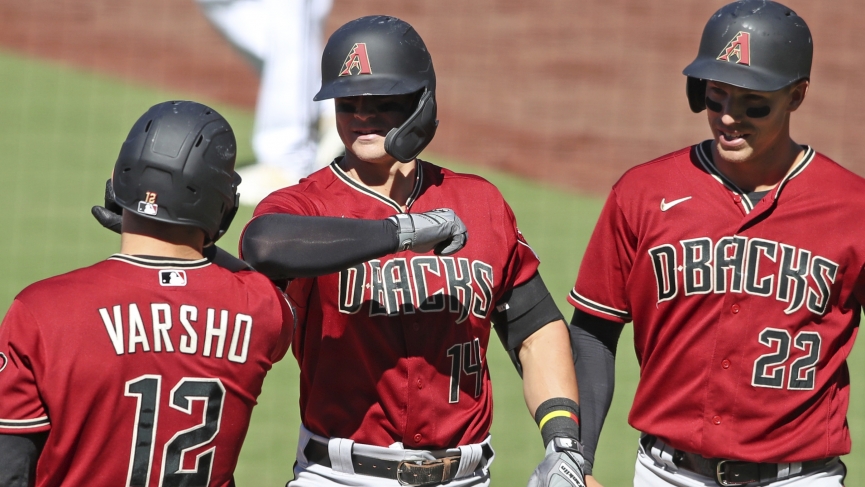 Today we are breaking down my Diamondbacks vs Rockies pick. Don't look now but the Arizona Diamondbacks are producing runs. They now travel to Colorado, where the ball will be traveling farther than other ballparks. This is due to the high elevation in Denver Colorado, not only to the MLB teams have to deal with this, NHL/NBA/NFL all must be aware of the altitude you play in Colorado. With that being said, Arizona will mix in two gas cans and one young star. The two gas cans are Robbie Ray and Luke Weaver.
Arizona Diamondbacks vs Colorado Rockies Odds
| Diamondbacks vs Rockies Series | Moneyline | Time |
| --- | --- | --- |
| August 10th – August 12th | +105/-125 | 830pm EST |
Looking at our table below, right away the FIP & WHIP categories are in the range of a major fade, while Zach Gallen is saving the ration with a solid 1.25 WHIP, and 4.28 FIP. We have some major discrepancies in the LOB % (Left on Base), Ray & Weaver do not hold baserunners in check, with 68.2% & 56.3 %.
Team
Pitcher
FIP
WHIP
BABIP
K-BB %
Hard

Contact %

HR:FB
WPA
LOB%
Diamondbacks
Ray
8.740
1.950
0.281
9.100
47.400
24.000
-0.730
68.200
Gallen
4.280
1.250
0.286
20.900
36.800
23.100
0.200
95.200
Weaver
8.580
2.130
0.407
15.100
65.600
27.800
-0.940
56.300
With high elevation and a team like the Rockies hitting with the best of them, I expect to see an explosion of runs. I do like what I see from Zach Gallen, the mans WPA is the only one who is in the positive of the bunch. WPA just gives you an overall score of how the pitcher is performing, very similar to WAR. With that being said, the DBacks will need to continue their recent success if they want to win with Ray and Weaver on the mound.
Team
Pitcher
FIP
WHIP
BABIP
K-BB %
Hard

Contact %

HR:FB
WPA
LOB%
Rockies
Gray
5.080
0.980
0.207
4.600
43.600
5.000
0.060
54.800
Freeland
4.220
1.070
0.235
7.100
45.300
13.300
0.490
87.200
Senzatela
4.240
1.180
0.269
12.500
47.200
5.300
0.430
75.300
Colorado has benefited from their staring five thus far. Looking at the Rockies three starting pitchers for the series, we can see a considerable improvement from Arizona in the WHIP and BABIP. Jon Gray his control intact early in the season, at 0.98 WHIP, and 0.207 BABIP, Gray is in a nice groove. He continues to impress with a very low 5% HR: FB ratio, though he has the worst RISP aka LOB%. Freeland and Senzatela will be pitching games two and three of the series, these two are even better than Gray, with a LOB% of 87, and 75 %.
All in all, you have to give the advantage to the Rockies starting five. Without Zach Gallen going in game 2, the DBacks would be in a lot of trouble in these series of games. One big factor I want you guys to take from this will be the HR: FB ratio at Coors field. The ball will travel even farther in the air than at a regular ballpark, so if a pitcher has a high HR: FB ratio, it's only going to get impacted more by the heavy elevation. Right away you will be able to tell all three starters (including Gallen) have an HR: FB over 20%, a recipe for disaster when playing at Coors Field.
Team
Batting Average
Slugging %
BB-K %
BABIP
wOBA
HR: FB
Hard

Contact %

WAR
Diamondbacks
0.211
0.337
0.39
0.255
0.278
8.4
39.5
-0.1
Rockies
0.263
0.428
0.42
0.308
0.328
12.3
40.5
2.1
Out of all the majors offensive statistics I like to focus on when capping a series, Colorado is dominant in every aspect. I could go on and on, but let me simplify things. If we just focus on the batting average and slugging percentage, Arizona is a very middling team at best, while the Rockies impose a major threat to all starting pitchers. The table above speakers volumes compared to what I could write, one thing I will reiterate is the ballpark at Coors field is a very hitter's friendly park, which in large part will help boost the Dbacks numbers.
| Bullpen | FIP | WHIP | Batting Avg. |
| --- | --- | --- | --- |
| Diamondbacks | 4.84 | 1.06 | 0.215 |
| Rockies | 3.18 | 1.21 | 0.194 |
After the starters leave these games, we will be faced with very average bullpens, this is where the bats of Colorado will shine. I imagine Colorado to be leading in two of the three games, with the one possible AZ win being when Zach Gallen comes in Game two.
As long as the Rockies can get out of the early leads in all three games, I find it hard to believe the DBacks will catch them with a bullpen like the Rockies. A sneaky betting angle could be Rockies to score 1st, along with Rockies first five innings. All in all, take the Rockies at -125 to take down these Arizona Diamondbacks in a three-game set.
Injury Report: NO MAJOR INJURIES TO EITHER OFFENSE ONLY
(4 Star) Series Bet: Colorado Rockies -125