Chicago Cubs vs Cleveland Indians Pick and Today's Best Bets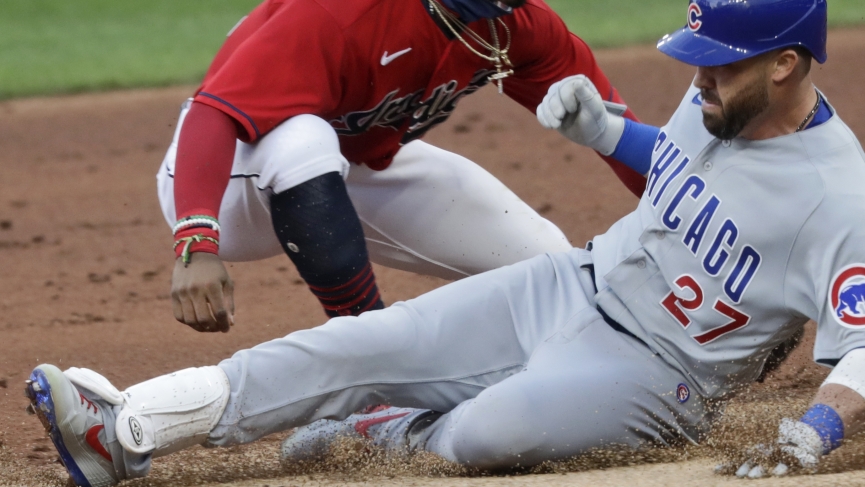 Wednesday kicks off with my Chicago Cubs vs Cleveland Indians pick and today's best bets. I rebounded with a 4-1 run Tuesday, including my first two wins on Overs. Given the notable amount of day games, I'll focus on evening contests for Wednesday's action.
2020 Total: 20-13 (61% win rate), including 12-6 (66%) on Run Lines
+40.71 units in wallet
(Note: All MLB odds and lines current as of Wednesday, 8:30 a.m. ET.)
Chicago Cubs at Cleveland Indians pick
Probables: RHP Kyle Hendricks (2-1, 3.54 ERA) at RHP Carlos Carrasco (2-1, 2.50 ERA)
First pitch: 6:10 p.m. ET
➕ 5 units on Indians' Moneyline (-116) at BetAmerica & ResortsCasino.com
Flipping the bet between these two teams from yesterday, when I backed the Cubs. Hendricks was saddled with a 5.02 ERA on the road in 84 1/3 innings for 2019, and this year, he was bombed for six runs over 4 1/3 frames away from Wrigley Field.
Carrasco, meanwhile, is enjoying a revival after recovering from leukemia in 2019. The righty has completed six innings in each of his first three outings of 2020, his latest a one-hit scoreless appearance Thursday.
Baltimore Orioles at Philadelphia Phillies Pick
Probables: LHP Wade LeBlanc (1-0, 6.91 ERA) at RHP Zach Eflin (0-0, 0.00 ERA)
First pitch: 7:05 p.m. ET
➕ 5 units on Over 9.5 (-102) at FanDuel
Sure, this is barely a favorite, but that's a nice potential profit given the two pitchers on the hill. Despite his fine 2020 debut, Eflin has a career 4.68 ERA
Also, the Orioles lead the majors with a .369 wOBA on the road, heavily on the back of breakout slugger Renato Nunez (.305/.388/.644). Also, the Phillies rank seventh in home wOBA (.344), and they should throttle LeBlanc and whoever else the Orioles' bullpen trots out.
Baltimore is 7-6-2 on the Over/Under so far, while Philadelphia is 5-5-2, which both rank in the top half of the league (O's in the top 10).
Kansas City Royals at Cincinnati Reds
Probables: RHP Brad Keller (1-0, 0.00 ERA) at LHP Wade Miley (0-1, 27.00 ERA)
First pitch: 6:40 p.m. ET
➕ 5 units on OVER 9.5 (+100) at FoxBet and BetRivers
While it's easy to see why I'd be confident in Miley giving up runs, Keller is a harder case to prosecute, considering he's coming off a five-inning shutout debut.
The groundballer would seem to have the exact profile that could survive Great American Ball Park's hitter-friendly environment. Still, I don't trust this form of Keller to keep going, especially in such a hostile setting for pitchers.
Plus, anytime I see a run total dip below 10 in Cincinnati, I have to act, especially if the two pitchers aren't overly dominant. The Reds have posted a top-10 offense at home so far (.334 wOBA), and Miley's hittable makeup should help him hold up his part of the bargain.
Minnesota Twins at Milwaukee Brewers Pick
Probables: RHP Kenta Maeda (2-0, 2.65 ERA) at LHP Eric Lauer (0-1, 9.53 ERA)
First pitch: 7:10 p.m. ET
➕ 3 units on UNDER 8.5 (+100) at DraftKings, PointsBet, FoxBet, BetRivers
'Really, Tim? The Under at Miller Park, which still is a top-10 stadium for home-run boosts?'
Yes. Maybe the Twins will single-handedly obliterate this Over/Under against Lauer and the Brewers' middle-relief crew, but I'm mainly doing this as a knock on the Milwaukee offense, which ranks 20th with a .307 wOBA at home; is dealing with a slumping Christian Yelich; and has missed Lorenzo Cain, who opted out of the season.
Maeda has chewed up at least five innings in each start, walking just one batter in each while striking out 16 across that trio of outings. My predicted 6-2 win still would hit in this wager.
Tampa Bay Rays at Boston Red Sox Pick
Probables: LHP Blake Snell (0-0, 3.38 ERA) at RHP Zack Godley (0-1. 3.97 ERA)
First pitch: 7:30 p.m. ET
➕ 3 units on UNDER 8.5 (+105) at PointsBet
Predicting an Under for two AL East teams is always a nervous wager, but there's a case here. Snell hasn't gone more than three innings in any start, but he's finding the elite form that calls back to his 2018 AL Cy Young season. Early plans have him ramping up to five innings Wednesday, so moving from an opener to a traditional starting pitcher should help Tampa Bay tame Boston's lineup.
Godley, meanwhile, appears to be having a similar workload, having completed no more than four innings in an appearance this year, but two of his games have been scoreless efforts.