Minnesota Wild Pick (+110) to Win Series is a Best Bet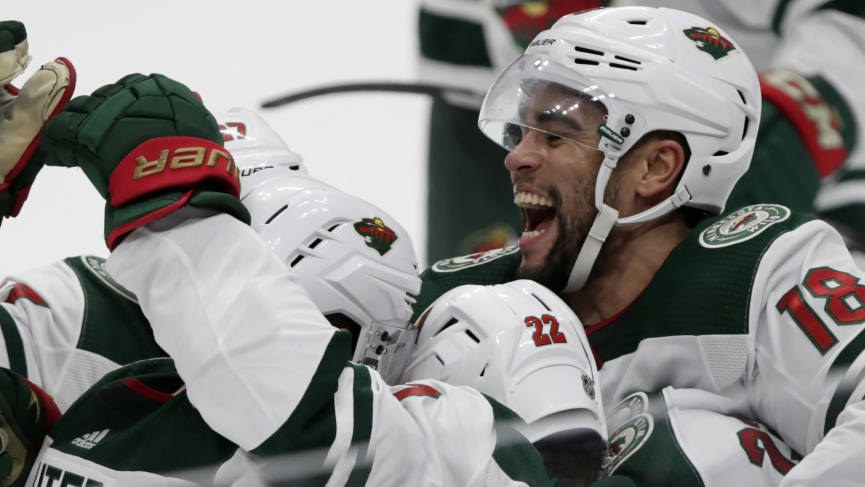 Don't Fear the Underdog, my Minnesota Wild pick finds themselves as a slight underdog as they get set to take on the Vancouver Canucks in a best of five play-in series.
These teams share many similarities, and will no doubt have a very competitive match up. If you bet with a bookie who allows you to bet on the number of games a series will go, I highly recommend you stake a claim in this series going five games.
Minnesota's Keys to Victory
I believe the Wild are going to win this series for a few reasons. Did they have a better regular reason record? No. Are they a deeper and more talented team? Not necessarily. So, what is drawing me to them? My answer is the experience and leadership of a few individuals on that Minnesota Wild squad.
The Wild have the advantage of having players like Ryan Suter, Eric Staal, and Zach Parise, who not only account for a large percentage of team scoring, but provide them with knowledge, experience, and a calm sense of leadership.
GOAL. Zach Parise gets the Wild within one.

4-3. pic.twitter.com/rwlVkyw0LM

— Hockey Wilderness (@hockeywildernes) March 2, 2020
Of course, the Canucks have players who can put the puck in the net as well. J.T. Miller leads the team with an impressive 72 points on the season, and a few other Canucks are not far behind him.
The Wild's not-so Secret Weapon
This is where goaltender play comes in. There is an old adage in hockey that come playoff time, all you need to win is a hot goaltender. While neither of the expected starting goalies are superstars in this league, they both have the ability to take over a game, and single-handedly win it for their team. The Wild are going to need their goalie, Alex Stalock, to be at his best throughout not only this series but their entire playoff run. Stalock is going to be especially important given the fact that Vancouver is ahead of Minnesota in some pretty important categories, such as shots on goal, goals scored, and goals allowed.
Those stats are a bit skewed, however, with reference to these specific goalies. Stalock did not see much ice time until November when he started splitting time, and then eventually took over the starting spot from long time Wild netminder Devan Dubnyk. In his 36 games, he managed a record of 20-11-4, with 2.67 goals-against average, and a .910 save%. Probably the most impressive thing about his stat line though is the five shut outs he managed to post.
Let me reiterate how impressive that is. Shut outs are very difficult to come by. Most goalies earn very few, and some don't earn one all season long. For instance, the Canucks goalie, Jacob Markstrom, who is obviously very talented, registered a 2.75 GAA, and a .918 save% in 43 games this season. Despite the very solid play, he only picked up two shut outs, one of which came against the lowly Blackhawks.
Stalock recorded shuts outs against some of the NHL's upper echelon teams such as Vegas Golden Knights, Dallas Stars, and Edmonton Oilers. Five shut outs while only playing 36 games means that nearly 14% of the time Stalock stepped on the ice, he did not allow a goal. That is nearly unheard of and is extremely impressive when you compare it to his peers.
2019 season shut out percentage:
Alex Stalock 5 of 36 (14%)
Jacob Markstrom 2 of 43 (4.65%)
Freddy Anderson 3 of 52 (5.76)
Jordan Binnington 3 of 50 (6%)
Carter Hart 1 of 43 (2.32%)
Matt Murray 1 of 38 (2.63%)
And the list goes on. So, as you can see, Stalock blows most everyone else out of the water.
Possible for the Wild to Pick Up Where They Left Off?
I know you cannot count on any sort of momentum that was being built before the stoppage of play back in March, but the Minnesota Wild really was starting to play fantastic hockey. They were winners of 7 of their last 10, and 13 of their last 20. The Vancouver Canucks seemed to be heading in the opposite direction, losing 5 of their last 10 and 11 of their last 20.
As I mentioned off the top, I think this is going to be a five-game series, but you can have faith in the Wild to cash that +110 ticket.