Red Sox vs Yankees Pick August 1, 2020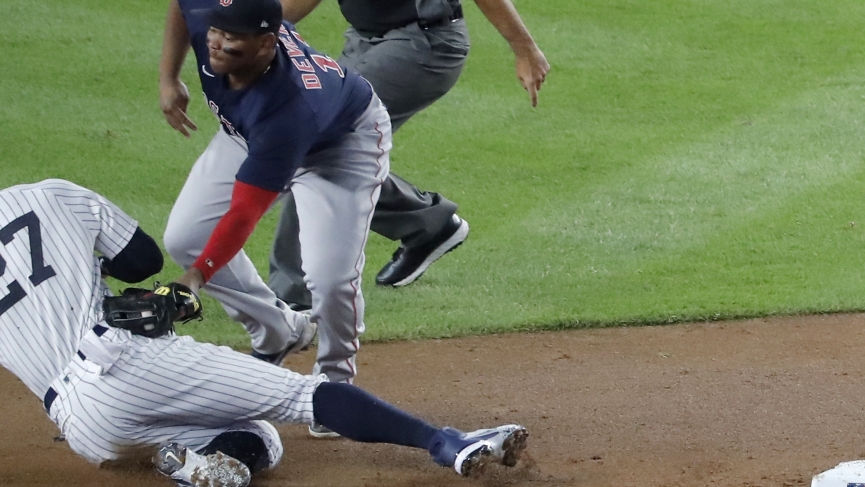 As we are about to get into today's Red Sox vs Yankees pick, MLB Week 1 is now officially in the books, and as always, expects to see the unexpected early on in the season. We've seen a surprise start from the Padres atop NL West besting the Dodgers and of course, the elephant in the room with the situation of the Marlins and now the Cardinals with players being tested positive for Covid-19 with a lot of uncertainties here, as the rest of MLB season hangs in the balance. The MLB will need to tighten the reigns as a whole if it wants to compete this season
A Classic MLB Rivalry in Primetime
Let's get back onto the field for this divisional classic matchups between the Boston Red Sox (3-3) vs. New York Yankees (5-1)  @Yankee Stadium. Temperature 84 degrees, 0% chance of rain, wind 10mph blowing across to left field.
| Team | Odds ML/RL | Pitcher |
| --- | --- | --- |
| New York Yankees | -175 Total 10  (o-115) -1.5 (+100) | Tanaka RHP 0-0 0.00 ERA |
| Boston Red Sox | +155 +1.5 (-118) | Godley RHP 0-0 0.00 ERA |
The red-hot Yanks host their archrivals from Bean Town back in the Bronx tonight. Tanaka will make his debut for New York tonight. Tanaka, who is recovery mode, coming off a concussion he suffered back on July 4th being hit in the head from a line drive Giancarlo Stanton during Summer Camp. 4 weeks later, now faces the Red Sox, who last time out roughed him up for last season in that London series in July, are you ready for this 22, that's right 22 runs in eight innings! Maybe that head bump will let him forget that disaster.
Godley gets his second start tonight and comes off a solid opener in a no-decision effort versus the New York Mets, pitching 4 complete innings yielding four hits, seven strikeouts, and zero walks. Godley was adding to Boston's pitching rotation which is in shambles, due to all the injuries that keep piling up, making a once-solid staff that is turning bad quickly. Earlier this year Godley was the #10 pitcher on the depth charts if that tells you anything. He is trying to revive his career after being acquired from the Dbacks. The one-time starter was sent to the bullpen in Arizona during the 2018 season playing a diminishing role there and is looking to revive his career in Boston.
Offensively Speaking
Boston has been seemingly coming up a little short at the plate of late, some of those issues can and will work themselves out over time, the big question here in this spot is it finally time after dropping 2 in a row against the Mets? Yankees seem to be on track early this year and seem to be loose playing home despite not have those "Bronx Cheers" to support them. We all know how much that crowd has meant in this series in particular. In spite of it all, the players are feeding off one another and are enjoying themselves.
The Yankees at home have been averaging 5 runs per game and that has increased to 7.33 runs in the last 3 games played overall. The Red Sox have averaged 3.76 in the last 3 games, with the same number being the away average early in the season. Overall the Red Sox in total is averaging better than 4.5 runs per game.
Tanaka's numbers versus the Red Sox
The right-hander is 8-5 with a 5.76 ERA in 21 career starts against the Red Sox. Last season, he was 0-1 with a 24.75 ERA in three starts against Boston, and in the past two seasons, he owns a 12.67 ERA against the Red Sox.
Godley's numbers versus the Yankees
Godley has never faced the Yanks before; the only real batter to speak of is DJ LeMahiue he the only Yankee with any type of AB vs. him here. Recording 20-ABs.300 avg. with 6-RBIs and 690 OPS rating. This could put him in a Devils Advocate role and that may play to his benefit here by trying to produce some ground balls keeping runs off the board and the ball from going yard.
Red Sox vs Yankees Pick
Look for the Sox and Godley to keep the Yankees off-balance early for damage control and Boston to get reacquainted themselves with Tanaka early and squeeze in some runs in the 1st 5 innings.
My Plays: Red Sox F5+150, Red Sox F5 Over 2.5 Runs+115
See You on the Field,
The Big Ragoo