Pony Picks: Woodbine and Churchill plays for Sunday 9/20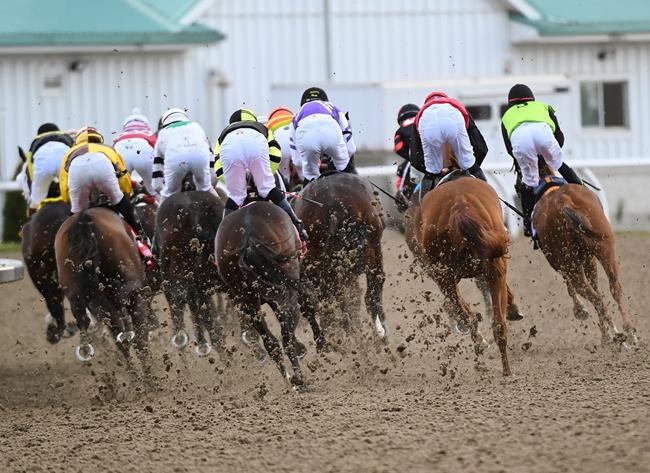 Odds.com's Horse Racing Picks for Sept. 20th:
Yesterday at Woodbine, 2019 Canadian Horse of the Year Starship Jubilee returned to her winning ways upsetting the boys in the Woodbine Mile earning an expenses paid trip to the Breeders' Cup. Lightly raced Count Again provided an upset in the Singspiel and had to survive an inquiry for coming inward in the stretch. A wicked speed duel developed in the Ontario Racing where Sky's Not Falling rallied to the lead only to get caught at the last moment by first-time starter Credit River who was 41-1. In the female equivalent, the Woodbine Cares, Dirty Dangle utilized a perfect inside out trip to beat favored Illegal Smile who got a less than ideal wide trip while making a premature middle move.
The lone other graded stakes outside of Woodbine came at Belmont as they ran the Belmont Oaks. European invader Magic Attitude easily ran down Saratoga Oaks Invitational winner Antoinette to deliver as the favorite.
Today, Woodbine once again has a pair of Breeders' Cup 'Win And You're In' races this time for two-year-olds which I'll look at along with an allowance at Churchill Downs.
Woodbine 7th: American Monarch likely to improve 4:29 pm Et
The Woodbine 7th is the grade one Summer for two-year-olds going one mile on turf. Ready to Repeat and Gretzky the Great both come out of the Soaring Free, the local prep. I have no interest in Ready to Repeat who had easy leads in both of his wins and in that last race was one-paced throughout when having to rate. Gretzky the Great got up to win the Soaring Free at the last moment and while he is a more likely winner, that last win doesn't make him a standout especially when you consider his easy trip in a race with little flow.
I prefer the horses coming out of a maiden event at Saratoga and in particular American Monarch (5/2 ML). American Monarch rated on the outside while never being covered up, advanced 3-wide, and was able to wear down Secret Potion, who is also running, to win.
Note that race came at 1 1/16 miles which is much further than he'll have to travel today thus American Monarch has already answered the distance question whereas the horses coming out of the Soaring Free have not. Some will argue that American Monarch's race was slow but consider that trainer Bill Mott doesn't ask too much from his horses at first asking thus when they win, it is usually a result of their talent. Bill Mott won this race in 2016 with Good Samaritan, who similarly won a maiden event at Saratoga at first asking, needed to improve to win that edition of the Summer and did.  Expecting American Monarch to show typical improvement from start 1 to 2 and it might be enough to turn him into a grade one winner.
Churchill 9th: Attorney Tim discovers easier group 4:53 pm Et
The Churchill Downs 9th is an allowance for three-year-olds and up going one mile on turf. Not often you find a turf route where a large number of horses all do their best work on the front end but that is the case here. Untraceable, Botswana Taps, Falkirk, and morning line favorite Oak Hill all saw their last wins come when allowed to go wire to wire. Obviously all this speed dampers my enthusiasm of Oak Hill although he did pass horses in his debut and note the 3rd place finisher of that debut has since won twice. My main issue with Oak Hill is his last race where he was asked to rate, was rank throughout, and fought the rider most of the way. I'll let him beat me if he successfully rates.
One alternative is Icon who did little running in his only turf race. Consider it was his debut, he was going a route and it was a race that came back live so perhaps he'll perform better this time. My main concern is all the gaps in his racing. After his debut, he had four months off and then ran back to back races. His last race was in December therefore he is now coming off a nine-month layoff. With the limited racing, he'll likely need a race thus I'm against. 
The horse I want is Attorney Tim (4-1 ML) who has seemingly found all the tough allowance races recently. Note, since his maiden win five starts ago, he has yet to run in a race where he has been under 9-1. Proved in the maiden win that he doesn't have to be a mile back and he'll likely be a bit closer today facing a group that rates easier than some of his recent races.
Woodbine 9th: Sleek Lynx can improve 5:35 pm Et
The Woodbine 9th is the grade one Natalma for two-year-old fillies going one mile on turf. I'm against the horses coming out of the local prep the Catch a Glimpse where Dreaming of Drew and Alda were in a very tight win photo in that race where Alda got up at the last moment. The trips from both were good, they both have to get added distance and they both seemed all out in that race thus I wonder if that race took something out of them. Note the third-place finisher Illegal Smile was the beaten favorite in the Woodbine Cares yesterday.
Lady Speightspeare did not break alertly in her debut, rushed up to the lead and when it appeared as though she might tire in the stretch, she found more and ran away. It was a visually impressive performance and of the local contingent, she is the one I want. I do wonder who she beat in that race and she cannot have the same poor start against this competition. Nevertheless, she's the alternative.
The horse I want is Sleek Lynx (8-1 ML) who finished second in her debut over a course listed as good at Gulfstream. From the midway point to the stretch she did a lot of things well when rating, moving outside to make her move but the reason she is still a maiden is that she ran green in the stretch. That race was going today's distance and note she was seven lengths clear of the third-place finisher. She has tried the distance while the favorites have not and while she will need to be more professional to win, her price should be good enough to find out.