Unibet Sportsbook Review
How do you go from starting a sportsbook in your house to employing over 1,500 people, having offices all over the world, taking bets from 11 million gamblers, and sponsoring Neymar and his Champions League finalists, PSG? We plan to ask Unibet founder Anders Ström exactly that. What we do know is Unibet has indeed gone Global.
After over 20 years as a leading sportsbook in Europe, Unibet is one of a handful of gaming powers to come to the USA and plant roots as the first states offer legal licensed sports betting. Unibet operates in New Jersey, Pennsylvania, Indiana, and is expected in Illinois later this year.
We know Unibet and its parent company Kindred, which has acquired 32Red and Stan James in recent years, is set up for world domination. But how good is their US sportsbook product? Let's take a look.
---
Unibet Sportsbook Signup Bonus
| | |
| --- | --- |
| Bonus Type: | Match Bet |
| Bonus Amount: | 100% Match Bet |
| Bonus Maximum: | Up to $250 |
| How it works: | 1) Lose first bet. 2) Receive free bet in that amount. |
Unibet's Deposit Bonus is substantial but like Fanduel Sportsbook, comes with strings attached that most sports gamblers aren't used to. Let's say you have a 50% chance of cashing in this $600 initial bet. If you do lose it, you are awarded a free bet in the amount of $600, which is credited by the sportsbook. If you go on to win THIS  bet then the winnings will be applied  to your Unibet account balance. If you haven't deposited again, this credit makes up your new balance.
When players are trying to gauge the value of an offer, we suggest players estimate what would happen on average if they took a promotion like this 10 times. What is the real amount you would take home? Using that crude math, and not accounting for the vig, this 100% match-losing-bet bonus has a value that is a little lower than 25% cash.
Match Free Bet Bonus Requirement
| Bonus Fine Print | Details |
| --- | --- |
| Amount: | 100% |
| Type: | Matching Free Bet |
| Maximum: | $600 |
| Based On: | First wager |
| Play Through: | 1 Time (1X) |
| Wager Restrictions: | Only On Losing Bet |
| When do I get it? | 72 hours after first bet loses |
| Expiration: | None |
What do these Bonus Terms mean?
Sports bettors should  know what this bonus is not. It's not a free bet bonus based on the deposit amount. It's not a free bet bonus matching your first sports wager. It's a free bet bonus POSSIBLY matching that first bet if, and only if, it loses.
That said, this bonus is a generous offer. Assuming you max out the offer and bet $600, you have a 50/50 chance at getting a $600 free bet, for a bet you may have placed anyway. It's against our human nature to consider the losing side, but we should. This bonus puts the odds in your favor.
Note: This is listed as a one time play-through since with all match bets you must make an initial bet to get something.
---
Perks at Unibet Sportsbook
Buzzer Beater $25 : We try to cut through the marketing speak throughout these bookmaker reviews. Unibet lists this promo as the "Buzzer Beater Refund" however you can only score up to $25! So, if you bet $500 and you're expecting a refund, it's going to feel like the first time you ordered a Big Mac after seeing the commercial… It comes with the cheese sticking out the side covering 1/3 of the patty and the special sauce is all over the outside of the bun. To make the advertising even worse, it isn't a refund of your losses. It's a free bet. Yea, enjoy that all beef patty son! So, why do we list it as a perk? Why do you keep going back for Big Macs? It's still a good deal and a bit tasty once you adjust your expectations.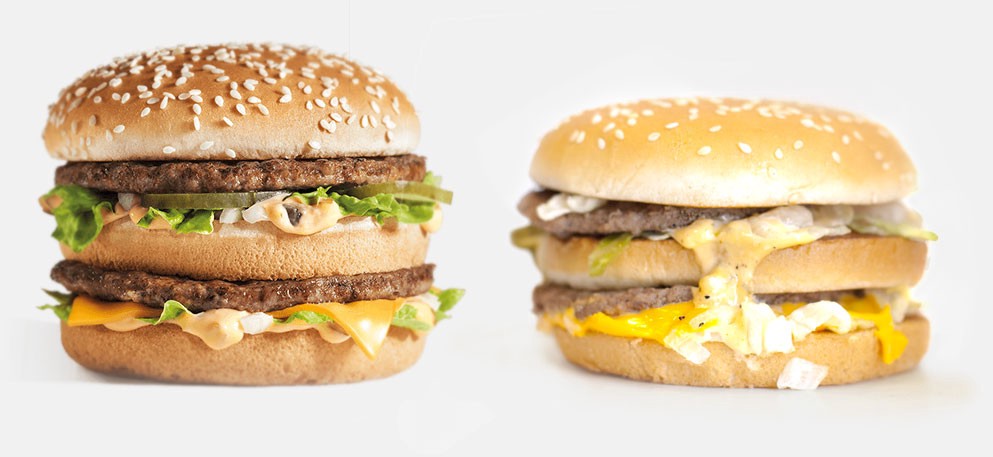 8-Team Parlay Boost: This one is called the "Pigskin Parlay Super Boost". What is it actually? Risk $50 or less on  football parlay that has exactly 8 teams in it and you will get a 50% higher payout. This is like walking through the pet store and seeing a huge sale on parrots. You don't walk by the goldfish you were about to buy and say well, I think I'll have to get a parrot today. That's right, we are saying parrots are the 8-team parlays of pets. Don't touch either one. But the sale on parrots is great if you were going to buy a bird and 50% extra on parlay payouts is great if you were already about to make a big parlay. Both are fun and lead to the kind of regret you can usually only get in a Uber ride home at 5am.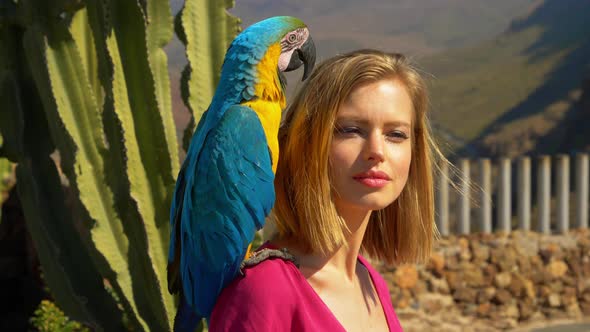 ---
Unibet Odds & Wagering Menu
Unibet may have as large of a wagering menu as any other license sportsbook in the USA. For every standard spread, there is countless alternative lines and ways to bet. You can bet the Houston Texans +9 or +22.5 with the price. It amounts to buying and selling points on the fly. Players will enjoy the options even though the potential to be overwhelmed exists.
One the negative side, Unibet currently has standard NFL and NBA spreads priced higher than the Las Vegas Standard of -110. In some cases Unibet is charging as much as 25 cents, or 25% more, than the standard rate. It seems as though Unibet uses this strategy on key numbers or lines that are more volatile than others. This is certainly a trend that we hope to see fade away as newly licensed sportsbooks get acclimated to the US market. In the past we have talked about how lines such as NBA half times can be more expensive than -110 which US bettors are not used to seeing. This is the first time observing these inflated prices on standard NFL spreads.

---
Unibet Website Experience
Unibet's desktop website is the Pontiac Aztec of sportsbook websites. They both get you to where you want to go but the construction of both started with the question: So how ugly do you think we can get this thing?

Does mobile now make up so much of the traffic that we don't care about the desktop?  In this screenshot you can see the website loaded on a 32 inch monitor. There is so much real estate that you can park a car in there, yet Unibet put the bet cart on top of the wagering options instead of giving it its own space.  The left side menu uses a grey font on a black background and is very small. Again, why so stingy with the leg room?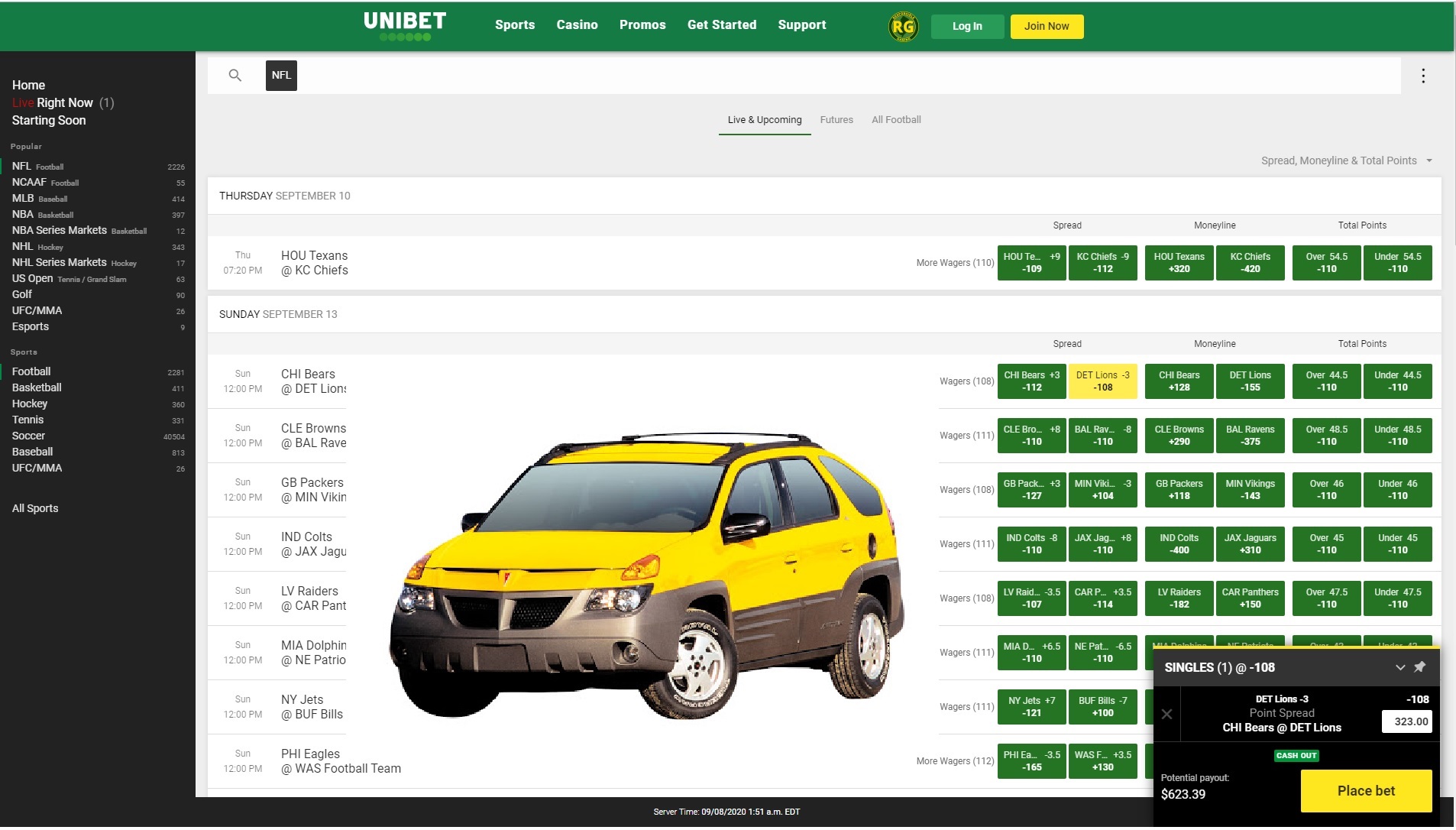 We are also not a fan of this default view for betting lines. Us American bettors like our betting lines like we like our flapjacks, covered in whip cream and stacked on top of each other. Unibet uses a a layout that puts the over and under side by side and requires them to repeat the team names in each of their green buttons. Once you select a bet, they are added to your cart and marked in yellow.

One thing we do like about the desktop website is that each league is one click away when using the left menu. Some sportsbooks will have you click on baseball, scroll through all Korean baseball lines, and then, show you the MLB you came to see. Unibet lets you fire bets in quickly. For experienced bettors, that may be the most important part of this website review.
The mobile experience is a bit better than desktop. Most new players won't have major complaints. Some of our gripes do carry over from desktop to mobile. The betting lines remain side by side. The mobile product was ported over from Europe so this is not surprising. There are some new user interface challenges that we expect Unibet to change.
Unlike sportsbooks such as Fanduel and DraftKings, the main betting markets aren't shown for each game. Players may be used to seeing the spread, total and moneyline for each event. With Unibet, the user has to drill down further to see the total line for the same game.
Fanduel for example allows you to go from the sportsbook mobile homepage to the total line for the Chiefs in 2 'clicks'. It take 4 'clicks' to get there from Unibet's mobile sportsbook homepage to view the Chiefs total. Surprisingly, there is no difference when using the Unibet App. You can see the screen shots of the betting process.
One thing we love about the Unibet mobile website is that it actually exists. Too many sportsbooks now require that all mobile wagers go through their app. It's nice to be able to bet from any browser without needing gramma to put your betting app on her iPad.
Unibet Sportsbook App
Unibet has both IOS and Android sportsbook apps. These apps are almost exactly the same as their mobile website. Our criticism in comparison to market leaders appears to be in line with the app ratings. To again compare to Fanduel and DraftKings, their apps are rated at or near 5 stars. Unibet's apps average about 2.5 stars between New Jersey and Pennsylvania. In their defense it is a small sample size.
---
Unibet Deposit Methods
PayPal
Credit Card
eCheck
PayNearMe
Land Casino Cage (Where depends on state)
Unibet Withdrawal Methods
| Withdrawal Options: | Minimum: | Daily Maximum: | Wait Time: |
| --- | --- | --- | --- |
| PayPal | $10 | $2,000 | 12-24 hours Days |
| Check | $15 | $20,000 | 7-10 Days |
| eCheck (ACH) | No Minimum | $9,000 | 3-5 Days |
| PayNearMe | $10 | $2,000 | Instant |
Credit Card is the best choice for anyone who gets rewards points. eCheck is the best choice otherwise. Unibet require an enrollment through "VIP Preferred".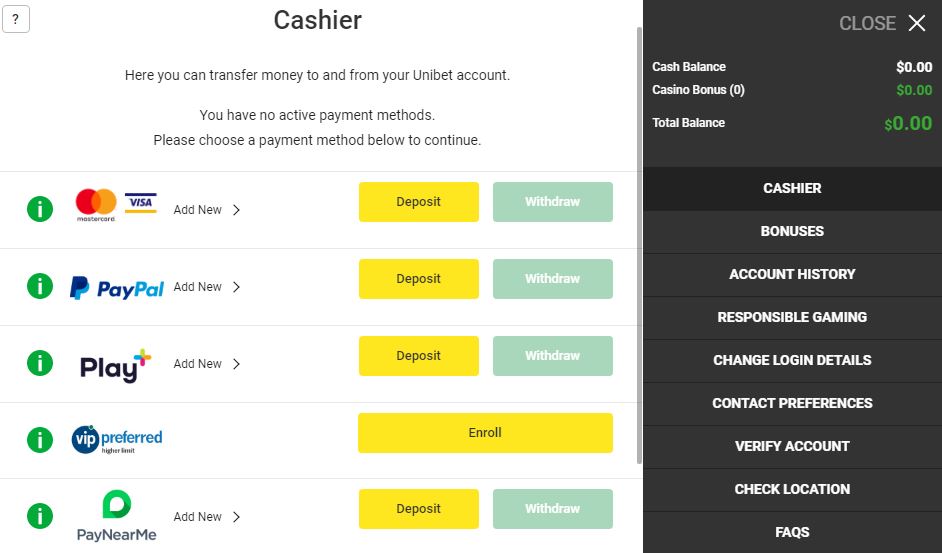 ---
Sportsbook FAQ
What Software Does Unibet Use?
Kambi Software powers Unibet's betting platform. .
Is Unibet Sportsbook Safe?
Yes. Unibet Sportsbook is a legal sportsbook and casino that is licensed in each state of which it operates. Unibet is also part of a publicly traded parent company, Unibet Group Plc.
ODDS.com has not received or observed Unibet payout complaints.
Does Unibet Sportsbook Accept Players from my State?
FanDuel Accepts players in:
Unibet is expected to open their online sportsbook to Colorado residents shortly.
---
Unibet Sportsbook Pros & Cons
Pros:
Good Bonus, Great Customer Support & Fun Promotions.
Cons:
Unibet's user interface is not on par with market leaders. Some standard lines are more expensive than -110. Unibet's NFL football spreads for week 1 currently show lines above 20 cent margins.