UFC Vegas 11 Best Bet Parlay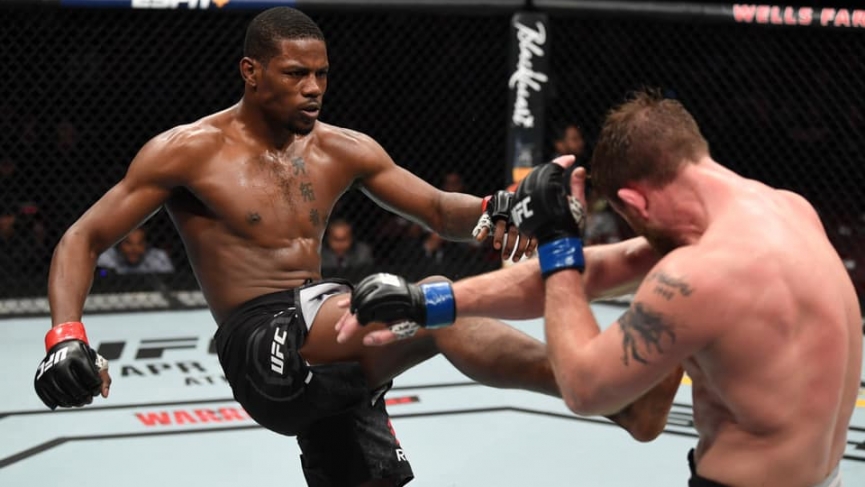 OddsHQ's UFC Vegas 11 Best Bet Parlay: UFC Vegas 11 is a prime candidate for MMA parlay players. There are so many favorites who are right in that -200 to -300 range that make them easy to mix and match. I have a reputation as a dog hunter in my MMA betting and I'll be honest with you, this week is difficult for me to find dogs that I like. We cashed last week's best bet parlay and we are going straight back to the well with another pair of fighters who I think get it done this week!
UFC Fight Night Parlay:
| | | |
| --- | --- | --- |
| Vegas 11 Fight | Pick | Odds |
| Andre Ewell vs. Irwin Rivera | Andre Ewell | -213 |
| Kevin Holland vs. Darren Stewart | Kevin Holland | -250 |
| Total Parlay: | Ewell + Holland | -103 |
| | | |
| --- | --- | --- |
| UFC Match Up | Andre Ewell | Irwin Rivera |
| Odds | -213 | +175 |
| Age | 32 years old | 31 years old |
| Height | 5'8 | 5'6 |
| Reach | 75' | 67' |
| Wins by Stoppage |  7 Wins by T/KO | 5 Wins by T/KO |
| Finish Rate | 69% | 60% |
| Win/Loss | 16-6 | 10-5 |
Parlay Leg 1: Andre Ewell (-213)
Andrew Ewell is a fighter who I have never been sold on. Ewell is 3-2 in the UFC and even though he has some physical advantages just seems to be mediocre. I have to eat some crow because I have been watching closely and Ewell is improving. I misjudged this man and at 32 he is in his fighting prime and is making use of his physical advantages. Ewell has extremely fast hands and a really sharp jab. Ewell uses his front kicks to manage the range of his opponents and keep them where he wants them. I have faded Ewell against good competition, but his only 2 UFC losses are to Nathaniel Wood and Marlon Vera who we know now are monster up and comers in the division. This Saturday Ewell will face Irwin Rivera who is a BJJ purple belt under Gilbert Burns. Irwin has sharp hands and is all heart, but I believe is outmatched everywhere in this fight. IF Irwin can get this fight to the floor perhaps he has a small edge, but taking Ewell down and keeping him there are two different things. Combine that with the massive 8 inch reach advantage that Ewell has and I think Rivera is going to struggle to close the gap and I expect Ewell to pick him apart for 15 minutes.
| | | |
| --- | --- | --- |
| UFC Match Up | Kevin Holland | Darren Stewart |
| Odds | -250 | +200 |
| Age | 27 years old | 29 years old |
| Height | 6'3 | 6'0 |
| Reach | 81' | 74' |
| Wins by Stoppage |  9 Wins by T/KO | 5 Wins by T/KO |
| Finish Rate | 83% | 66% |
| Win/Loss | 18-5 | 12-5 |
Parlay Leg 2: Kevin Holland (-250)
Kevin Holland is my sleeper at 170 pounds. This man simply does not get the respect that he deserves. Holland is massive for 170 lbs and has a never-ending gas tank. Holland was recently promoted to black belt in BJJ and is a wizard on the mat even though he appears to prefer striking. Even with Holland being such a dangerous finisher he doesn't ever rush to kill his opponents but lets the finishes materialize. Sometimes it can seem like he is playing with his food, but he demoralizes his opponents and continues to work them when they have little to no chance of hurting him until they finally wilt. 
Kevin is facing "The Dentist" on Saturday who is a power striker and is coming off his first-ever submission win in the UFC. Darren Stewart has struggled in his UFC career because most of his opponents are wary of his power. Stewart got his nickname because of the number of teeth he has knocked out in his MMA fights, and understandably, most fighters don't really want to mess with that. Stewart is getting an opponent who will be willing to stand with him on Saturday and honestly, I feel like he may regret getting what he asked for. Holland will have a massive 7-inch reach advantage and he showed excellent technical striking and power in his last fight landing him around 3 knockdowns.
Holland averages 4.65 significant strikes per minute and only absorbs 2.69. Holland is out-landing his opposition by a staggering 2 full significant strikes per minute. Stewart averages 2.97 significant strikes per minute and absorbs 2.47, so while he is out-landing his opponents it is minimal and he more gives as good as he gets. When you consider that is the game plan and he is at a 7-inch reach disadvantage that shows closing power that Darren is known for seems a bit less of a threat since he won't be able to land on Holland like he will most opponents. A big powerful muscle filled fighter like Darren will gas trying to keep up with the pace of a fighter like Holland and unless The Dentist lands a lucky power shot I think Holland drags him into deep waters and puts him away.
UFC Vegas 11 Best Bet Parlay:
Andre Ewell (-213) + Kevin Holland (-250) – Parlay Odds: -103 (via Bet365)