UFC Fight Island 6 Closing Odds and Fight Results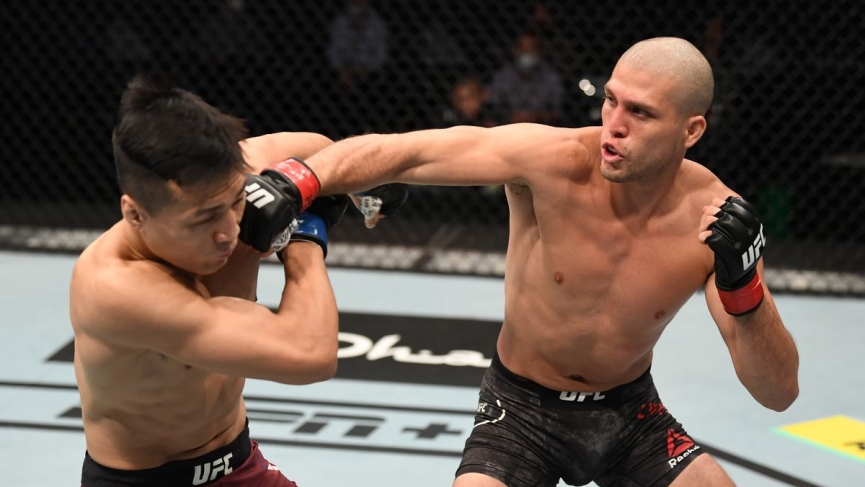 Odds.com's UFC Fight Island 6 Odds and Results: UFC Fight Island 6 took place on Saturday, October 17th, 2020 at the Flash Forum on Yas Island in Abu Dhabi. It was headlined by two featherweight top contenders, as the 'Korean Zombie' Chan Sung Jung took on Brian Ortega. Let's take a look at the results and closing odds for sides, totals, and props for UFC Fight Island 6.
Brian Ortega def. Chan Sung Jung
| | | | |
| --- | --- | --- | --- |
| Result | Method Prop | Total Prop | Distance Prop |
| Ortega (+180) via Decision (unanimous) | Ortega by Decision (+800) | Over 2.5 Rounds (-110) | Fight Goes Distance: Yes (+225) |

Brian Ortega pulls off the upset victory on Saturday night, putting up the 5 round shut out at 50-45. Ortega cashes as the +180 underdog, a hefty +800 by decision comes in. The 'Over 2.5' rounds prop comes in with ease at -110, and there was never really any moment that threatened the 'Fight Goes The Distance: Yes' prop, besides the devastating spinning elbow that Ortega landed in the 2nd round.
The big 'go-to' prop in the UFC Men's Featherweight division comes in with the 'Over 2.5 Rounds' at -110. It is the 71st men's featherweight fight to go over the betting total since last year. Bettors who have blindly bet the 'Over' in all fights at 145lbs since January of 2019 have gone: 71-36 for +13.45 units profit.
Ortega now aligns himself for another chance at the UFC Featherweight Championship, with his next bout likely being against Alexander Volkanovski
Jéssica Andrade def. Katlyn Chookagian
| | | | |
| --- | --- | --- | --- |
| Result | Method Prop | Total Prop | Distance Prop |
| Andrade (-151) via 1st Round TKO | Andrade via TKO (+400), Inside the Distance (+275) | Under 2.5 Rounds (+215) | Fight Goes Distance: No (+170) |
Jessica Andrade defeated Katlyn Chookagian in the first round via TKO. There were questions coming in concerning the height disadvantage that Andrade had, as she was giving up more than 7 inches to her opponent. However, it became clear very early on that Andrade would be able to get inside on Chookagian and do damage. Andrade landed a powerful blow to the midsection of Chookagian, sending her out of the exchange in panic, and Andrade followed up with more body punches before the fight was eventually stopped. Jessica Andrade becomes the first female UFC fighter to win a fight in three different weight classes.
Jessica Andrade and Gillian Robertson put a brief stop to a very profitable trend on the Underdog in the UFC Women's Flyweight division. With the two losses, the women's flyweight underdog falls to 12-15 for +14.5 units profit since the start of 2020. $100 bettors blindly backing the dog in this division since the start of the calendar year are up +$1453.
Jimmy Crute def. Modestas Bukauskas
| | | | |
| --- | --- | --- | --- |
| Result | Method Prop | Total Prop | Distance Prop |
| Crute (-249) via 1st Round T/KO | Crute by T/KO (+350), Inside the Distance (-135) | Under 1.5 Rounds (-108) | Fight Goes Distance: No (-345) |
Jimmy Crute picked up the victory in the first round with a devastating counter right hand to Modestas Bukauskas. Bukauskas seemed to be overly committed on a number of previous strike attempts, and Crute read one perfectly and delivered a powerful shot, knocking Bukauskas to the floor. Crute came in with follow up shots, including a devastating uppercut that sent Bukauskas to the cage, before the fight was eventually stopped.
With the quick victory, the Under improves to 35-34-1 to the UFC Light Heavyweight Division, since January of 2019. It's a division where the total has hit at a 50% rate on both sides consistently over the last 21 months.
UFC Fight Island 6 Odds and Results:
Said Nurmagomedov def. Mark Striegl
| | | | |
| --- | --- | --- | --- |
| Result | Method Prop | Total Prop | Distance Prop |
| Nurmagomedov (-370) via 1st Round KO | Nurmagomedov by T/KO (+635), Inside the Distance (+260) | Under 2.5 Rounds (+190) | Fight Goes Distance: No (+190) |
Maxim Grishin def. Gadzhimurad Antigulov
| | | | |
| --- | --- | --- | --- |
| Result | Method Prop | Total Prop | Distance Prop |
| Grishin (-281) via 2nd Round TKO | Grishin by T/KO (+110), Inside the Distance (-175) | Over 1.5 Rounds (+138) | Fight Goes Distance: No (-345) |
Fares Ziam def. Jamie Mullarkey
| | | | |
| --- | --- | --- | --- |
| Result | Method Prop | Total Prop | Distance Prop |
| Ziam (+130) via Decision (unanimous) | Ziam by Decision +345 | Over 2.5 Rounds (-160) | Fight Goes Distance: Yes (-140) |
Jun Yong Park def. John Phillips
| | | | |
| --- | --- | --- | --- |
| Result | Method Prop | Total Prop | Distance Prop |
| Park (-265) via Decision (unanimous) | Park by Decision (+260) | Over 2.5 Rounds (+125) | Fight Goes Distance: Yes (+165) |
Gillian Robertson def. Poliana Botelho
| | | | |
| --- | --- | --- | --- |
| Result | Method Prop | Total Prop | Distance Prop |
| Robertson (-208) via Decision (unanimous) | Robertson by Decision (+450) | Over 2.5 Rounds (-149) | Fight Goes Distance: Yes (+175) |
Guram Kutateladze def. Mateusz Gamrot
| | | | |
| --- | --- | --- | --- |
| Result | Method Prop | Total Prop | Distance Prop |
| Kutateladze (+250) via Decision (split) | Kutateladze by Decision (+700) | Over 2.5 Rounds (-200) | Fight Goes Distance: Yes (-170) |
Jonathan Martinez def. Thomas Almeida
| | | | |
| --- | --- | --- | --- |
| Result | Method Prop | Total Prop | Distance Prop |
| Martinez (+123) via Decision (unanimous) | Martinez by Decision (+700) | Over 2.5 Rounds (+112) | Fight Goes Distance: Yes (+137) |
James Krause def. Cláudio Silva
| | | | |
| --- | --- | --- | --- |
| Result | Method Prop | Total Prop | Distance Prop |
| Krause (-117) via Decision (unanimous) | Krause by Decision (+175) | Over 2.5 Rounds (-138) | Fight Goes Distance: Yes (-110) |
We're right back on Yas Island next Saturday for UFC 254: Gaethje vs Khabib