UFC 256 Co-Main Event Best Bets: Tony Ferguson vs Charles Oliveira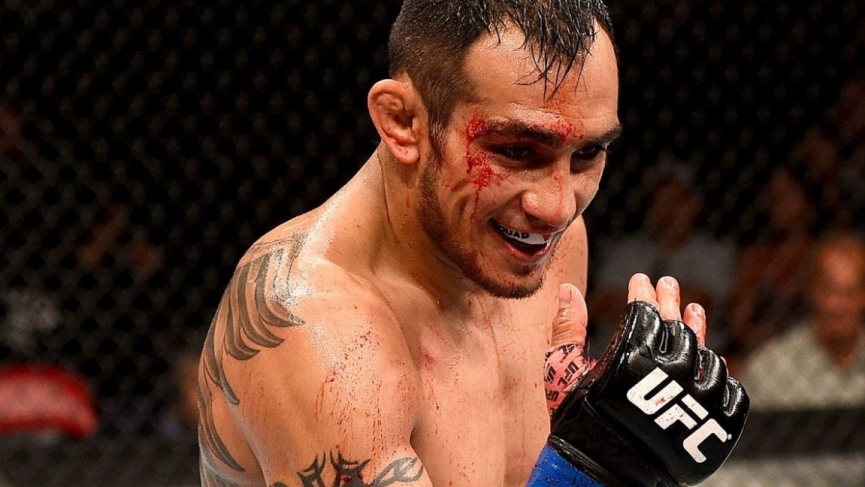 Tony Ferguson vs Charles Oliveira Pick – UFC 256: Tony Ferguson is 15-2 in the UFC since his 2011 debut, for a moneyline profit of +5.03 units. 'El CuCuy' has won by stoppage in 9 of his last 14 UFC bouts, cashing for +4.23 units on the 'Inside the Distance' prop.
UFC 256 ODDS
Tony Ferguson
Charles Oliveira
To Win Outright
-160
+148
Inside the Distance
+150
+250
by Decision
+333
+525
Total Rounds
Over 2.5 (+140)
Under 2.5 (-149)
Fight Goes Distance
Yes: +170
No: -189
Where/When
Apex Center, Las Vegas
Sat, Dec 12th, 8:00 PM ET
A fight that fans have been waiting for and talking about for years is finally taking place at UFC 256. The co-main event between Tony Ferguson and Charles Olivera could easily headline a card with the amount of hype behind both men. This is a huge fight that neither fighter can afford to lose and should be the front runner for fight of the night. 
The Fighters:
UFC Match-up
Tony Ferguson
Charles Oliveria
Age
36
31
Height
5'11
5'10
Reach
76′
74′
Wins by Method
12 Wins by T/KO
19 Wins by Submission
Finish Rate
80%
93%
Record
25-4
29-8
El Cucuy. The Boogeyman. Tony Ferguson has terrorized the UFC's lightweight division for the past nine years and has left most of his opponents requiring facial reconstruction after their fights. This man is a machine who never stops moving forward with an unbreakable will and a well-rounded skill set.
Tony can strike with the best. Tony is a collegiate wrestler. Tony is a wizard on the mat, and his opponents who find themselves outmatched on the feet usually end up tapping out when they test their chances on the ground. Tony recently had his record-setting win streak broken by Justin Gaethje at UFC 249, after a high stake gamble failed in this the year of all things terrible 2020. The biggest question surrounding the man once believed to be Khabib's one true challenger is: Can Tony come back from Justin's loss? 
Charles Oliveira is a man who many have chosen as their dark horse at 155. Oliveira was a huge prospect at 145, but the weight cut seemed to be taking too much of a toll on his body. Since moving up to 155, those issues seem to be behind him, and Charles has strung together a very impressive seven-fight win streak and put himself in a position where he can call himself a true contender for the title.
There was a time where Charles was simply a high-level BJJ player, but over the years, his striking has evolved to become just as dangerous of a weapon, and now he can finish a fight from anywhere. But will it be enough? This is a massive step up in competition, and it will be interesting to see how Charles handles it. 
The Match-Up:
There is a lot of love in the betting world for one Charles Oliveira. I believe that this is a combination of things creating the perfect storm for bettors leading to what we may find is a public underdog. Charles Oliveira has been on an absolute tear. All of Oliveira's last seven wins have come by way of finish, and most of them in the very 1st round. He has simply run through anybody the UFC has placed in front of him. MMA, even more than most other sports, is all about what you can last recall. You are only as good as your last fight, and right now, Charles looks like he's holding the golden ticket. 
Tony Ferguson, on the other hand, does not look good right now. Oh, how the mighty have fallen. In just one year, Tony went from being the one single man who could dethrone Khabib and closing as a -260 favorite over Justin Gaethje to being counted out against Charles Olivera, who hasn't even faced a ranked opponent. 
I believe that this fight comes down to one single thing: Heart. Tony's heart and will can never be challenged. In every single fight, Tony drags his opponents into the darkest deepest recesses of their worst nightmares, and he drowns them there. There may not be a more appropriate fighter name than El Cucuy in the game today. On the other hand, Charles Oliveira is one of the best hammers in the sport, but he is also one of the very worst nails. We haven't seen it for some time, but Charles has some quit in him.
When Oliveira is in the driver's seat, he is a monster, and you do not want to be dealing with this man. But when he is the one being walked down and forced to fight on his back foot, he is a different man and a shell of himself. For a young fighter, Charles Oliveira has a ton of experience, and one thing that stands out to me is his losses. Of the eight losses on his record, only one has come by way of decision. When Oliveria is being beaten, he looks for a way out. 
Tony Ferguson vs Charles Oliveira Pick:
UFC 256 Co-Main Event Best Bet: Tony Ferguson (-170) via Bet365: Tony is a man who breaks his opponents. He takes what they offer, and he smiles. While blood runs down his face, all he does is march forward and dish out just as much damage or more than you just landed on him. Tony is one of the most terrifying fighters on the planet, and I don't believe he is shot just because he lost to Justin Gaethje a few months ago. Tony Ferguson is going to break Charles Oliveira on Saturday. I would be willing to lay the chalk, and I will be betting the round 3 prop because when Oliveira has had enough, Tony will give him his way out. 
---
UFC Betting Trends: Men's Lightweight
'Coin Flip Dog' is vs Favorite between -150 and -101
since 2020
record
profit (Units)
'Coin Flip' Dog
5-2
+2.77u
Dogs
20-29
+6.55u
Under
25-24
+5.61u
Tony Ferguson: UFC Betting Trends
since 2011 UFC Debut
record
profit (units)
Inside the Distance
9-5
+4.23u
To Win Outright
15-2
+5.03u
Fight Goes Distance: No
10-4
+2.62u
Under
8-6
+2.06u
To Win by Decision
3-11
+1.55u
Charles Oliveira: UFC Betting Trends
since 2010 UFC debut
record
profit (units)
Under
14-6
+10.67u
Inside the Distance
13-7
+9.78u
Fight Doesn't Go Distance
18-2
+7.91u
To Win Outright
17-8-1
+4.87u
---
FAQ: UFC 256
What is the main event for UFC 256
Deiveson Figueiredo vs Brandon Moreno for the UFC Men's Flyweight Championship is the main event for UFC 256. After multiple championship fights that were booked for the December 12th pay-per-view had to be cancelled for various reasons, UFC President Dana White announced at UFC 255 that Deiveson Figueiredo would defend his title for the second time in just three weeks against top contender Brandon Moreno. Figueiredo will be the first UFC champion in history to defend his title twice in less than a month.
The UFC 256 main event was initially booked to be between Kamaru Usman and Gilbert Burns. However, on October 5th it was announced that Usman would be forced to pull out from the bout, citing an undisclosed injury.
Another potential main event for UFC 256 was a UFC Women's Featherweight Championship bout between Amanda Nunes and Megan Anderson, but on November 9th Nunes announced she was unable to compete at the event, due to an undisclosed injury.
The UFC Bantamweight Champion Petr Yan was to be defend his title against long standing top contender Aljamain Sterling in the co-main event for UFC 256, but after Usman and Nunes were forced to pull out, Yan was elevated to the main event. On November 22nd it was announced that Petr Yan was unable to compete at the December pay-per-view, due to travel restrictions related to COVID-19.
What times does UFC 256 start?
The UFC 256 preliminary card starts at 7pm EST, the main card starts at 10pm.