UFC Vegas 16 Undercard Best Bets: Louis Smolka vs José Quiñónez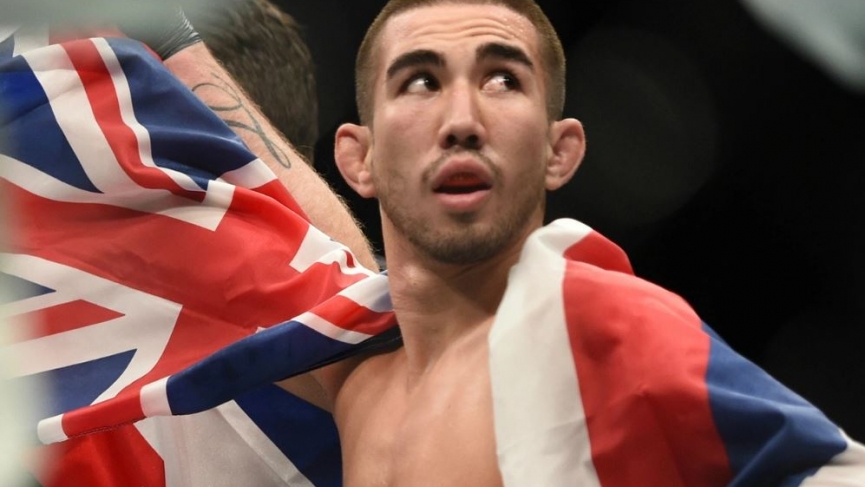 Louis Smolka vs. José Quiñónez Pick – UFC Vegas 16: Louis Smolka has a 7-7 record in the UFC, but has finished 5 of 14 fights by stoppage. Bettors who have backed Smolka to win 'Inside the Distance' in all 14 of his UFC bouts have profited +3.06 units.
UFC Vegas 16 ODDS
 Louis Smolka
José A. Quiñónez
To Win Outright
-137
+110
Inside the Distance
+210
+540
by Decision
+280
+205
Total Rounds
Over 2.5 (-152)
Under 2.5 (+138)
Fight Goes Distance
Yes: -130
No: +120
Where/When
Apex Center, Las Vegas
Sat, Dec 5th, 10:00 PM ET
UFC Vegas 16 is kicking off the night with a fight we were supposed to see just a few weeks ago. Jose Quinonez and Louis Smolka were slated to fight at UFC Vegas 14, but the fight was scrapped at the 11th hour due to Smolka's bad weight cut. I am glad to see they kept the fight intact, and they essentially gave these two enough time to reset and get themselves healthy for another shot at one another. 
The Fighters:
UFC Match-up
Louis Smolka
Jose A. Quinonez
Age
29
30
Height
5'8
5'9
Reach
69′
68′
Wins by Method
7 Wins by T/KO.
5 Wins by Decision
Finish Rate
88%
38%
Record
16-7
8-4
El Teco is a young fighter who has had a strange run so far in the UFC. The prospect is tall and long and has a perfect frame for MMA and is coming into his physical prime, but he seems to thrive on bottom feeders. Techo is coming off of being destroyed by Sean O'Malley in his last outing and wants to wash that taste out of his mouth. Teco is a striker who has mostly used his kicks to maintain the range he lies and pick his opponents apart. Since coming to the UFC, Quinonez is 5-3, with all five wins coming by decision. 
Louis Smolka is similar to Quinonez in that he has struggled in the UFC. Smolka is actually into his 2nd UFC run in his career. Smolka made it to the UFC back in 2014 and appeared to be on the path to the title when he abruptly fell off. Dropping four straight fights, Smolka had to return to the regional scene and go back to the drawing board to earn another shot in the big show.  Smolka has returned to the UFC and been nothing but action since he got here. So far, in 4 fights, Smolka is 2-2, and all have ended with a finish. Smolka embraces his "Last Samurai" nickname and is fighting to the death every time the UFC's cage door closes. 
The Match-Up:
This is an interesting fight between 2 men struggling to find their footing at the elite level. Quinonez is a point fighter who spams leg kicks and looks to mind the range. He likes to fade away from his opponents and has a little bit of tall man's defense where he leaves his chin exposed, but few have been able to make him pay for it. Smolka looks to go to war every time and has paid for it a few times but has impressed as well. 
Even though both men are in similar positions in their careers, I believe that Smolka has a much higher ceiling than El Teco. All 5 of Quinonez's wins come against opponents who are no longer in the UFC. Smolka's two wins have also come over fighters who may not have a future with the organization, but he shredded them when he faced a lower level of competition. Smolka's main weakness seems to be on the mat and submitted by top talents like Casey Kenny and Matt Schnell. El Teco is a BJJ purple belt and never looks to grapple in his fights unless he is forced to and only has one submission to his name. 
Louis Smolka vs José Quiñónez Pick:
UFC Vegas 16 Undercard Best Bet: Louis Smolka (-138) via Bet365: We have already broken this fight down, and we are now looking at an extra wrinkle to look at. I have already stated that I like Smolka's more aggressive approach here, and I believe he will be too much for Quinonez to handle for 15 minutes, but is that true on a potentially damaged gas tank? Most fighters have a full cycle that they need to follow to make weight, and it takes weeks of preparation.
After the last fight was pulled just a few short weeks ago, how much did these two men blow back up? How seriously did they take their diets, and how much training have they done in the last two weeks after peaking. Both men face the same challenges, so I cannot comment on if this will favor one or the other, but be sure to pay special close attention to the 'After the Weigh-Ins' show from Friday to make sure that neither man is compromised before you put a bet on this one.
---
UFC Betting Trends: Men's Bantamweight
'Coin Flip Favorite' is between -150 and -101
since 2020
record
profit (Units)
Under
25-25
+9.81u
'Coin Flip' Favorite
9-6
+0.89u
Favorite
34-15-1
+1.08u
Louis Smolka: UFC Betting Trends
since 2014 ufc debut
record
profit (units)
Opp. Inside the Distance
3-11
+8.1u
Inside the Distance
5-9
+3.06u
Under
7-7
+2.77u
Opp. To Win Outright
7-7
+2.28u
Fight Doesn't Go Distance
8-6
+1.62u
José Quiñónez: UFC Betting Trends
since 2014 ufc debut
record
profit (units)
by Decision
4-4
+4.21u
To Win Outright
5-3
+1.66u
Fight Goes Distance
5-3
+0.99u
Over
5-3
+0.14u
---
FAQ: UFC Vegas 16
What is the main event for UFC Vegas 16?
Jack Hermansson vs Marvin Vettori: The UFC had originally scheduled Darren Till vs Jack Hermansson for December 5th, but Till had to pull out due to an injury. Kevin Holland stepped in as the replacement for Till, but was removed from the event due to a positive COVID-19 test. Marvin Vettori was expected to face Ronaldo 'Jacare' Souza at UFC 256, but was instead moved to face Hermansson, while Souza will now face Holland at UFC 256.
What times does UFC Vegas 16 start?
The UFC Vegas 16 preliminary card starts at 7pm EST, the main card starts at 10pm.
Keep it locked to Odds.com for all of your UFC betting needs for UFC Vegas 16. The best current odds and content can be found on our UFC page.