UFC Vegas 16 Underdog Best Bet: Jimmy Flick vs Cody Durden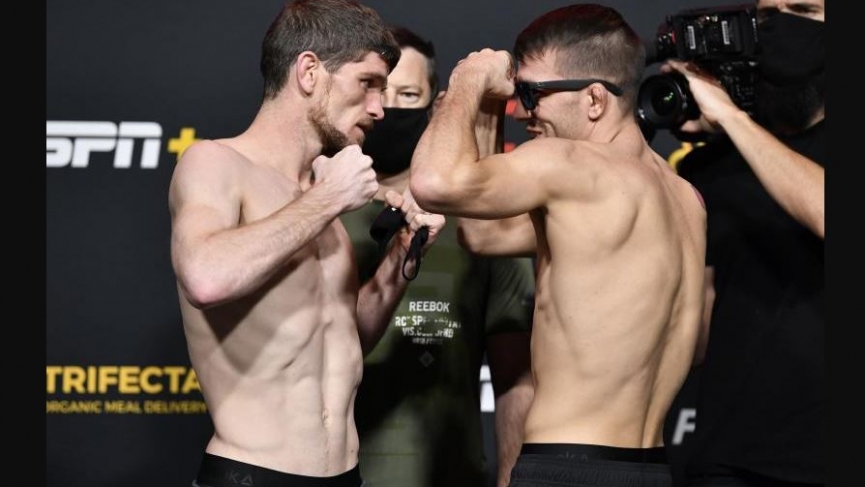 Jimmy Flick vs Cody Durden Pick – UFC Vegas 16: Over the last two weeks, underdogs have won 10 of 21 bouts in the UFC. Bettors who have backed nothing but dogs since UFC 255 have profited +8.11 units. An ROI of +1.8% per wager, win or lose.
UFC Vegas 16 ODDS
 Jimmy flick
cody durden
To Win Outright
-175
+138
Inside the Distance
+100
+305
by Decision
+530
+450
Total Rounds
Over 1.5 (-122)
Under 1.5 (+115)
Fight Goes Distance
Yes: +215
No: -250
Where/When
Apex Center, Las Vegas
Sat, Dec 5th, 8:00 PM ET
UFC Vegas is returning to form where we have a line up of 2-1 favorites, and it's hard to argue them. There was a short run where underdogs were easy to find, but I have to say we appear to be on another chalky run. We have to tread lightly, but some dogs are still we should be able to play with. To learn how I find my underdogs in more detail, check out the full article here. 
The Fighters:
UFC Match-up
Jimmy Flick
Cody Durden
Age
30
29
Height
5'7
5'7
Reach
68′
67′
Wins by Method
13 Wins by Submission.
5 Wins by T/KO
Finish Rate
87%
90%
Record
15-5
11-2
Jimmy "The Brick" Flick is a fighter who I have been pretty high on. In his Dana White's contender series fight, I backed Flick as a nice even-money underdog, and he got it done impressively. Flick is a wild grappler who is incredibly exciting to watch on the mat, but he is a bit of submission or bust. Flick has just two wins by decision, and all of his other wins have come by way of submission. The big red flag for Jimmy is that of his five losses; four are by knockout. At 30 years old and just making your UFC debut, having 4 KO losses is a bad sign and something we have to bear in mind. 
Cody Durden is a state champion high school wrestler who is a dangerous finisher both with his hands and on the mat. Durden has been impressive in his run on the regional scene and puts his grappling to good use, but he is a smaller fighter. This Saturday, Durden is dropping from 135 to 125, and that is a huge factor. Durden will finally be dropping to the correct weight class and should enjoy a strength and size advantage for the first time in his career. After grinding his way to a draw with current UFC fighter Chris Gutierrez, I am pretty impressed with this kid. 
UFC Underdog Criteria:
Fight IQ: We have only seen Cody once in the UFC, but he handled himself there well against Gutierrez's solid prospect. Before getting into the UFC, Cody used his strong offensive grappling to break his opponents and rely on it when needed to keep himself out of trouble. This kid's raw skill set is just what I am looking for, and he knows how to use it. 
Chin: Cody is not a perfect prospect, and he is coming into the UFC with two losses. Neither of those losses is by knockout. Durden has 14 professional fights, so he is relatively experienced for stepping into the UFC and has had his chin tested, but he has never succumbed to damage or allowed anybody to tee off on him to the point that he had to be saved. Durden is a challenging and gritty fighter and is durable. 
No Quit: One of the best things about Durden is that he has experience with just about everything. This kid has dropped his first loss and has learned how to bounce back. He has won in the first and second round, but he has also fought his way to the third round. Durden has been in bad positions and comes back. He knows how to grind his way for 15 minutes. 
Power: Cody has a 90% finish rate. That is already impressive, but the best part is that he has five by KO/TKO and five by submission. I define power as finishing ability and not just striking, so Cody can win both with his hands and be finding a neck or an arm; I will back this man packing the "power" that we are looking for in a dog. 
Jimmy Flick vs Cody Durden Pick:
UFC Vegas 16 Underdog Best Bet: Cody Durden (+140) via Bet365: Cody Durden is a hot young prospect who seems to be coming into his own at the right time. The wrestling base is a massive help against a grappler who you need to avoid going to the mat with. Cody dropping class was a huge deal to me and him having a full training camp is another key to this fight. Durden is finally at the point in his career where he can go full time as an athlete, and he is training at ATT, which is one of the best gyms a young fighter can go to. Durden is currently training with the likes of Dhiego Lima and Kyoji Horiguchi. In a recent interview, we heard from Durden, and he said that Rizin stand out Kyoji Horiguchi has been working with him on his submission defense. 
I feel that Cody has more paths to victory in this fight and needs to avoid going to or staying on the mat with Jimmy Flick. Durden has the necessary skill set to give Flick problems and shut his game down. I will bet on the more durable fighter and seems to be improving in a fight that I believe should be 50/50. I like the value on Cody here. 
---
UFC Betting Trends: Men's Flyweight
'Coin Flip Favorite' is between -150 and -101
since 2020
record
profit (Units)
'Coin Flip' Favorites
5-0
+3.84u
Favorites
18-5
+5.15u
Under
12-11
+4.16u
Jimmy Flick: UFC Betting Trends
Flick has had four professional MMA bouts with global odds posted. However, only one fight was in the UFC. Flick has gone 4-0 on the moneyline, with every win coming as an outright underdog.
since 2020 ufc debut
record
profit (units)
Inside the Distance
1-0
+1.35u
Over
1-0
+0.8u
Fight Doesn't Go Distance
1-0
+0.29u
Cody Durden UFC Betting Trends
since 2020 ufc debut
record
profit (units)
Fight Goes Distance
1-0
+0.71u
Over
1-0
+0.6u
---
FAQ: UFC Vegas 16
What is the main event for UFC Vegas 16?
Jack Hermansson vs Marvin Vettori: The UFC had originally scheduled Darren Till vs Jack Hermansson for December 5th, but Till had to pull out due to an injury. Kevin Holland stepped in as the replacement for Till, but was removed from the event due to a positive COVID-19 test. Marvin Vettori was expected to face Ronaldo 'Jacare' Souza at UFC 256, but was instead moved to face Hermansson, while Souza will now face Holland at UFC 256.
What times does UFC Vegas 16 start?
The UFC Vegas 16 preliminary card starts at 7pm EST, the main card starts at 10pm.
Keep it locked to Odds.com for all of your UFC betting needs for UFC Vegas 16. The best current odds and content can be found on our UFC page.