UFC Vegas 16 Main Event Best Bets: Jack Hermansson vs Marvin Vettori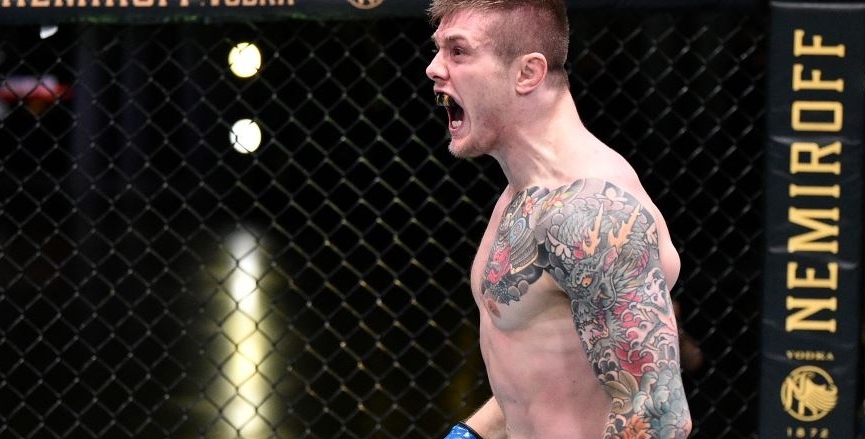 Jack Hermansson vs Marvin Vettori Pick – UFC Vegas 16: Jack Hermansson has gone Under the betting total in 9 of his 11 career UFC fights. His opponent, Marvin Vettori, has gone Over the betting total in 6 of his 8 fights in the UFC. Something has to give when these two top European middleweights collide on Saturday night for UFC Vegas 16.
UFC Vegas 16 ODDS
jack hermansson
marvin vettori
To Win Outright
-137
+110
Inside the Distance
+160
+450
by Decision
+350
+220
Total Rounds
Over 2.5 (-138)
Under 2.5 (+110)
Fight Goes Distance
Yes: +240
No: -275
Where/When
Apex Center, Las Vegas
Sat, Dec 5th, 10:00 PM ET
Contrary to last week's UFC Vegas 15, where we didn't know a name on the card, UFC Vegas 16 is a card full of recognizable names and hype stealing finishers. The last several cards of the year have been ravaged by COVID, which is no different this week. Our headliner for Saturday's fights has been shuffled at the last second multiple times, and now Jack Hermansson faces his 3rd scheduled opponent.
The Fighters:
UFC Match-up
jack hermansson
marvin vettori
Age
32
27
Height
6'1
6'0
Reach
77′
74′
Wins by Method
11 Wins by T/KO.
9 Wins by Submission
Finish Rate
81%
74%
Record
21-5
15-4
The Joker has been working his way up the chain and has not been quiet about it. Hermansson has been kill or be killed for the last four years, with the only exception being the ever-durable Jacare Souza. Hermansson brings a violent mix of striking with a filthy wrestling and submission attack that constantly keeps his opponents on the back foot.
Jack has a karate stance on the feet and keeps things light and smooth, attacking his foe's legs. When Jack closes the distance, he switches gears and mixes in level changes, which helps to set up his hands. The takedowns are the biggest threat, and Jack's opponents have to do anything they can to keep this fight standing because of his ability to scramble, and chain submissions is not matched at Middleweight. Jack's only issue is that every time he steps up in competition, he seems to take a bad loss that knocks him back down the ladder.
Marvin Vettori is a fascinating case in the UFC. He is developing and gaining experience. At just 27 years old, we still have not seen the best that this prospect has to offer. There's a genuine argument to be made that Marvin gave 185-pound king Israel Adesanya his best fight in the UFC to date.
Vettori is a fighter who does everything well but doesn't really stand out anywhere. He is incredibly physically strong and has a good gas tank but relies on power and explosion to do everything he needs to in the cage, and that can leave him needing to reload. Vettori's striking is efficient but not particularly dangerous on the feet. Once Vettori gets his opponents on the floor, the story is a bit different. Marvin's ground and pound can be vicious, and he has shown himself to be a submission threat as well.
The Match-Up:
Hermansson was initially slated to face Darren Till, but his opponent was forced to withdraw due to an injury. Kevin Holland was supposed to fill in for Holland, but he recently tested positive for COVID and moved to a card a few weeks away. Marvin Vettori, who was supposed to face Jacare, has essentially switched opponents with Holland and will face The Joker Saturday. Holland will face Jacare in a few weeks, and honestly, I like the new matchups a bit better. Vettori is trying to get back to that fight with Adesanya, and a fight with Hermansson does more for that argument than one with the aging Jacare does. Similarly, Jack is coming off a quick win over Kelvin Gastelum, and derailing the surging Vettori will push him further along than a short notice win over Holland even though he is a fan favorite.
In a fight where both men get the majority of their work done on the mat, it is tough to predict what the game plan will be. Sometimes we see fights where both men share a skill set, and that causes them to believe they have the advantage in another area. Other times we see both men so confident in their skill set they are willing to gamble on themselves and step right into their opponent's greatest area of strength. This will be a complete mixed martial arts fight. I fully expect Jack to maintain the range and attack Vettori's legs as long as he can until Marvin crashes the pocket, looking for some big shots. The battle will take place between Jack's excellent timing at 35% takedown success rate and Marvin's 80% takedown defense.
Jack Hermansson vs Marvin Vettori Pick:
Main Event Best Bet: Marvin Vettori (-138) via Bet365: Marvin has had plenty of experience facing strong grapplers and submission threats in the UFC, such as Omari Akhmedov, Antonio Carlos Jr, and Cezar Ferreira, who submitted Jack himself. This fight is extremely close, and you can make the argument that either man can win it, but the submission defense and offensive wrestling is a skill set that I believe will lead Vettori to a victory. Even though Vettori is not a one-punch knockout threat, we have seen Jack be knocked out twice and hurt on the feet in other fights. We have also seen Jack accept the bottom position looking to reverse his opponents, sweep, and submit, which is a crucial area of danger for him. Vettori's top game is vicious, and I can see him earning a ground and pound victory after winning a scramble, but he is going to have to be on his toes and mind his defense the entire time.
---
UFC Betting Trends: Middleweight Division
since 2020
record
profit
Under
25-17
+9.79u
Favorites
30-12
+1.86u
Jack Hermansson: Betting Trends
since 2016 ufc debut
record
profit (units)
Under
9-2
+10.04u
Inside the Distance
6-5
+9.62u
Fight Doesn't Go Distance
9-2
+4.96u
To Win Outright
8-3
+4.18u
To Win by Decision
2-9
+1.5u
Opp. Inside the Distance
3-8
+1.11u
Marvin Vettori: Betting Trends
since 2016 ufc debut
record
profit (units)
Fight Goes Distance
6-2
+3.57u
Over
6-2
+2.25u
Opponent by Decision
2-6
+1.75u
To Win Outright
5-2-1
+0.32u
---
FAQ: UFC Vegas 16
What is the main event for UFC Vegas 16?
Jack Hermansson vs Marvin Vettori: The UFC had originally scheduled Darren Till vs Jack Hermansson for December 5th, but Till had to pull out due to an injury. Kevin Holland stepped in as the replacement for Till, but was removed from the event due to a positive COVID-19 test. Marvin Vettori was expected to face Ronaldo 'Jacare' Souza at UFC 256, but was instead moved to face Hermansson, while Souza will now face Holland at UFC 256.
What times does UFC Vegas 16 start?
The UFC Vegas 16 preliminary card starts at 7pm EST, the main card starts at 10pm.
Keep it locked to Odds.com for all of your UFC betting needs for UFC Vegas 16. The best current odds and content can be found on our UFC page.