Edgar vs Munhoz Best Bet – UFC Vegas 7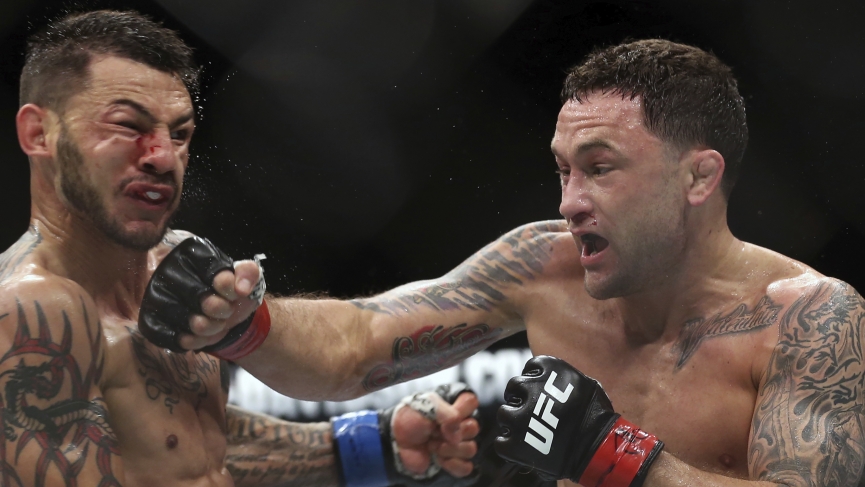 We have Edgar vs Munhoz best bet…I know I know… earlier in the week we already discussed the UFC Vegas 7 main event: Frankie Edgar vs Pedro Munhoz. But we only broke this fight down from a side perspective before, so don't worry there is an angle we have yet to discuss.
The Fighters:
| | |
| --- | --- |
| UFC Fighter | Frankie Edgar    |
| Odds | +200 |
| Age | 38 years old |
| Height | 5'6 |
| Reach | 68' |
| Wins by Decision | 12 |
| Win/Loss | 23-8 |
| Finish Rate | 47% |
I will keep this brief. We know what both of these men are all about and even though the UFC Vegas 7 card is lacking this main event should be absolute fireworks! Both men have high-level ground games, but this is wrestling vs BJJ. Both men are boxers with fast hands but have grappling as their base. More often than not when you have 2 high-level grapplers either both men avoid that part of the fight or we see the wrestler shut down the BJJ offense of the fighter playing off their back. Frankie can wrestle his ass off, but lately, his efficiency hasn't been what it used to be. I expect this fight to be a striking affair more often than not.
| | |
| --- | --- |
| UFC Fighter | Pedro Munhoz |
| Odds | -250 |
| Age | 33 years old |
| Height | 5'6 |
| Reach | 65' |
| Wins by Submission | 9 |
| Win/Loss | 18-4 |
| Finish Rate | 72% |
What we have seen from Frankie Edgar in his last couple of fights is his distance striking and movement. We also saw in Pedro's fight against Aljo Sterling's struggle against a longer fighter who mixed in takedown attempts and used his movement to stay on the outside. Frankie Edgar will be experiencing the first reach advantage and possible size/strength advantage he has had in a long time.
I know many of you thought I was crazy for saying there is value on Frankie Edgar in this fight and I understand it. I get that Pedro is more in his prime and we have seen Frankie KOd a few times recently. So what I am looking at more so than the side in this fight is the total. I believe that Frankie will do what it takes to stretch this fight out. Once the battle hits the championship rounds all bets are off. I think Frankie can excel in that area that Pedro has never experienced, but the weight cut could also get to Frankie, and maybe he gets clipped.
What I think happens in this fight is we see round 4. Frankie will look to use his speed and head movement to avoid the big power shots of Munhoz. Frankie will mix in takedowns and even if he doesn't get them that will open up opportunities for his hands. We haven't seen Edgar KO anybody in a long time and I don't think that changes Saturday. My bet here is an alternate total if you can get your hands on it. Most books have the line set at 3.5 and I would still lean to the over, but if you can pay to drop down a round I feel much better about this bet cashing and I am willing to pay the juice.
The Pick: Edgar vs Munhoz O2.5 rounds -134