UFC Fight Island 6: Main Event Best Bets – Ortega vs The Korean Zombie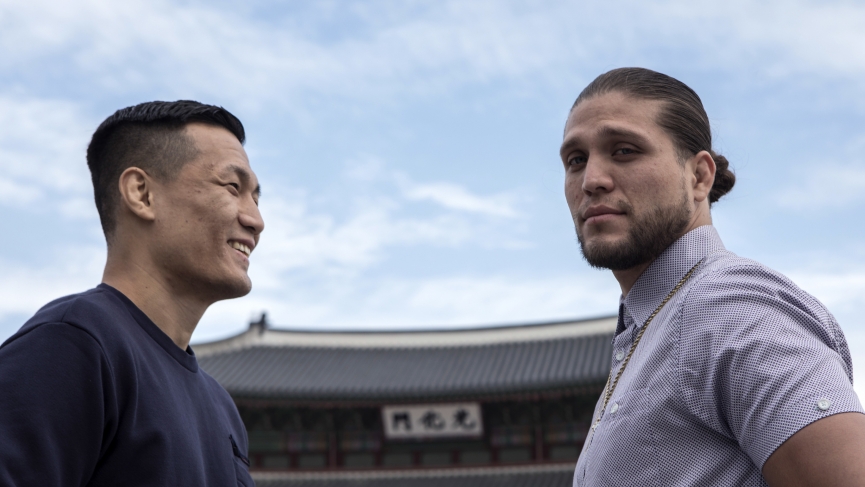 Odds.com's Brian Ortega vs The Korean Zombie Pick – UFC Fight Island 6: Finally! A fight that was supposed to happen in December of 2019, will finally occur on Fight Island almost a year later. Brian Ortega takes on 'the Korean Zombie' in a top-ranked, featherweight showdown at UFC Fight Island 6.
| | | |
| --- | --- | --- |
| UFC Fight Island 6 | Brian Ortega | Chan Sung Jung |
| Best Odds | +170 | -175 |
| Total Rounds | Over 2.5 (+102) | Under 2.5 (-119) |
| Where/When | Fight Island, Abu-Dhabi | Oct 17th, 7:00 PM |
We are in for an absolute treat when the cage door closes for the main event of Saturday's UFC Fight Island 6. Brian "T-City" Ortega is making his long awaited return to the big stage against fan favorite "The Korean Zombie" Chan Sung Jung! This striker vs grappler match up has some personal beef behind it to boot and these two are looking to kill each other. This fight should be nothing but fireworks and it is likely a title eliminator.
The Fighters:
| | | |
| --- | --- | --- |
| UFC Match Up | Brian Ortega | Chan Sung Jung |
| Age | 29 years old | 33 years old |
| Height | 5'8 | 5'7 |
| Reach | 69′ | 72' |
| Wins by Method | 7 by Submission | 6 by T/KO |
| Finish Rate | 71% | 88% |
| Win/Loss | 14-1 | 16-5 |
It's been a minute since we have seen T-City. Brain Ortega was last in action back in 2018 when he faced Max Holloway for the Featherweight title and took the beating of a lifetime. Brian took a literal lesson from Max as he taught T-City how to hold his hands mid-fight all the while pummeling him until the referee stopped the fight in the 4th. Brian absorbed an astounding 290 significant strikes that night and needed to take a full 2 years off afterward before he was ready to return. Ortega has wicked grappling and is not to be trifled with on the floor. If this man gets anywhere near your neck you are more than likely tapping or sleeping within seconds. What has Brian been up to for the last 2 years is the big question. We could see a whole new fighter come Saturday night.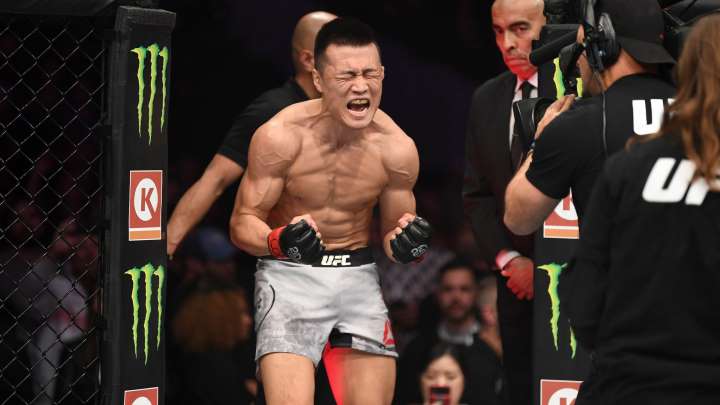 Chan Sung Jung is a fighter who has been around a very long time. The Zombie was in the WEC and went on a 3 fight tear back in 2011 culminating in a title shot against the then GOAT Jose Aldo where he made it to the 4th round. After that the Zombie had to take a break from the sport due to Korea's mandatory military service, but returned without missing a beat. The Zombie destroyed Dennis Bermudez and then had one of the best fights of all time against Yair Rodriguez where he was knocked out at the literal last second of a fight he was winning with the most stunning elbow of all time. The Zombie has rebounded with 2 straight 1st round finishes and is knocking on the door of another title shot.
The Matchup:
Both of these men are must-see TV. Brian Ortega has not made it to the judges score cards since 2014 and The Zombie hasn't had a decision since 2010. These men are kill or be killed every time they step into the cage. This fight will be a showcase in gameplaning and whoever is able to get the fight into their world should be the winner. Brian Ortega is a high level BJJ black belt and will look to grapple his way to a win however he is not much of a wrestler. Brain is much like the Diaz brothers where he relies on scrambles, mistakes, or rocking his opponents to get his fights to the floor and I don't see much of a path to success with that against Chan Sung Jung.
The Korean Zombie is a serious striker with massive KO power in both hands. Chan Sung Jung will enjoy a nice 3 inch reach advantage in this fight which he should be able to use to great effect keeping Ortega at the striking range he likes. Chan Sung Jung averages 4.58 significant strikes per minute and absorbs only 3.73 showing us that he is outlanding his opponents by a full significant strike per minute against some very impressive competition. The Zombie pairs his impressive striking numbers with a 77% takedown defense rating. Brian Ortega has just a 16% takedown accuracy, so unless he has spent the last 2 years wrestling I think he will have a hard time getting this opponent in his world.
Brian Ortega vs The Korean Zombie Pick:
We have to essentially throw out Ortega's striking numbers because Max has ruined them. Ortega lands 4.07 significant strikes per minute and has absorbed 7.36, but the majority of that came from the 290 to 110 in his last fight. Even without Max's stats however Brian has not been out-landing his opponents. Cub Swanson outlanded Ortega 60-24 before he got caught and the same for Renato Moicano who was beating Ortega 109 to 65. If Ortega cannot get the submission I think the Zombie is simply going to pick him apart. From a side perspective I think you have to look at the Korean Zombie, but I have another angle that I like. Ortega showed against Max that he is insanely durable and Chan Sung Jung is no stranger to deep fights. The Zombie went to the 5th round against Yair and the 4th round against both Jose Aldo and Dustin Poirier. If the right opponent can hang in there with him I think the Zombie can have another performance that will get us into the championship rounds. I plan to look at the over in this fight. The line is set at 2.5 (+100 via Bet365) and Ortega is likely capable of hanging in there until the later half of the 3rd round. I'll take that plus money and rely on a rested, and reinvigorated Ortega to withstand the offense of Jung at least until the 4th round.
Main Event Best Bet: Ortega vs Korean Zombie Over 2.5 (+100)