Bader vs Nemkov Pick – Bellator 244 Prediction

WHAT?! I know I'm giving you a Bader vs Nemkov pick. You expected the UFC Vegas 7 co-main event breakdown today. Well I am sorry, but the main event for Bellator 244 is a banger and I have action on it, so this week we are changing things up.
Ryan Bader vs Vadim Nemkov Odds
| Bellator 244 Light heavyweight Title | Ryan Bader | Vadim Nemkov |
| --- | --- | --- |
| To Win Outright | -152 | +120 |
Ryan Bader has to be the most successful UFC dropout of all time. After being a contender in the UFC's 205 pound division, but falling short he sought bigger paychecks and greener pastures in Bellator.
| | |
| --- | --- |
| Bellator Fighter | Ryan Bader   |
| Odds | -152 |
| Age | 37 years old |
| Height | 6'2 |
| Reach | 68' |
| Wins by KO/TKO | 12 |
| Win/Loss | 27-5 |
| Finish Rate | 55% |
There have been many UFC fighters who have expected to excel in Bellator and ran into tougher competition than they expected but Ryan Bader immediately took not one but two belts. "Darth" is currently the Bellator Light Heavyweight and Heavyweight champion and Saturday will be his first attempt at defending the 205-pound strap.
| | |
| --- | --- |
| Bellator Fighter | Vadim Nemkov |
| Odds | +120 |
| Age | 28 years old |
| Height | 6'0 |
| Reach | 68' |
| Wins by KO/TKO | 8 |
| Win/Loss | 11-2 |
| Finish Rate | 91% |
Vadim Nemkov is a hot young Russian prospect who has been on a tear in Bellator. Nemkov is riding a 6 fight win streak and is undefeated in his 4 Bellator fights with 3 of them coming by finish. Nemkov is the protege of perhaps the greatest heavyweight of all time Fedor Emelianenko and there is an extra edge coming into this fight because of how Bader destroyed him during the Bellator Heavyweight Grand Prix. Nemkov is coming into his prime at just 28 years old and appears to be putting it all together but this is a big step up in competition for him.
Ryan Bader vs Vadim Nemkov matchup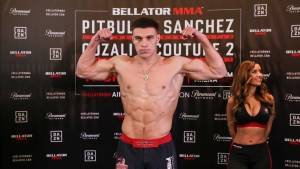 Vadim has been a wrecking machine lately and appears to be a 205 version of Justin Gaethje. Vadim has hard leg kicks and attempts to chop down his opponents and wade forward with powerbombs. The only issue for me here is that Vadim is undersized when compared to Bader and this is an extremely large step up in competition for him. Vadim's biggest win was over Phil Mr. Wonderful Davis in 2018 and that was a split decision win that in my opinion, he lost. Phil was content to strike with the young prospect and didn't decide to use his grappling until late in the fight, but once he did Phil dominated the young prospect and nearly submitted him.
Ryan Bader is a much bigger man and a better wrestler than Phil Davis. Combine that with the fact that Bader knows his bread and butter is his wrestling and we can expect him to go for the takedowns almost immediately rather than toying with Vadim for 3 rounds on the feet. One of my favorite things about Ryan "Darth" Bader is that he is reliable. He had some chin issues against the biggest power punchers of his generation in the UFC, but since then he has sold out for the takedown and once he has you on your back there is no getting him off. I simply don't understand this line. And I understand the current wave of money even less. The line we have access to is going to move in our favor so the pick is Ryan Bader, but wait until it drops.
Ryan Bader vs Vadim Nemkov Pick
I think people are buying into the narrative that Bader has been fighting at Heavyweight for the last few years and will struggle to cut back to 205, but I feel that's a pretty big assumption. Bader is championship material and a consummate professional. He is getting older, but he's taken next to no damage the last few years and has largely destroyed anybody who has been put in front of him. I am not scared to stand in front of a market move in this spot. I am willing to take this short price on the champion who I believe is getting disrespected against a young opponent, who is dipping a toe into the deep end for the first time.
The Pick: Ryan Bader (-152)