2 Leg Parlay UFC Fight Night 176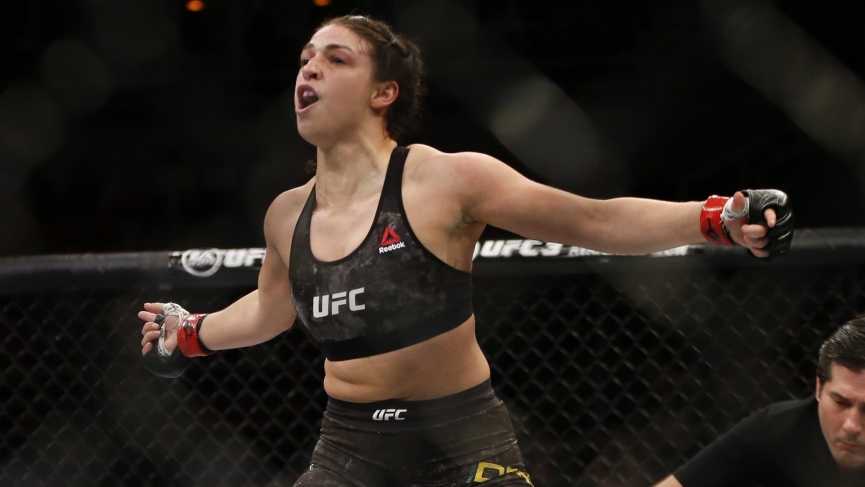 The UFC is returning to Las Vegas and the fights will be taking place at the UFC's Apex facility. This is fantastic news!! The UFC is finally leaving Florida and we are going home where the judging won't be quite so bad. While we are excited that the UFC will be coming back we need to be aware of some of the changes that this will mean.
For starters, the cage will be smaller! This is going to favor fighters looking to close the distance and it will make life harder on fighters who try to stick and move. With this in mind, I have a parlay for you for UFC Fight Night 176 on Saturday 5/30/2020.
Louis Smolka vs Casey Kenney Odds
| | |
| --- | --- |
| Name | Louis Smolka    |
| Odds | +225 |
| Age | 28 years old  |
| Height | 5'9 |
| Reach | 68' |
| Wins by KO/TKO | 7 |
| Win/Loss | 16 – 6 |
| Finish Rate | 88% |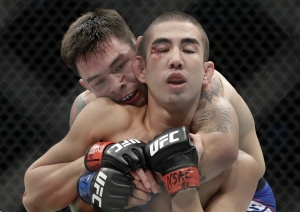 Louis Smolka is a hard-nosed fighter who never stops! I have on many occasions bet on "Da Last Samurai" as an underdog because he will fight for your money until the bitter end. Smolka has an offensive striking style where he wings wild punches and if he connects he can definitely put you out, but he can be beaten to the punch by strikers who attack in straight lines.
Smolka is very dangerous on the mat and that is his strongest area. He has an uncanny ability to scramble and take his opponent's back and his submission defense is fantastic. On top of all that it appears that Smolka has started taking his strength and conditioning more seriously leading up to this fight adding another wrinkle to this tempting dog. 
| | |
| --- | --- |
| UFC Fighter | Casey Kenny   |
| Odds | -278 |
| Age | 29 years old |
| Height | 5'7 |
| Reach | 68' |
| Wins by Decision | 7 |
| Win/Loss | 13 – 2 |
| Finish Rate | 40% |
Casey Kenney is a new star in the UFC. Kenny stepped into the cage and was tasked with facing the hard-nosed grinder Ray Borg and managed to out-grapple the ground game specialist which is incredibly impressive. Kenney then went on to take on Manny Bermudez who missed weight and is also a ground specialist, but once again the ability Kenney has to scramble and battle against a larger opponent to win a fight where the odds were stacked against him.
Kenny's luck ran out against Merab Dvalishbili when he finally faced a grappler who was too big and powerful for the scrambler to overcome. Kenny has an underrated striking game with the ability to snap switch kicks to his opponents head extremely quickly and catching his foes off guard with spinning elbows from close range that can land with devastating effect. 
Smolka vs. Kenney: The Matchup 
As much as I like Louis Smolka I simply have a hard time seeing where he can win this fight. Kenney has more tools than Smolka on the feet and when striking Kenney's sharper strikes should hit their mark quicker than the wide looping shots of Smolka.
As long as Kenney does not get caught in a scramble situation or catch a flash knockout he should be able to dominate Smolka on the mat. Kenney is the better wrestler of the two and I think he will grind out a convincing 3 round decision win here. 
UFC Fight Night 176 Parlay Leg 1: Casey Kenny (-278)
Mackenzie Dern vs Hannah Cifers Odds
| | |
| --- | --- |
| UFC Fighter | Mackenzie Dern  |
| Odds | -400 |
| Age | 27 years old |
| Height | 5'4 |
| Reach | 63' |
| Wins by Submission | 4 |
| Win/Loss | 7 – 1 |
| Finish Rate | 57% |
Mackenzie Dern is a BJJ standout who has made the transition to MMA and the UFC is quite obviously behind her. She's got that cute "girl next door" thing going on while being a complete badass and is everything the UFC is looking for in a future star. Dern has surprising power in her hands even though her striking abilities leave a lot to be desired, but she is improving.
Dern is fully capable of grinding her opponents out for 15 minutes from the top position or catching a neck and choking them unconscious. The only questions around her are her weight which she has struggled with in the past and her recent lay off due to becoming a mother.  
| | |
| --- | --- |
| UFC Fighter | Hannah Cifers |
| Odds | +300 |
| Age | 27 years old |
| Height | 5'1 |
| Reach | 62' |
| Wins by KO/TKO | 5 |
| Win/Loss | 10-4 |
| Finish Rate | 50% |
"Shockwave" is an interesting handicap at 115. She has solid striking and a decent amount of power for a woman in this division, but she is just too small. Cifers would benefit from an atomweight division of 105 where she could make some serious waves, but at 115 she just finds herself physically outmatched.
Her footwork is good and she lands in combinations and manages to hurt her opponents, but she hasn't been able to KO anybody so far in the UFC. The biggest issue is her size and that leads to struggles with takedowns because she is able to be bullied. 
Dern vs. Cifers: The Matchup
This fight is pretty simple in my opinion. The UFC is pushing Dern and she is coming off the first loss of her career and a bit of a layoff, so they have given her a fighter she should completely dominate. Dern has struggled to make 115 where Cifers should be fighting at 105.
Cifers has trouble defending the takedown and can be out-muscled by natural 115ers and Dern's best path to victory is the ground game. Dern's wrestling could use some work, but I think she will simply pun Cifers against the cage and rip her to the mat.
Remember we are in the Apex with the smaller cage and that will benefit Dern who will be looking to close the distance. Both fighters in the parlay can finish their fights inside the distance and both can grind their foes to dust and win a decision. I am not a fan of chalky parlays, but I feel like this one is too good to pass up. 
UFC Fight Night 176 Parlay Leg 2: Mackenzie Dern (-400)
2 Leg Parlay for UFC Fight Night 176: -143 Mackenzie Dern + Casey Kenney